It hasn't been supported since Windows 7.
The Windows 7 Backup and Restore tool is still present in Windows 11, but that doesn't mean you should use it.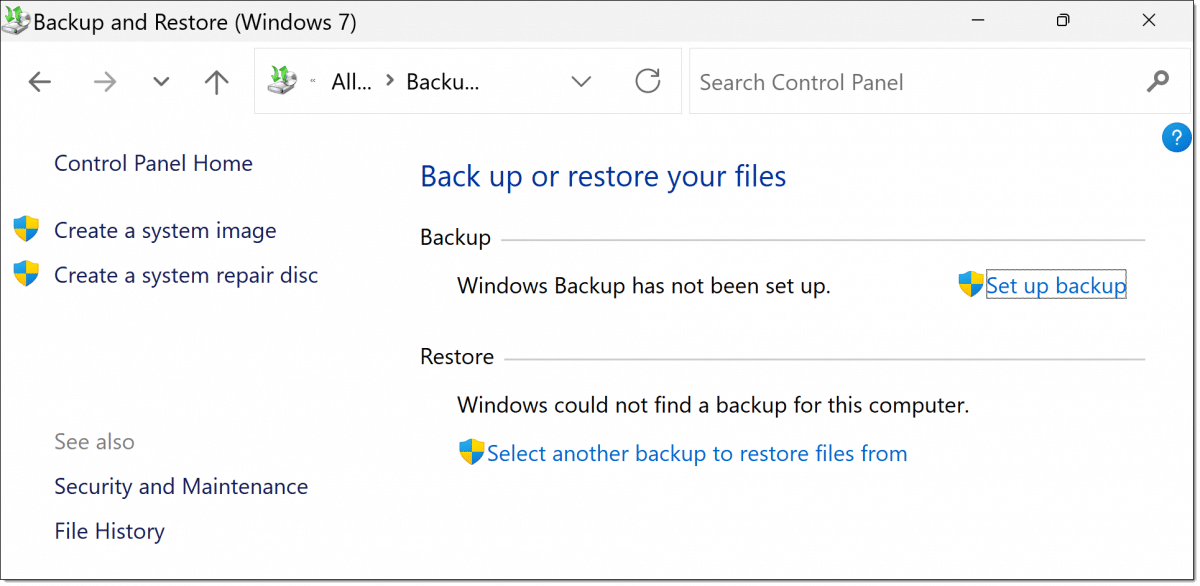 You keep saying that I should not use the backup software built in to Windows. Why not? Why shouldn't I use it if it's already built in?
There are a variety of reasons you should no longer use the built-in imaging backup tool in Windows. The most telling reason is that Microsoft has said you shouldn't.
Let's clarify which backup tool we're talking about, expand on all the reasons it should be avoided, and suggest what to do instead.
Windows 7 Backup and Restore
The Windows 7 Backup and Restore tool remains present in Windows 11 mostly for compatibility and the ability to access old backups. It's no longer being updated, and even Microsoft has said it's time to move on. It wasn't a great tool to begin with, and there are many more capable alternatives you can use instead.
Backup tools and backup tools
Windows includes several tools for backing up. Specifically:
File History – Backups of certain files you're working on as they change to an external hard drive.
OneDrive (and an assortment of OneDrive settings) – Backup of certain files on your machine to the cloud, as they change.
Windows 7 Backup and Restore – An on-demand backup image of absolutely everything on your hard disk, including the operating system, programs, and your files.
File History is great. The backup options in OneDrive are confusing as heck, which is a topic for another day, but can also be used safely.
Windows 7 Backup and Restore is the only image-backup tool in the list. Unfortunately, it's the tool you should avoid.
Because Microsoft said so
While the Backup and Restore tool remains in Windows 11, Microsoft hasn't updated it since the last release of Windows 7 (a decade or so ago). To drive home that point, it's specifically labelled as the Windows 7 Backup and Restore tool in the Windows user interface.
That's one clue.
I've been unable to locate it again, but for some time there was an information article on the Microsoft website addressing the Windows 7 Backup and Restore tool. It specified that:
The tool would no longer be updated.
The tool may be completely removed from future versions of Windows.

Third party tools should be used instead.
It doesn't get much clearer than that.
Documentation at Microsoft currently directs users to investigate File History. Unfortunately, while a nice tool, it's incomplete; it's not a full image backup.
Because I never liked it anyway
Even if the tool were formally supported by Microsoft, I'd still wave you off and direct you to better alternatives.
While Windows 7's Backup and Restore was a significant improvement over prior versions, it still suffered from several severe limitations.
It's almost impossible to tell what it's actually doing.
It doesn't support incremental or differential backups.
Its scheduling options are extremely limited.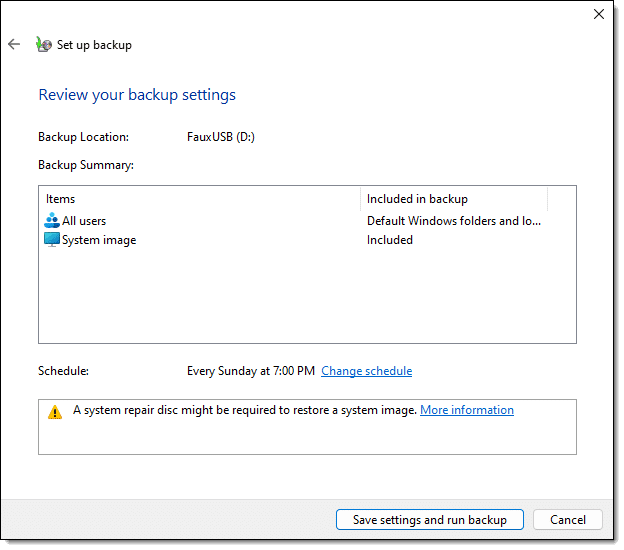 Given the many alternatives that have none of these limitations, there's really no reason to use Windows 7 Backup and Restore.
Do this
Instead of relying on Windows 7 Backup and Restore tool, do this instead:
Invest in an alternative — the paid version of Macrium Reflect or the free or paid versions of EaseUS Todo are fine choices.
Perform daily backups — a full image once a month and incremental backups daily.
Enable File History to back up files throughout the day.
Consider using OneDrive or an equivalent to back up important information offsite to the cloud and/or other devices.
I discuss backing up often in my weekly newsletter. Subscribe to Confident Computing! Less frustration and more confidence, solutions, answers, and tips in your inbox every week.
Podcast audio

Download (right-click, Save-As) (Duration: 6:00 — 8.3MB)
Subscribe: RSS