On some websites, "back" will hold you back.
Occasionally, the back button won't work and simply lands you back where you were. There are reasons, and there are workarounds.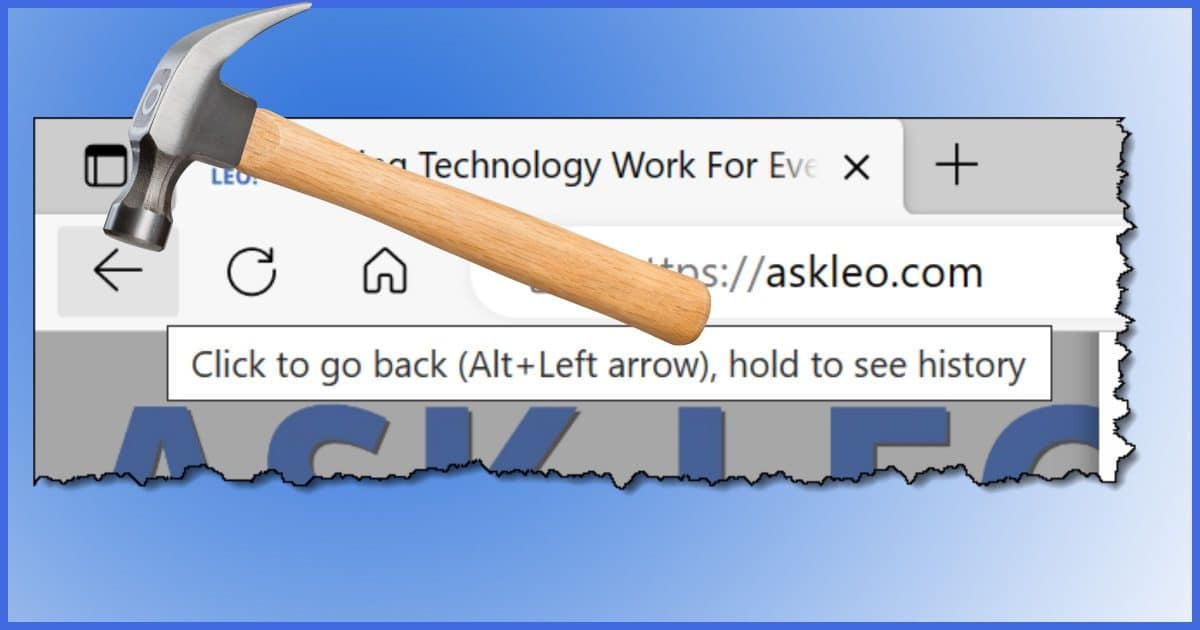 Question: Why is it on some web pages I can go 'back' to previous web pages as fast as I can click the mouse. On others I have to click 'back' 3 or 4 times, single or double click, and wait sometimes 15 seconds?
I feel your pain.
You hit the back button. The browser churns for a bit, perhaps displays a thing or two… and then returns you to the page you started on.
It's a function of the website's design. Sometimes, it can't be avoided.
Back not working?
If the back button appears not to work, try right-clicking on it to expose your history of recently visited pages. You can then click on the specific page you want to return to.
A to B and back again
Normally, when you click a link on page A that takes you to page B, you rightfully expect that when you hit "back", you'll return to page A.
And most of the time, you do.
Unfortunately, sometimes sites are designed such that when you click a link on page A, it actually takes you to page Z, which quickly and automatically takes you to page B. Now when you click "back" it takes you to page Z… which quickly and automatically takes you back to page B.
It might seem silly to go to an intermediary page, and sometimes it is. However, there are legitimate scenarios where it's the right thing to do. Regardless of whether it's silly or correct, it simply is, and as a web surfer, you're stuck dealing with it.
Fortunately, it's not that difficult to deal with.
The button is a list
The back button in most browsers includes a dropdown list of pages you've visited recently. It's the list of sites that you would be "backing" through if you kept hitting the back button.
Sometimes there's a small down-arrow indicator that the list exists, but sometimes you just have to know. If there's no little down-arrow to click on, right-click on the button to display the list.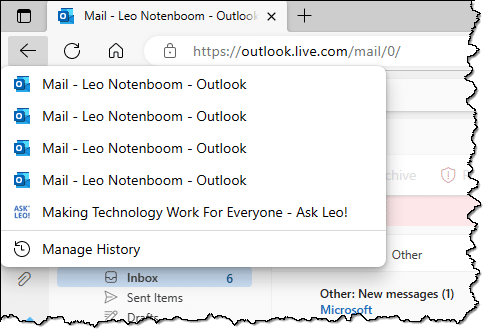 If there's one of these automatic redirection pages in the middle of everything, you can skip over it by clicking on the real page you want to go back to.
Do this
Just because it's relatively easy to deal with doesn't mean it isn't annoying, especially considering that you probably won't realize that you need to take this step until after that first "back" fails.
It's doubly annoying for me, since I see it happen often where it's not necessary or where there are other, friendlier solutions.
Want something that's not annoying? Subscribe to Confident Computing! Less frustration and more confidence, solutions, answers, and tips in your inbox every week.
Podcast audio

Download (right-click, Save-As) (Duration: 3:44 — 2.6MB)
Subscribe: RSS