Keeping it current is critical.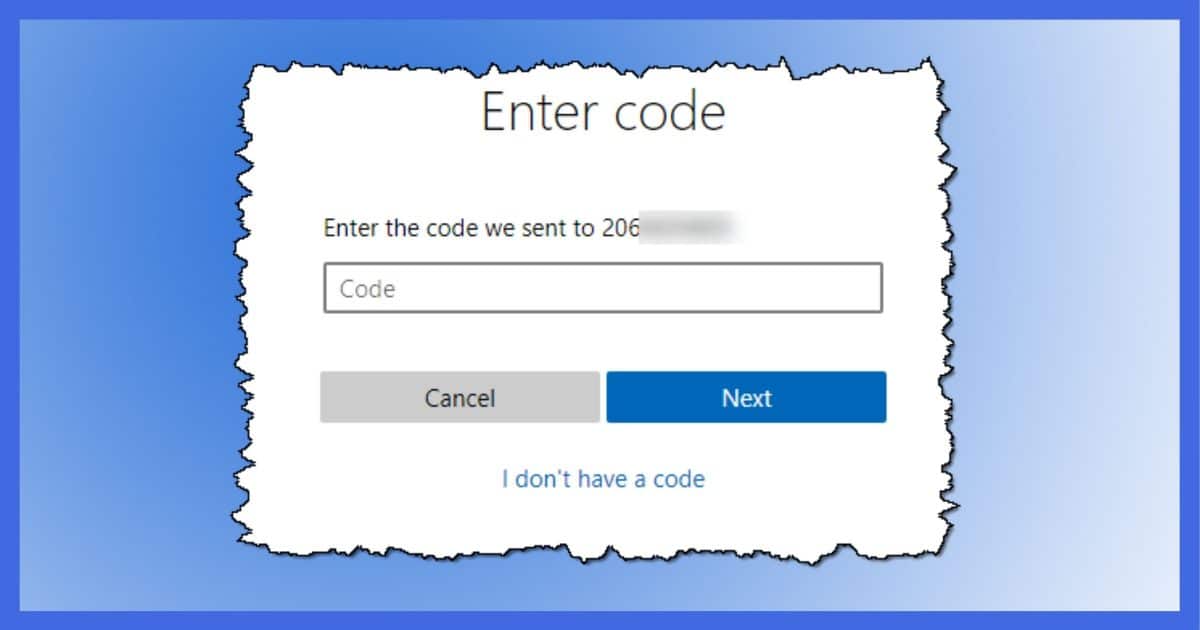 Mobile numbers are an important component of Hotmail and Outlook.com security. I'll review how to change the mobile number and keep it up to date.
Question: How can I change my mobile number in my Microsoft account (aka Hotmail/Outlook.com) account? I can't find any information about "mobile number" and I've had some problems with this account. I made this account 15 years ago and I can't remember the mobile number I gave back then.
The security features associated with Microsoft accounts (and almost any Hotmail.com or Outlook.com email address is a Microsoft account) have been giving people fits.
Because account hacking is such a massive problem, Microsoft has tightened security quite a bit. Unfortunately, people now find security codes are getting sent to phones and email addresses they no longer use.
Keeping that security information up to date is critical. I'll walk you through the steps to update it.
Changing your account's mobile number
Sign in to your account
Click on My Microsoft account in the upper-right account drop-down.
Click on Update your security info.
Click on Advanced security options.
Click on Add a new way to sign in or verify.
Click on Text a code.
Enter the code received.
Remove any outdated phone numbers still associated with the account.
Your Microsoft account
From Microsoft's perspective, you don't really have a "Hotmail" or "Outlook.com" account. What you have is a "Microsoft account" that happens to use a Hotmail, MSN, Live, or Outlook.com email address as its identifier.
What that means is that we'll be changing the security information associated with your Microsoft account.
Important: you must be able to sign in to make any changes. When you think about it, this makes sense: if you didn't need to sign in, anyone could make the change and steal the account from you. Your ability to sign in is how Microsoft (and any service provider) confirms you're authorized to make the change.
If you can't sign in, begin by recovering access to your account.
Account security
Log in to your email account at outlook.com. Once in, click on your display name, initials, or icon in the upper right corner:
Click on My Microsoft account (above).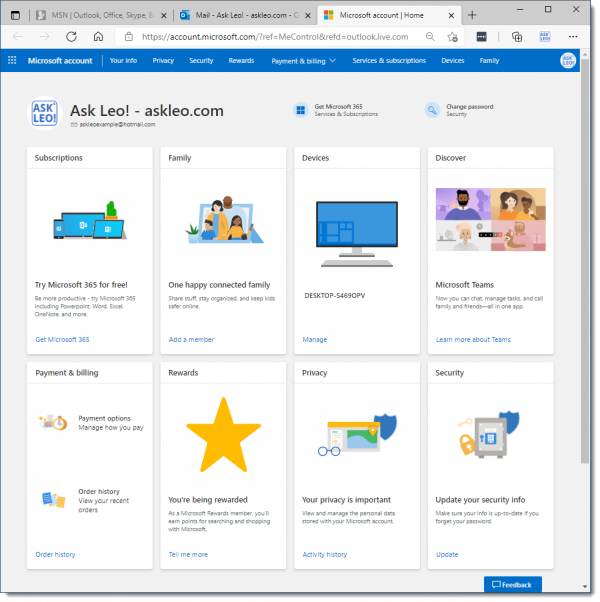 Click on the Update your security info tile.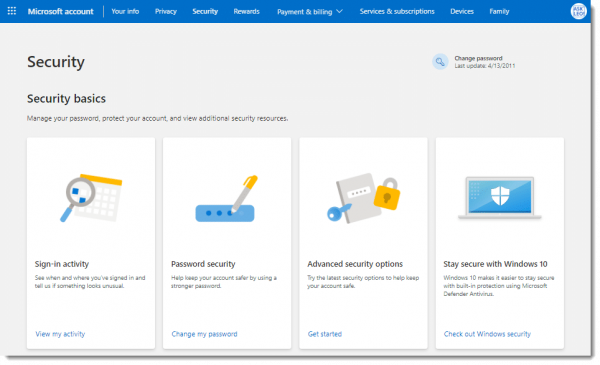 Click on the Advanced security options tile.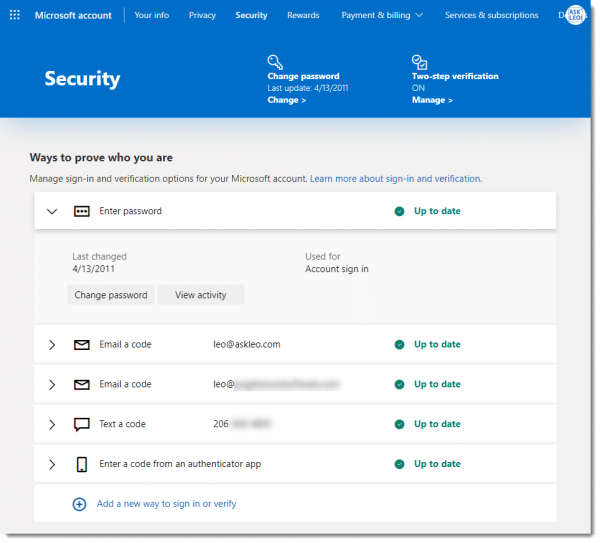 This is a list of all the ways you can prove you are who you say you are, including your password, alternate email accounts, and phones.
Changing Security
If the phone number listed for "Text a code" is correct, then you're done. You need change nothing.
If that number is incorrect, or it's not listed at all, then click on Add a new way to sign in or verify.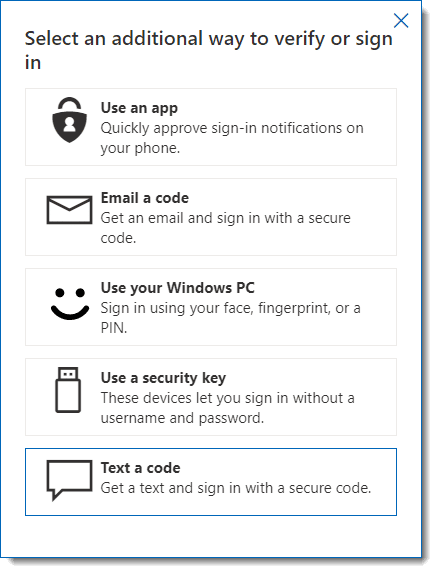 (You may need to click on "Show more options", if present, to see the full list.)
Click on Text a code.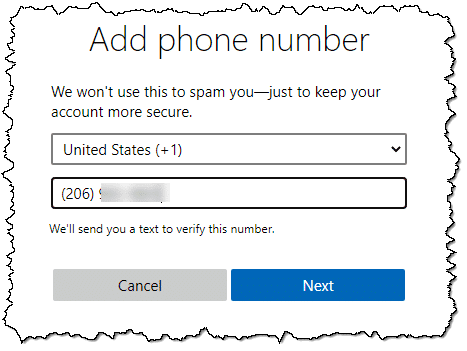 Click Next.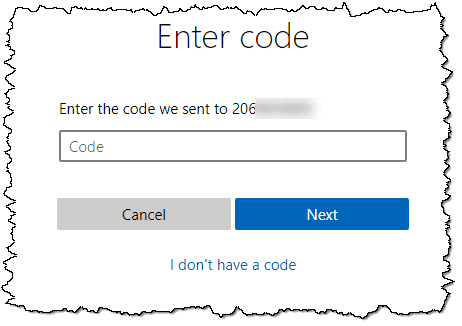 Microsoft will send you a code via text. Enter that code, click Next, and you'll find your new number added to the list of "Ways to prove who you are".
Be sure to also remove any numbers that are no longer valid or in your control.
While you're here
After you've updated your information, I strongly suggest that you scroll down a little further on the advanced security page and set up a recovery code.

This is another valuable tool to regain access to your account should you ever run into trouble.
More information here: Recover Your Microsoft Account Later by Setting Up a Recovery Code NOW – Step by Step Instructions.
Maintaining your security information
[al_twitter p="1″]It is critical that you keep your security information up to date. I can't stress this enough. Not doing so is perhaps the fastest way to lose your account forever.[/al_tweet]
If you lose access to the (alternate) email addresses and phone numbers you have associated with the account — either because you forgot your username or password or simply no longer have the account or phone — then it may be impossible to recover your account should you ever need to. That's why designating more than one alternate email address and/or phone number may be a good idea.
Make sure this information stays correct and that you always have access to the alternate email address(s) and phone number(s) listed.
Podcast audio

Download (right-click, Save-As) (Duration: 5:04 — 6.1MB)
Subscribe: RSS