Is there any way to make System Restore use less space if we would like to have the benefit of a restore, but not use up all our space? I just saved half my hard drive by turning System Restore off.
Yes, we can adjust the amount of disk space System Restore will use.
But that adjustment comes at a price.
My caveat on System Restore
I need to be clear on something: I don't like System Restore.
In my experience, it's proven unreliable, and to this day I don't believe it can be counted on.
Also, we need to very clear: System Restore is not a substitute for backing up. System Restore will not restore everything. Specifically, if you lose data files and expect System Restore to recover them, you're in for a rude surprise.
System Restore is best thought of as a backup of your system registry and maybe a little bit more. While it might save a few more things, that's the safest way to think of it.
System Restore and disks
System Restore works by saving a copy of whatever it saves to some pre-allocated space on disk. Each time a new restore point is created, it's placed in this space, and when that space fills up, the oldest restore points are removed to create room.
You can adjust that pre-allocated space and make it smaller, but the price is that your system will then save fewer restore points; you won't be able to restore as far back as you could before.
In Windows 10, click on the Start button and search for "System Protection". Click on Create a restore point when it appears in the search results. Make sure the System Protection tab is selected, and click on Configure. (In older versions of Windows, right-click on My Computer, click on Properties, and then click on the System Restore tab.)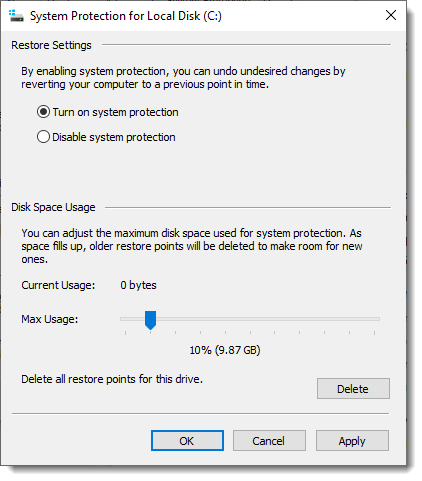 Make sure the "Restore Settings" is set to "Turn on system protection" to enable System Restore.
Under Disk Space Usage, you can adjust the slider to increase or decrease the amount of space taken up by restore points. In the example above, I've set it to 10% of the 100GB drive.
If you turn System Restore off, no disk space will be used.
After making any changes, click on OK or Apply to have those changes take effect.
What I do
You can probably guess what I do.
I turn System Restore off completely and rely on my nightly backups to protect me. Should I encounter a problem, a restore to one of those previous backup images does the trick.
As an added benefit, restore points take up no space on my hard disk.
If you're uncomfortable with no System Restore at all — and I'll admit it's convenient when it works — then simply set the Disk Space Usage lower.
Unfortunately, it's not easy to determine just how large a restore point will be. You can make a very rough guess by creating a restore point and then returning to the configuration dialog shown above and noting in "Current Usage" how much space that restore point uses. Not all restore points will be this size, but it's a start.
Podcast audio

Download (right-click, Save-As) (Duration: 3:49 — 3.6MB)
Subscribe: RSS