There's nothing to be afraid of. Really!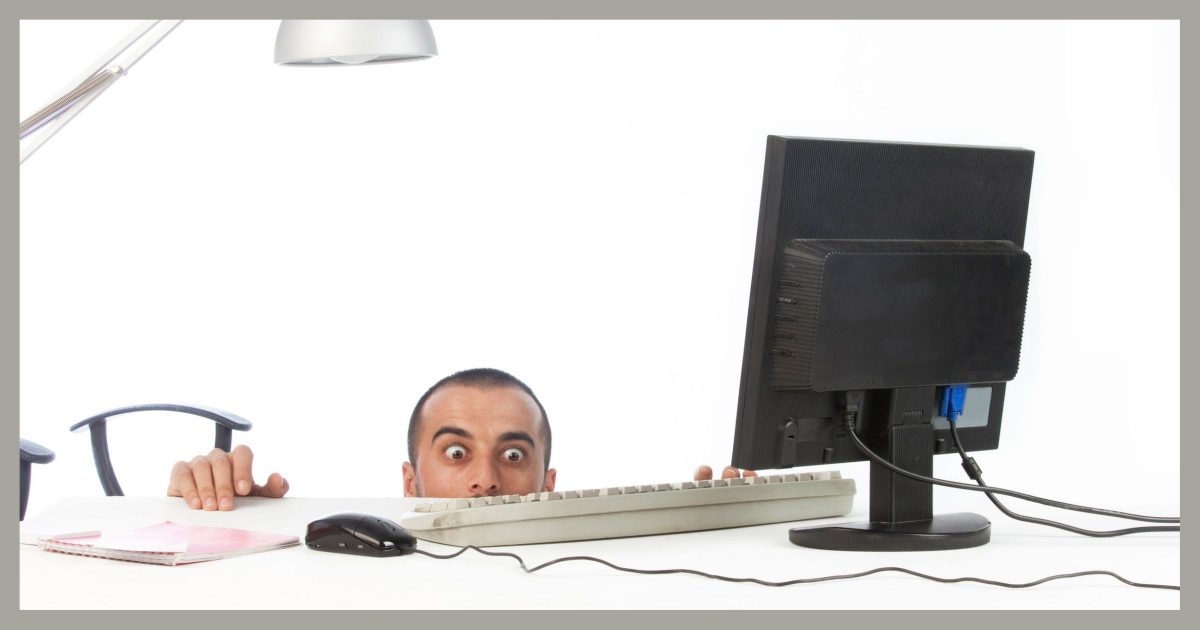 Are you afraid of your computer? I'll look at some ways to become less fearful and more adventuresome.
Some time ago, after seeing one of the many questions that come into Ask Leo!, one of my assistants asked, "Why is this person asking this question rather than just trying it out?"
Very often it's because they're afraid.
There's just no need for that.
Don't be afraid to try
Trying things out on your computer is faster than waiting for someone to answer your question, and almost always either completely benign or easily undone. Even when it's not, a regular full image backup provides protection from the worst mistakes you can think of.
Try it… or wait
Trying things is immediate, and typically gets you an instant answer — or at least progress towards one.
Asking? Asking itself takes very little time. Waiting for your answer is another matter. Regardless of where you ask your question, you're now waiting for someone to a) decide to answer you, and b) take the time to so do, at c) some random time in the future.
In the case of Ask Leo!, the question form and the auto-response you get advises you that it can take several days before I can answer, as well as a number of conditions in which I may not answer at all.
So, why not try first?
Breaking something
Perhaps you're afraid you'll break something.
It's extremely unlikely.
Sure, some things are more serious than others. But, for example, I assume you already know what "delete" means and know not to go about deleting things randomly, even in the name of experimentation, without taking precautions beforehand (like a backup).
More common, though, is that there are so many things that are very simple to test. "If I do 'A', will 'B' happen?" where both A and B are benign and safe. These are things you could easily try so as to get the answer you're looking for without waiting.
Honestly, there are so many things that fall into this "Why not give it a try?" category that I'm truly perplexed and sometimes frustrated at people's unwillingness to venture out and experiment.
So much fear
So many people are literally scared of their machine! They're so afraid that they're paralyzed in fear, unable to do anything they're not already absolutely, completely familiar with.
Some are afraid they'll damage their computer physically. Nothing you do in Windows or the programs you run will damage the computer itself. It's all software, and in the worst case scenario, software can be reinstalled. In most cases it never comes to that; whatever you do can usually just be undone.
I find it frustrating at a personal level, but also very sad, because that fear is getting in the way of not just enjoying or even in some cases using the computer, but it's also getting in the way of learning. Trying things out and experimenting for yourself is one of the best ways to learn how to do something.
That's all very true when it comes to your computer and technology in general.
Horror stories
I know that things can go wrong. We all hear horror stories. Horror stories make for good headlines and gossip; they really do, but the fact is, most of the time things work. Most of the time, things are not damaged. Most of the time, things are not damaged in a way that can't be easily recovered.
And yet, because we hear the worst, we fear the worst. Even though the worst rarely happens.
OK, OK. So most of the time things work, but what about the rest of the time?
You already know my answer to that.
Protection from the worst is easy
I've been saying it for a very long time, and it's another reason I say it again here.
Regular full image backups of your machine, coupled with something to deal with real-time changes, like using Dropbox to back up your work in progress.
That way, if you try something and it really, really doesn't work and somehow messes up your computer — perhaps even to the point of not even being able to boot — the solution is simple.
Restore to the most recent backup. You've "undone" whatever experiment you ran, and you've learned something in the process.
Backups, especially full image backups, are that powerful and that conceptually simple.
Freedom to experiment and learn
Backing up gives you the freedom to experiment — to try things safely.
Most of the time, everything will work just fine. Most of the time, even if something goes wrong, it'll be easily corrected or undone.
For those other times, you've got that full backup allowing you to recover your machine, your entire machine, no matter what you've done, to the state it was in before you did whatever you did.
Do this
I encourage you to set up an environment where trying things on your computer is okay. In part, that means:
Setting up regular backups so there's really nothing to be afraid of, no matter how badly things go wrong.
Realizing that most of the time, things work, and even the mistakes we make are not catastrophic.
Try it on your computer, experiment with your computer, set up your computer so you can use it, make mistakes, try things out, learn along the way, and have it not be the disaster you might be afraid of.
While you're at it, subscribe to Confident Computing, and I'll help you learn even more! Less frustration and more confidence, solutions, answers, and tips in your inbox every week.
Podcast audio

Download (right-click, Save-As) (Duration: 8:26 — 7.6MB)
Subscribe: RSS