Use Dropbox for almost real-time backup.
Using Dropbox to share files across machines is pretty common. You can also use Dropbox on only one machine as backup technology.
One of the problems with daily backups is they happen only once a day.
Don't get me wrong: those daily backups are incredibly important. But what happens when you work on a document all day long, only to have it disappear before the daily backup happens?
That's where tools like Dropbox come in.
Dropbox is designed to automatically copy files between machines. As a side effect, the files are also replicated to Dropbox's online cloud storage. Leverage this for automatic backups by changing your default working folder to be a folder within Dropbox. Every time you save a file, you'll back it up with Dropbox.
Dropbox and Dropbox-like programs
I'm going to use Dropbox as an example throughout this article, as it's a ubiquitous and popular utility. If you prefer, however, there are alternatives, including SugarSync, Box.com, Spideroak, Google Drive, Microsoft OneDrive, and more.
The key feature these utilities provide is the automatic syncing of documents between multiple computers. If you create or save a document on machine "A", it is automatically replicated or updated on machine "B" (and "C" and "D" and however many you are using with the utility).
However, you don't need two (or more) machines for these utilities to have value. If you only work on one machine, the value comes from a by-product of the data synchronization. What looks to you and me like a direct copy from machine "A" to machine "B" is in fact a1:
Copy from machine "A" to the service's cloud storage.
Copy from the service's cloud storage to machine "B".
Between those two steps, your material is backed up to the cloud. Even if there is no machine "B", you still benefit, because every time you save a document, it's automatically copied to or updated on the service's cloud storage.
That sounds exactly like a backup to me. Every time you save the document to disk, it's backed up.
Installing Dropbox
Go to dropbox.com and sign up for an account: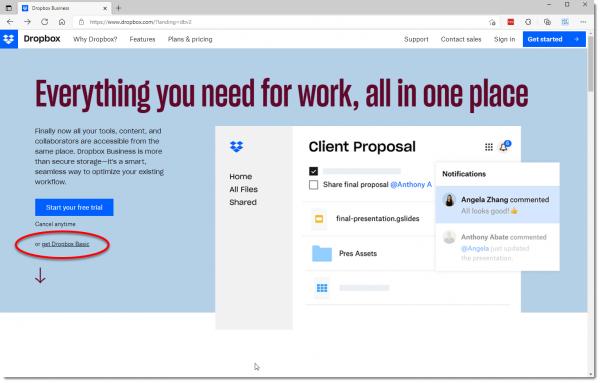 Click on "get Dropbox Basic", and on the resulting page, click on "Sign up for free".2
Fill in your name and email and choose a strong password.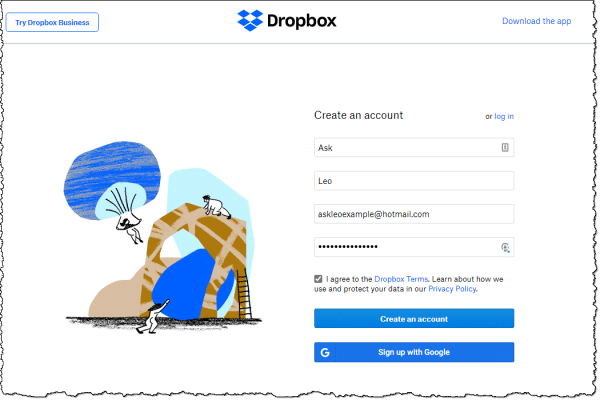 Naturally, you'll have to agree to Dropbox's terms of service. After clicking Create an account, you'll be taken to a page to select which Dropbox plan you want. The free two-gigabyte plan is a fine place to start.3
Once you click Continue, the Dropbox downloader may download and install the program for Windows. If it does not, visit dropbox.com/install to download and install the app.
After signing in to the app with the credentials you created above, it will ask if you want to turn on Dropbox's own backup feature. For now, leave that off. I'll discuss it in more detail below.
You can investigate the rest of the settings as you like, but the default installation is actually all you need. The important aspects of the newly installed Dropbox are:
It will automatically start with Windows.
A Dropbox folder will be created in C:\Users\<username>\Dropbox, where "<username>" is replaced with your Windows username.
The Dropbox icon will appear in the taskbar notification area.

Click on it to get the Dropbox status window.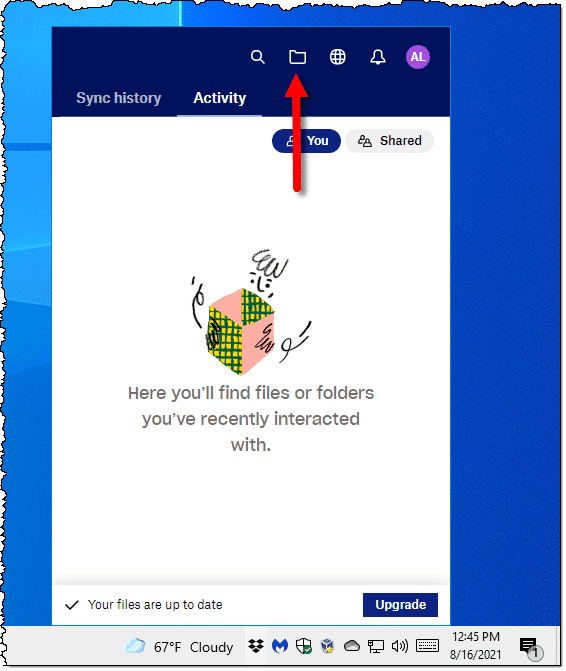 Click on the folder icon to open Windows File Explorer on your Dropbox folder.
The Dropbox folder
The folder that the Dropbox installer created in C:\Users\<username>\Dropbox is where all the magic happens.
Anything you place in this folder is automatically copied to the Dropbox servers.
Anything you update in this folder is automatically updated on the Dropbox servers.
This includes any and all sub-folders that you might create.
And if you have more than one machine using Dropbox with this same account, then any files placed into this folder or updated on other machines are downloaded (synchronized) to this one.
But this is only true for documents within the Dropbox folder.
If you're using Dropbox for automatic behind-the-scenes backup, we need to make one other change.
Changing the default document folder
I'm going to use Microsoft Word for this example, but the concept is very simple: we need to change the default document folder in whatever application(s) you use regularly to be a folder within the Dropbox folder.
In Microsoft Word, under File, Options click on the Save sub-section: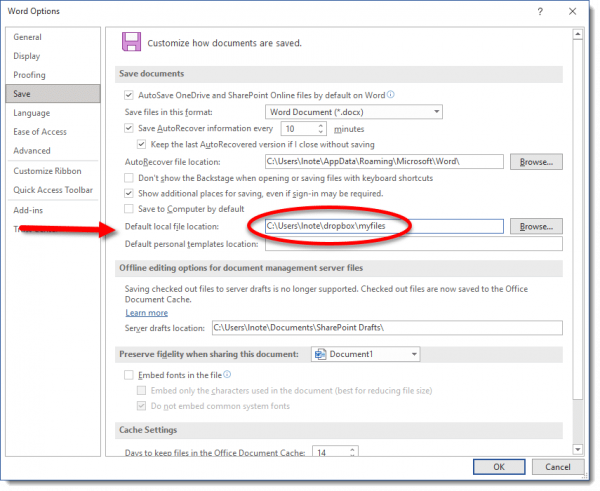 Change Default local file location: to be the full path to the Dropbox folder. In fact, it might be worthwhile to create a folder within your Dropbox folder for this purpose. I created a "myfiles" folder within my Dropbox folder and then changed the Word default folder to "C:\Users\lnote\Dropbox\myfiles"4, as shown above.
Now whenever you create a new document in the default location,

that document is automatically replicated to your Dropbox account online.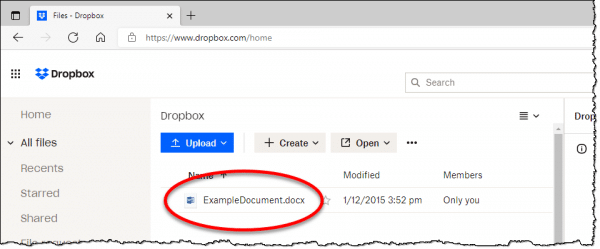 In fact, every time you hit "Save" in Word, the document is uploaded to Dropbox. You can always download the most recent copy from the Dropbox web interface.
Version history
As I've said, the big selling point of Dropbox and utilities like it is that you can install it on multiple machines, and the files you place in your Dropbox folder will be synchronized across all of them.
Dropbox online also includes version history. Quoting the Dropbox site: "By default, Dropbox saves all deleted and previous versions of your files for 30 days." Thus, if you're using Dropbox as I've outlined here, and you make a number of changes, or accidentally delete a file in the Dropbox folder on your hard drive, not to worry: you can still use the Dropbox online interface to retrieve previous copies of the file.
Dropbox is available across different devices, including phones and tablets, as well as different operating systems, including both PC and Mac.
The Dropbox backup feature
At some point in the setup process, you likely saw this: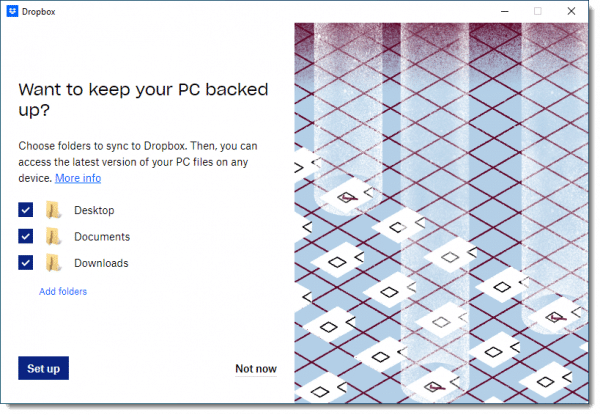 If you elected "Not now" during the initial setup, you can visit the options in the Dropbox app to set it up: click on the notification area icon, click on the icon in the upper-right containing your initials, click on Preferences, click on Backups, and then click on Set up.
Depending on the choices you make, you can have Dropbox also include your Desktop, Documents, and Downloads folder. Specifically, that will include:
C:\Users\<username>\Desktop
C:\Users\<username>\Documents
C:\Users\<username>\Downloads
in addition to Dropbox's own folder
C:\Users\<username>\Dropbox
(In advanced settings, you can also include the "Music", "Pictures", and "Videos" folders if you like as well.)
Using this feature side-steps the need for changing the default save location in all your apps. Most will already default to "C:\Users\<username>\Documents".
There are a few things to be aware of when turning this option on:
Your files will be visible in Dropbox online in a separate "PC" folder for each PC using this feature.
You may be surprised by the amount of data you already have in these folders. Dropbox may have warned you of this and encouraged you to purchase a paid plan to avoid the 2GB limit of the free plan.
Some people find this feature fairly confusing.
This feature may interact with or interfere with similar features in similar tools like OneDrive, if you use both.
My recommendation, especially with a free account and only 2GB of Dropbox storage, is to leave the Dropbox feature turned off, and manage what gets backed up by carefully managing the folders and default save locations within Dropbox's own "C:\Users\<username>\Dropbox" folder.
You can read more about the Dropbox backup feature here.
Using Dropbox for work in progress
My example has been about using Dropbox with Microsoft Word, assuming that's where you do most of your work. In reality, any program that saves data to your computer can be set to save to your Dropbox folder by default.
I use Dropbox folders for my Word documents, text files, pictures … just about anything that's a "work in progress". (In reality, since I also use this technology on multiple machines, I keep much more in these folders, simply so they're replicated across all my machines.)
Dropbox can be an important part of a healthy backup strategy.
Footnotes & References
1: I'm not showing every step because these steps change from time to time. Right now, Dropbox appears to be prioritizing business accounts. Dropbox Basic is their free offering. If you land on one of the business plan pricing pages, look for and click on the option for "Personal plans", which should include Basic.
2: For the very observant, this example image is actually on a different machine, hence the difference in user name: "lnote" versus "askle" in the Dropbox paths.
Podcast audio

Download (right-click, Save-As) (Duration: 14:26 — 16.4MB)
Subscribe: RSS