A checklist.
A checklist to resolve Windows not recognizing USB devices.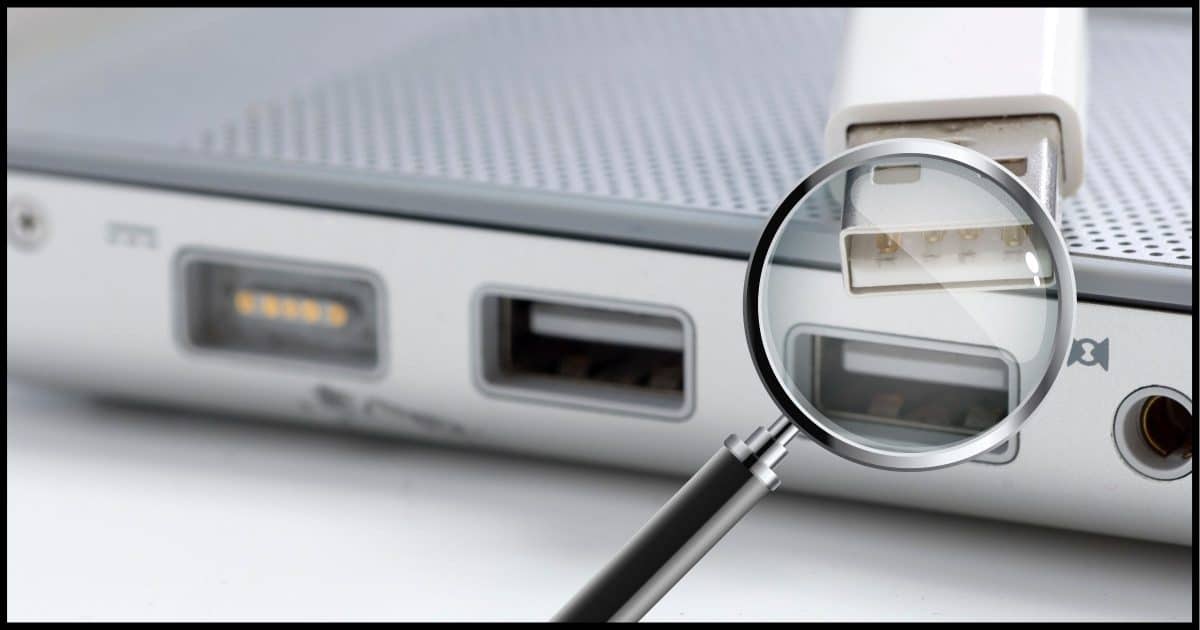 I have a problem with my USB ports. Say I plug in my digital camera to upload some pictures to the tower, my system won't recognize that it's plugged in.
USB is great when it works, but as you're experiencing, it can be a pain when it doesn't.
It's fairly mature technology, but still suffers from everything from occasionally faulty hardware to driver issues, compatibility issues, and more.
Let's run through a checklist of all the things to look into when experiencing USB issues.
Windows not recognizing USB: a checklist
Restart your computer
Unplug your computer
Plug directly into your computer
Try another USB socket
Try a different cable
Update software
Update more software: UEFI/BIOS
Update even more software: drivers
Uninstall and reinstall the drivers
Try a different computer
Disable Selective Suspend
Update USB controller drivers
Run the System File Checker
Scan for malware
Contact the manufacturer
The checklist
Step zero, of course, is to back up. Some of the items below involve updating software or making changes to your machine, and you should always protect yourself with a full image backup before you begin.
1. Restart your computer
Seems like this is our go-to first step for just about anything, and that's because it works so often. Restarting your computer can often reset software such as USB drivers that have become "confused". Try attaching your USB device immediately after the restart.
2. Unplug
This applies mostly to desktop machines, but the idea here is that just as rebooting can "unconfuse" software, removing power for 30 seconds or so can do the same for hardware such as USB ports that might be in an odd state that persists across simple reboots. Use the Shut Down command, wait until it finishes, unplug for 30 seconds or more, re-plug, and restart.
3. Plug directly into your computer
For a variety of reasons, a USB hub can sometimes cause problems. The most common is that they're sometimes unable to provide enough power when multiple devices are connected (sometimes even if they have their own power supply). Poorly designed hubs can also occasionally interfere with the USB protocols. Bypass the hub by plugging the USB device directly into your computer, and see if that helps.
4. Try another USB socket
Particularly if you're plugging your USB device directly into your computer, try a different USB socket if available. It's not uncommon for the connectors to wear, or become loose, or for dirt to get into the socket and prevent a clean connection.
5. Try a different cable
This surprises people, but it happens often: USB cables wear out. If this is a USB device that connects using a cable of some sort, try a different cable. If things start working, discard the original cable.
6. Update software
While not always successful, it's a simple thing to try: run Windows Update until no more updates are available. On the off chance that a Windows or USB driver is the cause of the issue, perhaps it'll have been fixed in an update.
7. Update more software: UEFI/BIOS
The UEFI (formerly BIOS) firmware on your computer often plays a key role in USB support. Check with your computer's manufacturer to see if there are any updates available, and consider applying those updates particularly if they address USB issues.
8. Update even more software: drivers
While Windows Update manages drivers for most common devices, it often lags behind the drivers available directly from the manufacturer. If you can, locate your USB device's manufacturer's support site to see if they have more current drivers available.
9. Uninstall and reinstall the drivers
Occasionally, Windows might get a little confused as to the state of current drivers for a specific device. One quick way to "reset" Windows for the device is to uninstall the driver for the device and then let Windows automatically install what it believes to be the most current driver from scratch.
10. Try a different computer
A quick way to determine if the problem lies with your device or your computer is to connect it to a different computer if you have one available. If it works, then you know to focus your efforts on computer-specific solutions, whereas if it fails, you know the problem is likely with the device itself.
11. Disable Selective Suspend
The USB Selective Suspend feature allows the USB hub to selectively suspend (turn off) specific USB ports if it thinks they're somehow interfering with the rest of the USB operation. A great idea in theory, but it can occasionally cause issues. Try disabling it.
12. Update USB controller drivers
These are the drivers not for the USB device itself, but for the USB controller built into your machine. As always, Windows should have the latest in place, but it can get confused. The uninstall method allowing Windows to reset the drivers is probably the best approach.
13. Run the System File Checker
SFC, or the System File Checker, scans all the files that make up Windows itself to ensure none are damaged and attempts to repair any that appear to be. While not directly related to USB issues, problems in Windows itself can manifest in many ways, including USB issues.
14. Scan for malware
An up-to-date malware scan wouldn't hurt. Malware can cause problems that manifest in several ways, including, in rare cases, USB issues.
15. Contact the manufacturer
When all else fails, it's time to contact the device's manufacturer. Hopefully, their support team may be able to provide more specific assistance.
Do this
As you can see, a lot can go wrong. USB devices are powerful, convenient, and flexible, but with all that comes a degree of under-the-hood complexity that occasionally manifests as problems using the device.
Now you have a list of things to try when this happens.
Add this to the list too: subscribe to Confident Computing! Less frustration and more confidence, solutions, answers, and safety tips in your inbox every week.
Podcast audio

Download (right-click, Save-As) (Duration: 7:48 — 5.7MB)
Subscribe: RSS