Hi, Leo. I'm wondering if a VPN service might be useful at home on my personal Wi-Fi? I use a desktop and my Android smartphone there. I know it's useful elsewhere.
A VPN or a Virtual Private Network is typically offered by a service that then encrypts all of your internet activity between your computer and their service.
Normally, a VPN isn't particularly useful at home, but there are a few scenarios where it might make sense.

VPNs & encryption
First, a quick review of what a VPN offers you.
Let's say you visit askleo.com (as, I of course, I hope you do – often :-) ). That connection is not encrypted. (See footnote below1.) What that means is that the pages you request of Ask Leo! and the pages themselves as they're downloaded and displayed on your computer are actually visible to anyone who can intercept your internet connection.
The most common scenario is an open Wi-Fi hotspot for example, where someone sitting in a corner with a laptop can listen in on unencrypted conversations.
On the other hand, many sites you visit are encrypted. Anything with https, for example, is encrypted. Interceptors can't see the contents of the conversation, but they can see that you're having a conversation, with say, your bank or your email service.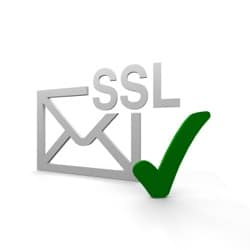 A VPN gets in the middle. You connect to the VPN service first; and this connection is encrypted so no one can see what transpires across it and all your internet activity is routed through this connection.
When you then visit an unencrypted site, like askleo.com, your computer connects to it through the VPN service's connection to it's server. So no one in the coffee shop's open Wi-Fi, for example, can see what you're up to. The VPN service's server connects, unencrypted once again,  making that last leg to the site you're visiting.
Not only can that person in the corner of the coffee shop not see what pages you're viewing, they can't even see what sites you're visiting at all. And that goes for https sites, as well as email and other connections, in addition to plain old http. The connection might be a little bit slower since it's having to go through this additional server, but it's completely encrypted as it makes that last leap to and from your computer.
VPN usefulness
Now, we know that a VPN is potentially valuable in situations like open Wi-Fi hotspots at that coffee shop I've been talking about. It's one very effective way to protect yourself from that creepy guy in the corner with his laptop. But what about at home?
Well, a VPN could be useful at home if your internet is provided by someone you don't completely trust. For example, when your roommate, landlord or neighbor is the individual providing you an internet connection, a VPN can go a long way to insuring your privacy. And that's true whether the connection is wired or wireless.
Remember, whoever it is that provides your internet actually has the ability to see what data is transferred between your computer and the internet. Your ISP can see anything it might care to and in these cases, your roommate, landlord, neighbor or whoever else – is your ISP for all practical purposes. They're providing your internet and with sufficient knowledge on their part, they could snoop in on the unencrypted contents of your connection.
The other scenario that comes to mind is one of location, or rather attempting to get around location-specific restrictions. For example, you're in country A and you want to access a site in country B, but for whatever reason, you can't. Most commonly this comes up when videos are blocked based on where you live. One solution that sometimes works is to use a VPN service that resides in country B, or some other country that doesn't have that same restriction.
To the web site or video, it looks like you're coming from the VPN's country – not your own. Sometimes, that works. Once again, depending on what you're doing, performance can be an issue, particularly with video.
Those are the two items I can think of. As long as your router is secured and your Wi-Fi is using something like a WPA or WPA2 password, then by and large, you probably don't need a VPN at home. Most VPN services are tailored for the traveler who is regularly using open and untrustworthy hotspots and other internet connections on the road.