My experience using Proton VPN on a recent trip.
On a recent overseas trip, I exercised Proton VPN extensively and was very pleased with the results.
With so many publicly available Wi-Fi hotspots, using a VPN, or Virtual Private Network, is becoming an ever more important part of keeping yourself safe online.
On a recent trip overseas, I elected to use Proton VPN extensively. I was pleased with the results.
Proton VPN
Proton VPN is a fast, reliable, and secure VPN service. On a recent trip, I used it extensively and noted excellent performance and relocation capability. VPNs are an important component of security, particularly when traveling or using someone else's internet. The paid version of Proton VPN is well worth considering.
Before you ask
In the past, I've recommended TunnelBear as a VPN provider. That recommendation has not changed. It remains a solid choice.
Consider Proton VPN an additional recommendation.
Proton VPN is part of the Proton family of products, which includes Proton Mail, Proton Drive, and Proton Calendar. Some time ago I signed up for Proton Unlimited, which includes a variety of services, including the premium VPN service.
It's that service I'll discuss here and which I can recommend.
What is a VPN?
In What VPN Should I Use? I discussed the reasons you might consider using a VPN. They include:
Protecting your communications from being intercepted and viewed by hackers.
Making it appear as if you are located somewhere other than your actual location.
Protecting your communications from being monitored by network providers.
A VPN accomplishes this by routing all of your internet communications through the VPN service's servers rather than that of your ISP. Your ISP sees only a single connection to the VPN service through which all data is encrypted. No one snooping on the communications between your machine and the VPN service can see what you're connecting to or what data is being exchanged. Your connections reach their final destination appearing to come from the VPN service's servers rather than your own internet connection.
Proton VPN, like any good VPN, handles all of this transparently.
My trip
In October 2022, I took a trip to visit relatives in The Netherlands. Along the way, I used many Wi-Fi services, including:
In the aircraft on the way over and back.
At both airports.
At my hotel.
At random other locations, like restaurants, shopping centers, and more.
Each of those is a point of possible vulnerability. In general, they're all trustworthy, but there's no real way to confirm that. The only safe thing to do is to use a VPN for protection.
Performance
My biggest concern, and, indeed, the biggest impact in the past trying other VPN providers, was speed. It's not at all uncommon to find that your internet experience slows to a crawl once a VPN is enabled, particularly when using free VPNs.1
I was exceptionally impressed by Proton VPN's performance.
Not only did performance not suffer, there were times when I completely forgot that I was using a VPN on both my phone and my laptop. Everything behaved normally, exactly as if the VPN weren't present at all.
I can't guarantee this will happen in all circumstances, but that it happened to me during my one-week trip reliably, regardless of where I happened to be, was very encouraging.
Relocation
In addition to protecting myself as I used unknown Wi-Fi hotspots, I also used Proton VPN to virtually re-locate myself back to the United States on several occasions.
When turning on a connection in Proton VPN, you can elect to use the closest (presumably fastest) Proton VPN server, or you can select which country you want to connect through.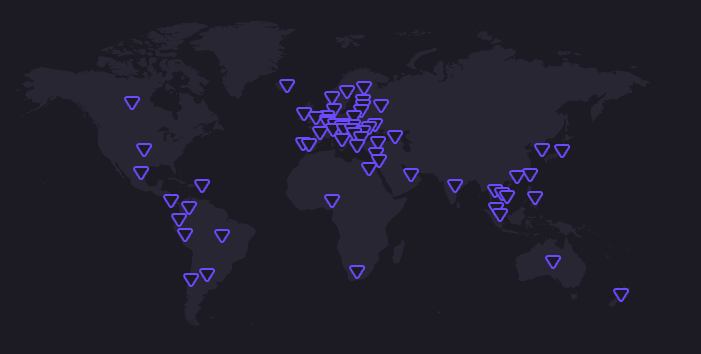 Connecting through the USA was as simple as clicking the icon on the map and selecting Connect. As far as the sites and services I was connecting to, I was in the United States, even though I was physically in The Netherlands.
Among other things, it allowed me to access local news sites2 that otherwise restrict their content to USA visitors only.
And again, without noticeable performance degradation. Several of the times I forgot I was running the VPN I also happened to be connected through the United States.
Proton VPN
Proton VPN hits all the important requirements for a VPN provider:
Speed.
No logging. Records of your activity are not kept.
Relocation. Make it look like you're in another country.
Disconnection protection (if for some reason your internet or VPN is disconnected, you can instruct Proton to block all "naked" internet traffic until the VPN is reestablished).
Multi-platform. (I ran it on Windows and Android; Mac and iPhone/iPad are also available.)
Easy to use.
You'll find their full feature list on their marketing page at protonvpn.com.
Do this
If you're traveling locally or internationally and plan to take advantage of the numerous Wi-Fi hotspots that are generally available, use a VPN.
Based on my recent experience, I can recommend Proton VPN's paid version as a solid solution.
Be sure to watch the video below if you're interested in seeing Proton VPN in action.
I also recommend that you subscribe to Confident Computing! Less frustration and more confidence, solutions, answers, and tips in your inbox every week.
Podcast audio

Download (right-click, Save-As) (Duration: 12:11 — 16.8MB)
Subscribe: RSS
Footnotes & References
1: I do not recommend free VPNs at all. In addition to having sub-par performance, they're generally "free" because your data is being collected and sold.
2: As part of my daily research for Not All News is Bad.
Michael Horowitz has an excellent, exhaustive discussion of VPNs, the difficulty in choosing one, and the pitfalls of many on his Defensive Computing site. Proton VPN is mentioned several times, all positive.