I plan to buy a new computer running with Windows 7. My present (old) computer has Windows XP. As an optional accessory for the new computer, I can purchase a Belkin Transfer Cable (which comes with its own software) to transfer everything from the old computer to the new one.
Is this what you recommend? Or do you recommend something else?
Typically, I don't recommend this kind of approach.
I know that software exists that claims to transfer all of your installed programs, settings, and so forth. I don't have a lot of experience with them, but my understanding is that they are sometimes incomplete and can be problematic. Again, I'm not saying yea or nay to the Belkin software. I just don't recommend it because it's not typically something that I trust with a transfer as major as going from Windows XP to Windows 7.
Instead, I suggest doing a couple of different things.
Connecting machines
If you're already connected on a local area network, you don't need a transfer cable to move files between computers. In other words, as long as your two machines are running at the same time and connected to the internet through a router, you can transfer files by connecting over your local network. This often is actually faster than some of the transfer cables that I've seen.
If your computers aren't set up to connect, networking can be difficult, but once you get it set up, it can be very easy to just copy individual files from one machine to another.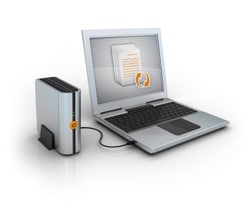 If networking isn't for you, then I recommend grabbing a good external hard drive and copying the files from your XP machine to that. Then you can take the hard drive to the new machine and copy the files there. When you're done you'll have an external hard drive you can then use for backing up.
Speaking of backing up, that's another approach:  take an image backup of the old machine, placing that backup on that external drive. You can then then take that drive to your new machine and extract the individual files as needed. Since the image backup will have everything you don't even have to remember what files needed to be copied.
My Approach
Be warned. People really want  to be able to push a button and have all of their installed programs and settings on the old machine magically appear on the new one. I understand the desire. That's why "copy all programs and settings" kinds of utilities are appealing. In my experience, things are just too complex to work that cleanly. There are incompatibilities, programs don't transfer properly, and settings and stuff get lost.
Instead, I recommend a different approach.
When you get your new machine, I'll assume that you'll have Windows 7 pre-installed. In that case, I recommend that you:
Take a backup image of your old machine. (Heck, take a backup of your new machine – not for this purpose, but because it's a good idea to save a "factory fresh" copy.)
Install the software that you'll be using on the new machine.
Move or copy the data that you care about, such as your documents, pictures, and spreadsheets, using the various techniques that we've talked about here: over the network network, by copying to and from a hard drive, or extracting from a backup image of the old machine.
When all is said and done, you'll have everything needed on your new machine, and perhaps even everything you need to back up regularly as well.