Question: What are your external hard drive best practices?
External hard drives are a ubiquitous, simple way to provide additional storage or portability (or both) to an existing desktop or laptop computer.
These are the steps I take to ensure my external hard drives remain as useful as possible as long as possible. They break down into three categories: hardware, software, and something so important that it deserves a category of its own.
You can probably guess what that last one is.
Remember to back up the contents of any drive, external or otherwise.
Avoid physically damaging your drive, especially while it's being used.
A little software maintenance can go a long way to extend a drive's useful life.
When the time comes, make sure to securely remove or destroy any data left on the drive.
Back up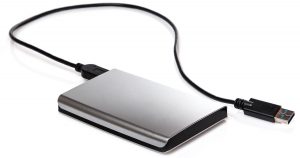 The single most important piece of advice I can offer is to back up the contents of your external hard drive.
Many people consider their external drive their backup drive, and once they copy data or other files to it, they delete the original. The files are on the backup drive, so they must be backed up, right?
Wrong. So very, very wrong.
They have only one copy of their data — on that external drive. If that drive fails, their data is gone. It doesn't matter that the drive was called a "backup drive"; the files were in only one place, and thus were not backed up.
Make sure data stored on external drives is somehow duplicated — backed up — elsewhere as well. Like all drives, external drives can and do fail, often without warning. This is true regardless of the technology (HDD or SSD) used.
Hardware issues
When it comes to ensuring the longest life possible for the hardware, the most important thing to avoid is moving, jostling, or especially dropping the drive while it's in use. Dropping isn't good at any time, but can be particularly damaging when the drive is doing something.
This is true for both HDDs (traditional spinning platter Hard Disk Drives) and SSDs (Solid State Drives), though it's more important for the former. There are moving parts within the HDD that, if jostled enough at the wrong time, can cause irreparable internal damage and data loss. More commonly, moving the drive causes the cable connecting it to your computer to become partially or fully disconnected, which in turn risks data corruption.
If you drop your HDD, or suspect an issue for any reason, immediately run CHKDSK /R on the drive. This will report, and possibly fix, any errors caused by the fall.
Use drives with a USB3 (or USB-C) interface if at all possible. This requires having a computer that supports USB3. It's much faster than USB2, and speed becomes more of an issue as our files get larger over time.
There's no consensus on whether  you should turn the drive off or not (using a power button, if it has one, or unplugging it), or allow it to spin down1 automatically or not. Doing so can save a small amount of electricity, but may result in more wear and tear on the drive as it heats up and cools down repeatedly. Leaving it connected and always on means it's always ready for use.
Let your use of the drive guide your decision: if you use it frequently, leave it on; otherwise, perhaps not. In my case, my external drives are always on, but are allowed to spin down after some period of inactivity.2
However, if turning it off interferes with your backup strategy in any way, leave it on. Backups are more important.
Software
In a sense, software doesn't affect the longevity of a drive, since you can always erase it and start over (as long as the hardware is working). But some choices and habits can lengthen the useful lifespan before that drastic action might be required.
If you'll only use the drive with Windows-based computers, format it as NTFS. NTFS is slightly more resilient to some types of disk failures, and also somewhat faster. If you plan to connect the drive to non-Windows devices, then FAT32 or exFAT has more widespread support.
You don't need to defrag your external HDD drive unless you use it intensely (in which case you might want to consider an internal drive instead). Defragging may speed things up slightly, but it generally pales in comparison to the USB interface speed, so you'd never notice the improvement. Do not defrag SSDs.
Run CHKDSK /F on the external hard disk periodically to check for and repair any file system errors that may occur due to physical abuse (like the jostling discussed above) or program crashes.
Every so often, review what you have stored on your external drive to see if you still need the files, or still need them connected to your PC. You can either move or archive things to a drive normally kept offline, or, if you're certain, delete things you no longer need. Freeing up space will keep the drive more useful, longer.
The end of the drive
If a drive is working well, but is too small or otherwise inappropriate for whatever you need it to do, consider the "trickle-down" approach: use the drive on another, less demanding machine, or offer it to someone else. Many of my oldest external drives have gone on to live useful lives connected to some of my older, slower machines, performing less demanding tasks.
I do have to add that while our goal here is to keep the drive as useful as possible for as long as possible, don't be afraid to replace it if you think it's having problems that can't be repaired, or you decide it's simply too small.
If the drive starts to act up, reporting errors, not coming online as expected, or whatever else — and you can't seem to repair the situation — a new drive is typically less costly than the effort you put into the repair attempt. Replacing a drive is also less costly than experiencing catastrophic failure and potential data loss.
And of course, a new drive will probably be larger and/or faster.
Finally, when the day comes to dispose of your external drive, make sure you don't give a stranger whatever data is, or was, stored on it. If it's working, do a full (non-quick) format of the drive, or use a secure delete or free-space wiping tool to remove all your data and ensure it's not recoverable. If it's not working, consider physically destroying the drive in some way.
I have many external drives, some of which are nearly a decade old. They keep working, and while they seem to get smaller every year,3 they continue to play various roles in my setup.
With a little care, yours can last a long time as well.
Podcast audio

Download (right-click, Save-As) (Duration: 7:22 — 3.4MB)
Subscribe: RSS
Footnotes & References
1: Many drives automatically stop spinning the disk inside after some period of inactivity so as to save power. You can usually hear it stop spinning, and there's typically a delay the first time you access it thereafter as the drive comes back up to speed.
2: Mostly because there's no setting to adjust or disable the spin-down. Disabling spin-down can be easy, difficult, or impossible, depending on the drive, and apparently mine falls into the last category. Based on how I use the machine, I'd prefer it to be always on.
3: In comparison to what's newly available each year. 500GB isn't considered as big as it once was.