If there's only one copy, it's not backed up.
It's something that I say and say and say because every day, I see the disasters that result from not understanding that simple concept. It hurts me every time I have to tell someone "Sure, here's how to resolve the problem you're having. But your data? That's gone forever."
I say it more frequently than I want to and what's frustrating is that I know deep down that I say it more frequently than I should have to.
I'm not saying backups are trivial, although even just backing up the basics can be a lot easier than most people think. And I do recognize that there are obstacles, not the least of which is that people often think they're backing up when they're not.
An external drive alone is not a backup
I frequently get comments from readers such as this:
"My data's on an external backup drive."
OK, good. Maybe.
Maybe not.
If your data is only on that backup drive, then it's not backed up. It doesn't matter that you call it a backup drive, if your data is in
only one location, it's not backed up. If that external drive fails someday, then it could take all your data with it. I've seen it happen.
Your camera's probably not backed up
Do you take lots of photos with your digital camera or with your phone? Perhaps you take videos, too.
How long do you leave them on your camera and only on your camera?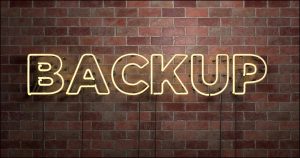 If there's only one copy, it's not backed up.
Think for a second just how easy it is to lose a small digital camera or phone. Heck, I've done it!1
And those cameras and phones can fail too, taking everything stored with 'em.
It's another story I hear all too frequently: photographs kept only on the device on which they were taken – camera or phone – are lost and gone forever due to some failure or mishap.
The word to remember: Copy
The fundamental word and concept to remember is "copy."
Backing up in any form is all about making one or more copies of your valuable data.
That means moving your data to a "backup" drive is not a backup, but copying it would be.
You start with a single original and end up with that original and a backup.
Repeat for everything you care about.
At its most basic level, it doesn't even matter where you copy it to, as long as you make a copy. Everything else is organizational administrivia and optimization.
Any copy is better than no copy
Many people find backing up too intimidating. All the talk of backup programs and images and incrementals and scheduling things to happen when you're not around results in a virtual paralysis.
As a result, nothing gets backed up.
And all too often, everything is lost as a result.
So, start simple. At a bare minimum, copy your important data somewhere. Copy those pictures soon after taking them. Save that
important email somewhere other than your email account. Copy your thesis2 to a flash drive and then burn it to CD.
No, it's not perfect. In fact, far from it. But don't let perfection become the enemy of the good. Any kind of copying that you can do is better, almost infinitely better, than doing nothing at all.
Then, you refine and improve over time.
Making it better
Once you're in the habit of making copies of your important files, how do you improve?
There are so many options (which admittedly is one of the reasons why many fail to act):
Get a utility like DropBox and set things up so that your work, your photos, and whatever else you might want are automatically copied any time you make a change to it. While you're setting up DropBox, set it up on your smartphone as well so that every picture you take is automatically copied into your DropBox folder.
Sign up for one of the automated backup services that will automatically back up your files online.
Use a backup program to backup your files (or ideally your entire PC) to an external hard disk.
To be honest, I love services like DropBox (and there are several), because while they make it easy to share files between computers, access your files online, or share files with others, the side effect is that they're making copies transparently and automatically. If you set things up so that your important data is always somewhere in your Dropbox folder, you've achieved a level of protection that most people simply never think of.
Redundancy should be proportional to value
Another way of characterizing copies of your data is as a form of redundancy. You only need one copy to work from, everything else is redundant.
Until of course something happens to your one copy.
Another "rule of thumb" is simply this: the more important your data is, the more costly it is to replace or recreate, then the more important your backups are and the more redundancy you probably want to invest in.
Don't have installation media for your system? Then, you probably want a redundant copy (known as an image backup) that you can revert to should something ever happen.
Have precious baby pictures? You probably want more than one backup. Backups themselves can go bad and the cost of failure for valuable items that simply cannot be reproduced is immense. Back it up, and then back it up again, somewhere else.
Remember, even if you do nothing else, all "back it up" has to mean is "make a copy."
The important thing here is simply to realize just how important your digital data has become to you, and what might happen if you were to lose it.
Then act accordingly and start backing up, start making copies.
Making copies is the start
If you can't do anything else, make copies of your important files, and make those copies elsewhere – such as an external drive, online storage service, or even a flash drive if that's all you can manage.
But it really is only a start.
I want to stress that backing up is nothing more than making copies, but a good backup is more than that.
That's where that "organizational administrivia and automation" and "organization" come in to play.
You want to make sure you're backing up everything you should be.
You want to make sure that you're backing up as often as you should be.
You want to make sure that you can find and use your backup copies of data when you need them.
That's all a refinement of the process. That's where things like automated backup tools and the like come into play.
And yes, that's absolutely something we should all be doing.
So … start small. Start making copies of everything that's important. Store those copies somewhere other than on your computer or phone or camera or wherever the data was originally produced and in addition to those places. It's a start.
One way or another, make sure that you have at least two copies of anything important in two different places.
Why?
You know why.
If there's only one copy it's not backed up.
And if it's not backed up, you could lose it all … in an instant and without warning.
Footnotes & References
1: Somewhere in the "Revenge of the Mummy" ride at Universal Studios Florida I lost my Blackberry which flew out of my shirt pocket as the ride crested one of its roller coaster hills. Lost and gone forever. (But I was backed up.
)
2: Yes, thesis. Some years ago, I heard from a poor gentleman who had kept the only copy of his masters thesis as an attachment to an email in his Hotmail account. You can guess what happened; all was lost.