Using cheaper hard drives to create lots of space.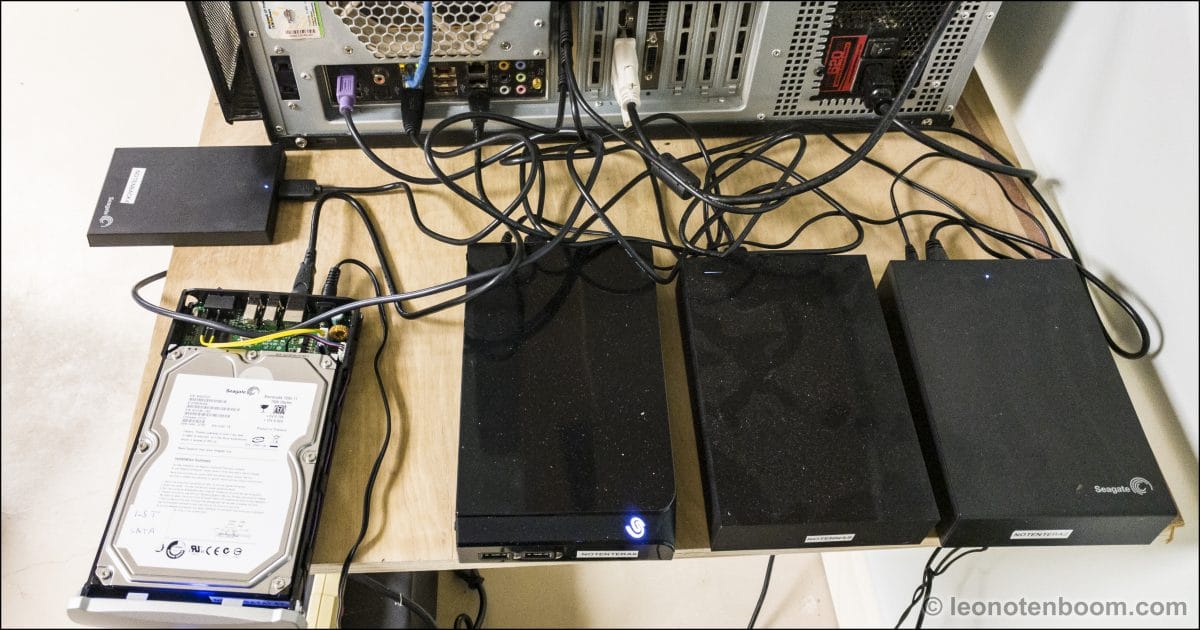 External drives can indeed be used as part of your own home-brew NAS. It's probably easier than you think.
Yes. Yes, you can.
I do it myself.
But first, we have to make sure we're on the same page about what a NAS is.
NAS stands for Network Attached Storage and can be any storage attached and available across your local area network. The term can also imply dedicated devices, higher speed disks, RAID arrays, various networking protocols, and more. But a basic NAS can consist of any machine sharing its connected disk drives — internal or external — to the LAN.
NAS versus NAS
NAS — Network Attached Storage — is just that: disk storage on a device on your network that is made available for other devices on your network to access. Almost any storage will do.
Unfortunately, NAS has also come to imply dedicated devices that host storage optimized for file sharing. They'll often include features such as:
RAID for either speed or reliability or both. RAID uses multiple disk drives to store data.
Multiple file-sharing protocols, including those for Windows, Apple, and Linux, and potentially others, such as FTP or SFTP.
Multiple ethernet connections for speed.
Remote management.
If you don't need any of that — as I don't — then just having storage on your local network is a piece of cake.
Building a basic NAS
Making your own NAS is pretty easy. In fact, it's essentially a two-step process:
Attach those external hard drives to a computer on your network.
Share those drives using the sharing facilities of the installed operating system, like Windows.
Done. You now have your own NAS.
Reuse, recycle
A basic NAS actually turns out to be a great use for an older machine.
In my case, my NAS is my old desktop machine of two generations (about 10 years) ago. I installed Linux Mint on it, and using Samba file sharing, have three internal drives and five external drives shared by any computer on my network. As shown above, it's not pretty, but it lives in my basement, so it doesn't have to be.
Since it's running Linux, I can do other things with the machine (which I do), but its primary job is to sit there and share those drives, acting as a basic NAS.
Linux not required
You don't have to run Linux (though of course you can), and you don't have to get another device (though again, you can if you want to). Take that old machine you have lying around, install the most recent version of Windows you can (for security purposes), attach the drives, and share them.
If you or your machine aren't up for installing another copy of Windows, and Linux isn't your cup of tea, another alternative is to install FreeNAS on it. FreeNAS is a Linux-based distribution optimized specifically to act more like a dedicated NAS than a general-purpose operating system. It's quite popular, and I ran it long ago with much success.
But, honestly, any computer already connected to your network could act as a basic NAS.
Basic consideration
The one thing I will caution is the need to back up.
As I said, many think RAID when they think NAS. While RAID is not a backup (and should never be considered one), properly configured, it is more fault-tolerant and reliable. A basic NAS won't have that, so you need to ensure that you have everything properly backed up…
… which you should be doing anyway. The old rule of thumb still applies: if your data is stored in only one place, it's not backed up even if that place is a NAS — any NAS.
And that's the primary purpose of my own NAS: backing up files, folders, and work in progress from the other machines on my network.
Podcast audio

Download (right-click, Save-As) (Duration: 4:02 — 1.9MB)
Subscribe: RSS
Video Narration