You need to boot to back up, but you can't boot. What then?
The rescue or emergency disk provided by many backup programs is more useful than most people realize.
Here's the scenario: all is well and you're getting lots of work done on your computer when all of a sudden, it crashes. No idea why — it just crashes.
What's worse, it won't reboot. Maybe it just hangs on boot, maybe it says the drive isn't found, maybe there's something else interfering.
To make matters worse yet, you stand to lose all that work you were doing because it hasn't yet been backed up. Your most recent work seems to be locked inside a hard drive you can't access.
There may be a way to back it up before dealing with the crash.
Back up a machine that won't boot
Overview:
Create rescue media for the backup software you use.
Boot the problematic machine from that rescue media.
Use the rescue media to create a backup of the machine.
The technique
The approach is rather simple: boot from something else — a USB stick or CD/DVD with backup program on it — and see if that backup program can make an image of the hard drive to an external drive.
I have to say "if" because depending on what caused the crash to begin with, your hard drive may or may not be accessible. If the drive itself has self-destructed, for example, chances of getting at it are pretty slim without the aid of an expensive data recovery service. On the other hand, if the problem is a simple software issue or even some other kind of hardware-related failure, there's a reasonable chance that a backup program will be able to copy the disk before you attempt further repairs.
Think of this technique as simply another tool in your toolbox to pull out when things go south.
Getting bootable media
The first step will almost certainly require that you use a different computer. If you only have one — the one that's not working — you may need to borrow a friend's.
The approach I prefer is to download and install the free edition of either Macrium Reflect or EaseUS Todo. (Naturally, if you're borrowing a machine, you'll need the owner's permission to do so.) Then, using the installed tool, create what they refer to as an "Emergency Disc", "Rescue Media", or similar term.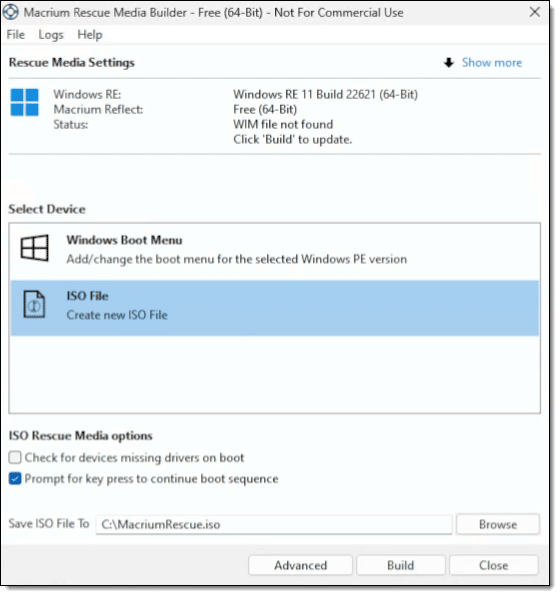 You'll need to create it on a media that your problematic machine can boot from, so choose a USB stick or CD as appropriate. (In the image above, I'm creating a ".iso" file that I'll burn to a CD separately.)
We think of these rescue discs as being used to restore backup images to a machine. What most people don't realize, though, is that they contain a copy of their respective backup programs, so they can also create a backup, which is exactly what we want to do.
Booting from the rescue media
Next, take this bootable rescue media to the machine that won't boot normally and attempt to boot from it.

Unfortunately, this is the step with which I can help you the least. How you configure your computer to boot from a USB stick or CD differs from machine to machine. It probably involves typing a special keystroke as the machine starts up to enter a BIOS or UEFI configuration utility and making changes to the boot order in that utility. Check your machine's documentation or manufacturer's support site for the exact steps required.
And yes, this makes one very important assumption: the problem your machine has is not so severe as to prevent accessing the configuration or booting at all. If all you get when you try to boot your machine is a black screen with no errors at all, check the connection to your monitor, just in case, but it's possible this technique may not work for your situation.
Making a backup image
Once you successfully boot from the rescue media, the corresponding backup program will run automatically.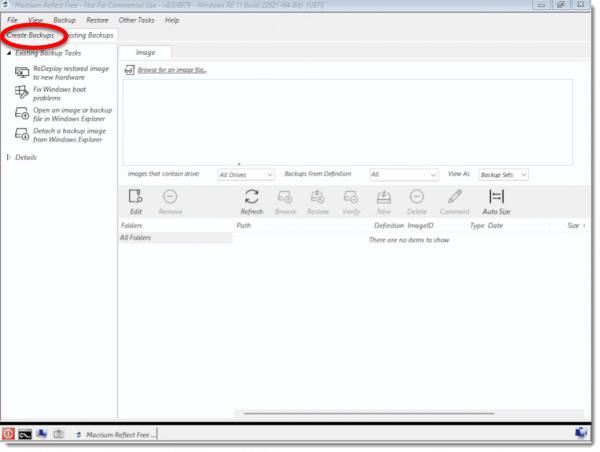 Attach your external hard drive if you haven't already; this is where you'll place the backup image you'll be taking.
Take the steps in your backup program to create a backup image of your computer's hard drive. The steps, of course, vary depending on the backup program you've selected.
There is a potential roadblock here as well: if the problem with your computer prevents your hard disk from being visible to the backup program, you may not be able to back it up. You'll need to try a different technique if this happens.
Now you have a backup image
Assuming you were successful, you can now do two important things:
On another machine, use that backup image to extract the important files you might otherwise have lost. (And maybe back them up while you're at it.)
Repair your computer without the need to preserve the hard drive contents. This could include using repair tools to fix improper settings, reinstalling the operating system from scratch, or even replacing the hard drive completely.
By taking an image of the machine in its failed state, you've given yourself options without the fear of data loss.
Do this
If you back up your computer regularly, you would never need to do this, so ensure you have a good reliable and automated backup in place.
However, stuff happens. This technique–booting from rescue media–is another tool in your toolbox for recovering when things go wrong.
For more tools in your toolbox, subscribe to Confident Computing! Less frustration and more confidence, solutions, answers, and tips in your inbox every week.
Podcast audio

Download (right-click, Save-As) (Duration: 7:26 — 10.3MB)
Subscribe: RSS