You have options… hopefully.
If your machine won't boot for some reason, there are a couple of approaches to try to get data off its hard drive.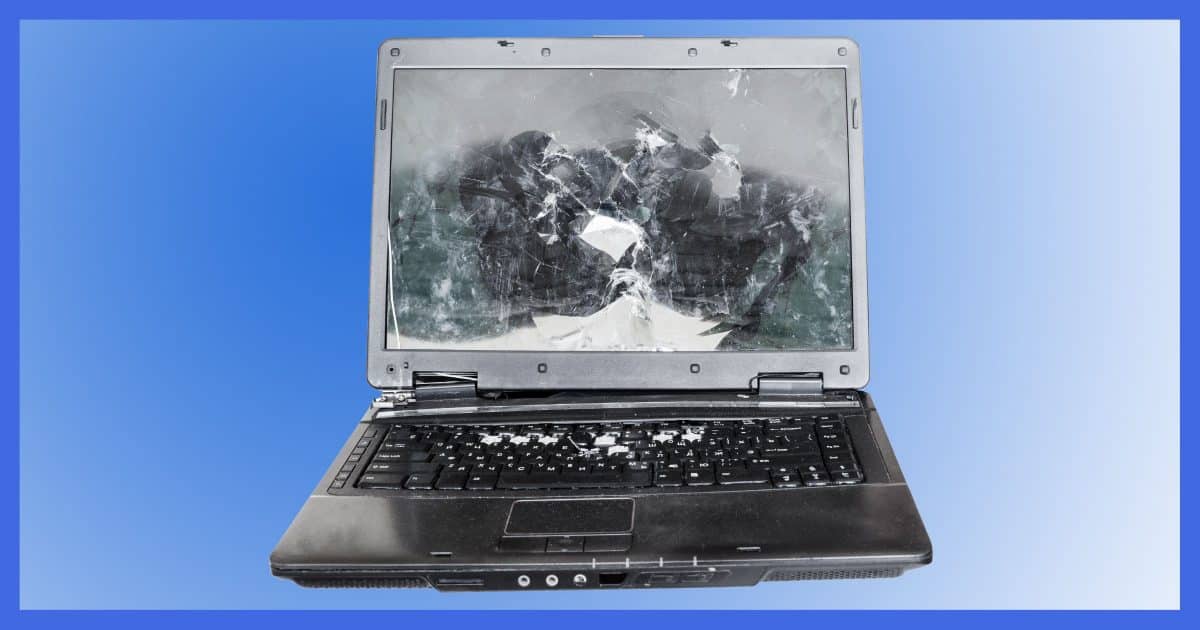 I have to shut down and open my machine several times until it works. It just hangs after the Windows logo and you feel you can work with it, but nothing's there. You can move the mouse, but there's no connection. It is a completely frozen PC. Today, it does not want to start or to work at all. I have files that I want to save before I can format it. How do I get at them if machine won't boot?
I wanted to address this for one simple reason: a dead machine that has the only copy of important files is so common.
Too common.
I'll look at the two most popular ways to recover your files — a software and a hardware option — but more importantly, I need to make sure everyone learns an important lesson from this situation.
Get files from a machine that won't boot
The most important thing you can do is prepare for this situation by backing up regularly. That way you can easily get the files you need from your most recent backup. Failing that, there are two approaches: boot from a Live CD or USB and use that operating system (often a Linux distro) to copy your files to a thumb drive; or place the hard disk of the unbootable machine into an external USB enclosure and connect it to a working machine.
The software option: boot from a Live CD
If your machine is so broken you can't boot from the installed operating system, your priority becomes salvaging the data from the hard disk before reformatting and reinstalling the OS from scratch.
One approach is to use what's called a Live CD, DVD, or USB image of an operating system. The term "Live" refers to the fact that these images boot and run entirely from the media on which they're stored without requiring a hard disk or installation.
Many if not most Linux distributions can be used, and Linux Mint is a good distribution to for this. Using a different working machine, download an ISO image of the most recent version Mint and burn that to DVD or create a bootable USB drive.
Now boot your problematic machine from that media.
After Mint finishes booting, double-click on the "Computer" icon to open the Linux version of File Explorer, in which you'll find icons representing the various drives known to the system, including your Windows hard drive.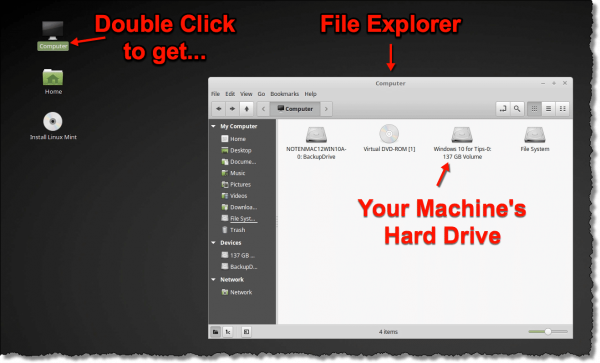 You'll need to figure out which icon represents your hard drive. Typically, the name listed will include the drive's label in Windows, or you can use the size of the drive to help identify which is which.
Double-click the drive to open it and examine its contents.
When mounting fails
With recent versions of Windows, or if a machine's sudden crash brought you to this situation, the drive may be in a state that cannot be opened by default, resulting in an error message.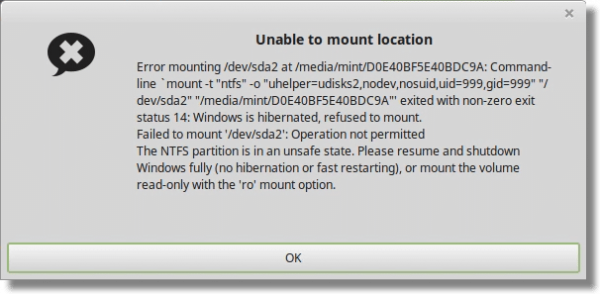 This error is suggesting you mount the drive "read-only". Attempting to open the drive with both read and write access is failing. Honestly, for what we're attempting, read-only is safer anyway, as it prevents us from making accidental changes to the drive.
Click OK to dismiss the error. Now click on the Mint Start menu (in the same lower-left corner as Windows), and under Accessories, click on Disks.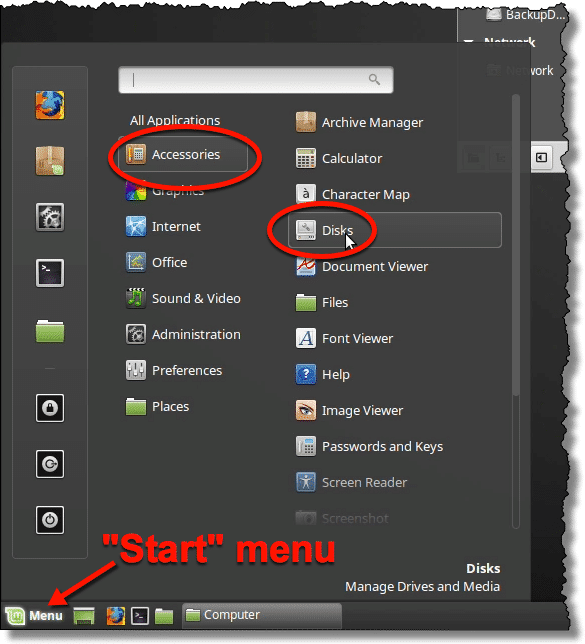 The Linux Disks utility is very much like Windows' disk management tool. Click on the disk representing your Windows drive on the left — and if your drive has multiple partitions, click on the data partition (usually the largest) — and then on the options gear icon below it.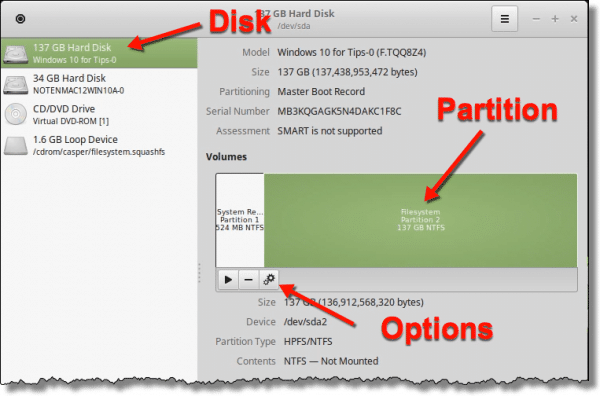 In the resulting drop-down menu (not shown) click on Edit Mount Options…
This will open a fairly scary-looking dialog with a lot of terminology and settings you probably won't recognize. The good news is that for what we're doing, none of it matters except for two very specific items.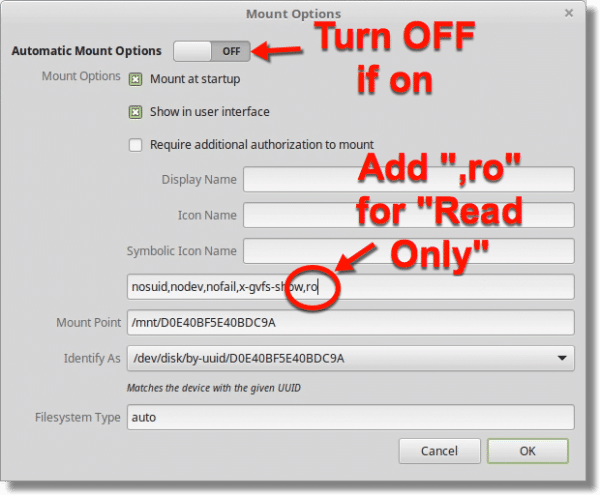 First, if Automatic Mount Options is turned on, turn it off. This should enable making changes below.
Second, add the string ",ro" (without the quotes) to the string of characters in the unlabeled text box above Mount Point. This adds the "read only" option.
Now click OK to save the options, and return to the disk management tool.
Click the arrow button to mount the drive.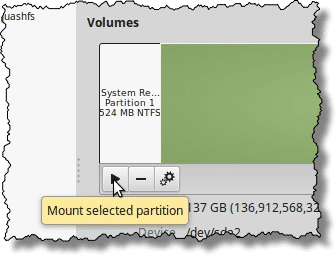 You can close the Disks tool (click the "x" in the window's title bar in the upper right corner).
Now when you double-click the icon for your Windows drive, it should open and display the contents.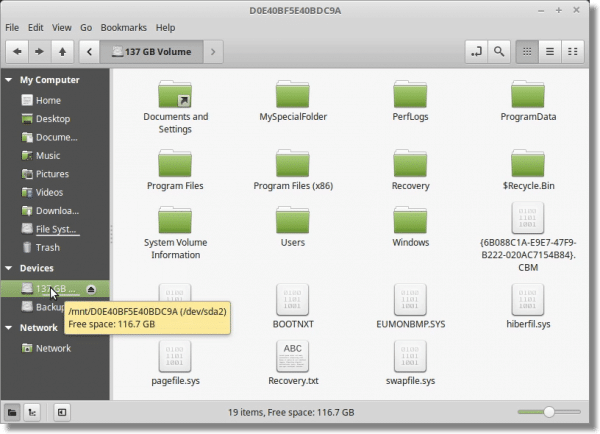 Insert flash drive
Now you need somewhere to copy your files. Insert a flash drive or other external drive into one of your computer's USB ports. It may appear automatically within the Linux file explorer. If not, run the Disks utility again, and it should appear in the left-hand list. Click on it, and underneath the image of the partition(s) on the drive, click on the mount option.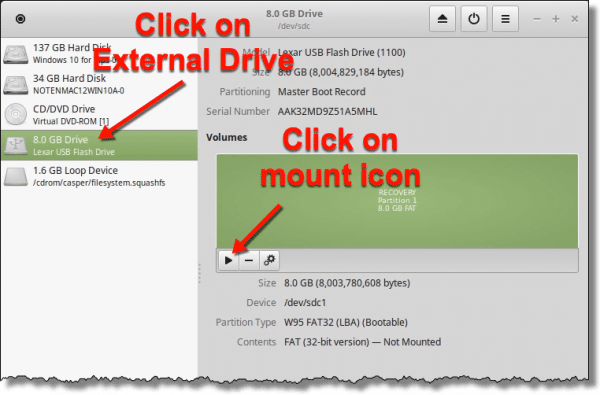 The drive will become visible in File Manager.
Navigating within the Linux File Manager is almost exactly like Windows File Explorer. Right-click for options like Copy/Paste or Open New Window, drag and drop to move files, double-click on folders to open them, and so on.
You can now explore your Windows drive for the files you want to recover. Drag and drop or copy and paste them to the external drive.
The hardware option: extract the disk
A second approach is to physically remove the hard disk and connect it to a different, working machine to extract its contents. Naturally, this all needs to be done carefully to avoid damaging the drive or the equipment around it.
Perhaps most convenient is to place the drive into an external USB enclosure so you can connect it to any machine with a USB port.
Once the disk is accessible, you should be able to access all the files you need.
A scenario for possible failure
I need to point out one scenario for which there is often no solution: the encrypted hard drive. Hard drives are encrypted specifically to prevent others from doing the very things we've done above.
A BitLocker-encrypted drive may be accessible if connected to another Windows machine, if you have the recovery key created when the drive was encrypted.
A VeraCrypt-encrypted drive may be accessible if connected to another machine that has VeraCrypt installed, and you know the password to mount it.
Regardless, whole-disk encryption can present additional hurdles beyond system failure that may or may not be insurmountable.
Do this
Learn this lesson: there'd be no risk of data loss if your data had been backed up.
I harp on backups a lot, but it really can save you from almost any failure.
If your data exists in only one place — for example, if it's only on your computer's hard drive — then it's not backed up. You risk losing everything permanently and without warning.
Sometimes we can recover data using one of the approaches above, but you can't count on that. A hard disk failure — and they definitely can and do fail — can render all the information on your hard disk unrecoverable by any means.
Not sure how to back up? Start here: How to Back Up Windows 10 (& 11).
Podcast audio

Download (right-click, Save-As) (Duration: 5:20 — 7.4MB)
Subscribe: RSS