It happened to me at the worst possible time.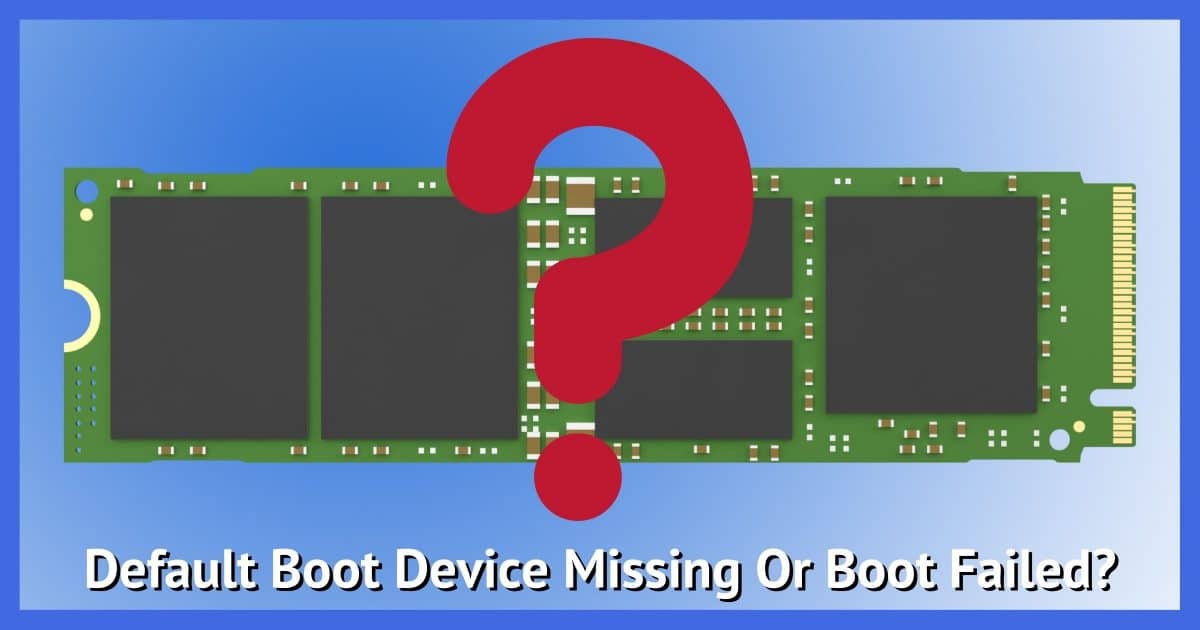 My laptop died. Here's the process I went through to resurrect it.
My laptop recently experienced a complete failure of its boot device. "Default Boot Device Missing or Boot Failed" was the error message.
In this article, I'll walk you through the steps I took to diagnose and eventually repair it.
Boot device missing
When my laptop failed to boot, I:
Booted from external media to see if the machine was working at all.
Removed and tested the machine's SSD to see whether it or the motherboard had failed.
Replaced the SSD and reinstalled Windows.
Though there was no data loss, restoring an image backup would have been faster than reinstalling.
This is just one scenario
I want to be clear that "Default Boot Device Missing or Boot Failed" can happen for many different reasons.
If you're experiencing it, your problem will probably be different than mine. While I was able to diagnose and repair my situation, I can't guarantee you'll be able to do so in yours.
However, the steps I followed may help you at least narrow down the range of possibilities.
Worst possible timing
I had taken my laptop with me to a training session for which I was to assist.1 I didn't expect to need it, but because I am who and what I am, it comes with me anyway, just in case.
And, indeed, when we needed to refer to something online, and I pulled it out, booted it up, and …

Definitely a pit-in-the-stomach feeling.
There was nothing I could do right then to diagnose it. It went back into my backpack, and we used the smaller screen on my phone for our needs instead.
Initial attempts
Back home the next day, I tried several things to diagnose, or at least get a little more information about, the failure.
Entering the UEFI/BIOS told me little. From what I could tell, the BIOS didn't even see that a disk was installed at all. There should have been a 1TB SSD visible.
Booting from a Windows setup USB stick in the hope of running Startup Repair or using the recovery console to explore the machine failed. And by failed, I mean Windows setup blue-screened with an unrecoverable error.

2

Booting from a Ubuntu Linux USB stick got me a working Linux operating system, but once again, there was no disk to be found.
Even though this seems like a string of failures, it told me a lot about what was going on with the machine. Most importantly, it told me the problem seemed isolated to the disk, and that the rest of the machine — most notably the motherboard — seemed to be working OK.
However, even though the motherboard was working, there were still two possibilities:
The SSD had failed.
The motherboard interface to the SSD had failed.
Determining which had happened involved opening up the machine.
The world inside
I chose this laptop last year in part for this very reason: it's designed to be opened and repaired. So I opened it up.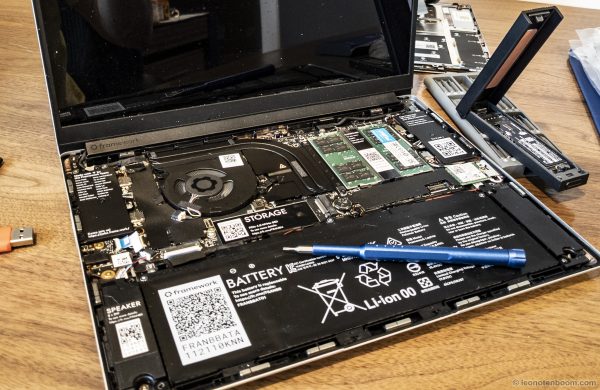 My plan was simple: remove the SSD, put it into an external enclosure, and see if it would be recognized on another computer. If the drive was recognized and working properly, this would point to a motherboard problem. If the drive failed, then I'd take the next step and replace the drive.
The SSD, in this case, is the "m.2" form factor – an SSD as a single, small, circuit board. It's removed from the laptop in the image above; it normally sits in the area labelled "Storage" roughly in the middle of the machine.
I had to order a different external enclosure for this type of SSD.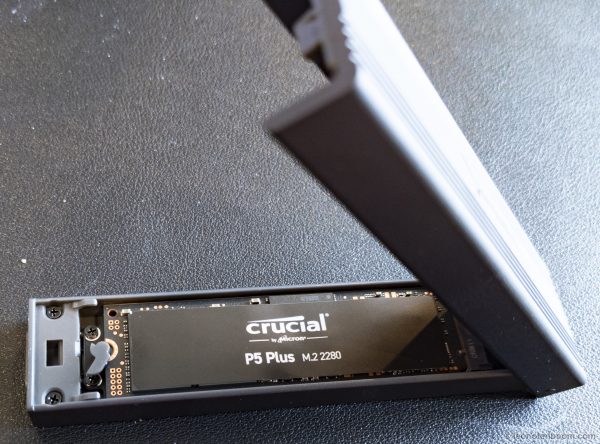 That's a Sabrent USB 3.2 Type-C Tool-Free Enclosure for M.2 PCIe NVMe and SATA SSDs, purchased through Amazon, with an m.2 SSD shown installed.
If it seems a bit odd to pay for an external enclosure just to diagnose something, my thinking was that I'll need it again in the future. Also, if I do have an extra m.2 SSD, it would make for a fine external drive.
The test worked in that it failed.
By that, I mean the SSD removed from my laptop could not be read on another machine. In fact, it didn't even show up. Chances are it was seriously broken.
Replacement
This was probably the best possible outcome. Replacing an SSD is much easier, and presumably less costly, than replacing a motherboard.
I ordered a replacement SSD, taking advantage of the situation to upgrade from 1TB to 2TB.
When I received the replacement, I first tested it using the external enclosure. (That's actually it in the photo above.) When it worked there, this not only validated that the new drive was working, but also that my approach to testing using the external enclosure was valid.3
I installed the SSD into the laptop and booted from the Windows Setup disk. This time it didn't bluescreen, but instead came up normally.
I proceeded to install Windows 10 from scratch. Since it had previously been running Windows 10 Pro, the digital license activated transparently.
Wait, what? I installed Windows 10 from scratch?
Where was my image backup?
I'd made a conscious decision some time ago not to prioritize an image backup for this specific machine.
Even though the original SSD was unrecoverable, I suffered no data loss. Everything on that machine was either redundant or automatically backed up to cloud storage services like Dropbox and OneDrive.
The only thing I "lost" was time.
If I'd had an image backup of the machine taken prior to the failure, I could have restored that image to the replacement SSD, adjusted the partition size to take advantage of the larger drive, and carried on as if nothing had happened.
As it was, I needed to reinstall.
As is my approach, I only install those things I actually use so the net result will be a cleaner machine. The machine was ready to use within a couple of hours, and additional installs will happen as needed over the coming weeks.
I haven't decided yet whether to add an image backup to this mix. Whether or not I do, however, it's a good example of the difference having one might have made.
Do this
Realize that failures happen — often suddenly and without warning. There were no clues that my hard disk was about to die; it just did. And yes, the SSD was under a year old. "Stuff" happens.
Perhaps my diagnostic experience will help you when the time comes. What's most important is to take the time to consider your backup strategy for a scenario like this. What would you lose if your machine's hard disk died without warning? If it's anything more than time, you probably want to re-evaluate how you're backing up.
For more tips, experiences, solutions and more, subscribe to Confident Computing, my weekly email newsletter! Less frustration and more confidence in your inbox every week.
Podcast audio

Download (right-click, Save-As) (Duration: 14:01 — 13.1MB)
Subscribe: RSS
This article, like any article on Ask Leo!, may contain "
affiliate
links". Without affecting the price you pay,
or my decision to include them
, using affiliate links may result in my being paid a commission should you purchase the product mentioned. Affiliate links help pay the bills and support Ask Leo!.
More detailed information.
Footnotes & References
1: I'm a volunteer for Washington State Animal Response Team, and the training was a basic training for new members.
2: In my opinion, this was a bug in Windows Setup, failing to handle the case where the machine it's installing to has no disk drive.
3: Since I'd never done this test using an external m.2 enclosure before, there was a possibility that my assumptions about how to test were wrong.