(This article dates back to 2012, but be sure to read the 2020 update at the end.
)
My wife's old laptop had served well for many years, but its age was beginning to show. Maxed out, running Windows 7 and lots of assorted applications, it was just getting … pokey.
Slow.
Not absolutely, horrifically slow, but slow enough from time to time that clearly, action would soon be called for.
Now, normally I would back up, reformat, and reinstall. It'd been a while since I'd done so, and the machine was probably overdue for deep cleanup.
And it would probably help. For a while.
But she was overdue for a new computer anyway, so I'll be completely honest and call it what it was.
An excuse.
How it gets used
The most important question I ask when anyone asks me what computer to get is, "Well, how are you going to use it?"
My wife's needs are very simple:
Email. Something just short of half of her computer usage is email.
Web. Also just short of half the time is spent in a browser, on various websites relating to her hobbies, Facebook, or whatnot.
Well over 90% of her usage is nothing more than email and web browsing.
All told, that's nothing particularly stressful for most machines.
So, platform?
As I outline in Do Desktop or Laptop Platforms Really Matter Any More?, there's nothing PC-specific about what she's doing. In fact, just about any reasonable system would do — PC, Mac, or even Linux. As an active user of all three, the PC versus Mac debate is over as far as I'm concerned. Everybody won.
My own experience with Mac led me to believe that the changes my wife would encounter on a Mac would be handled fairly easily.
So my choice of what to get her next was based mostly on hardware.
And I'd fallen in love with the Macbook Air.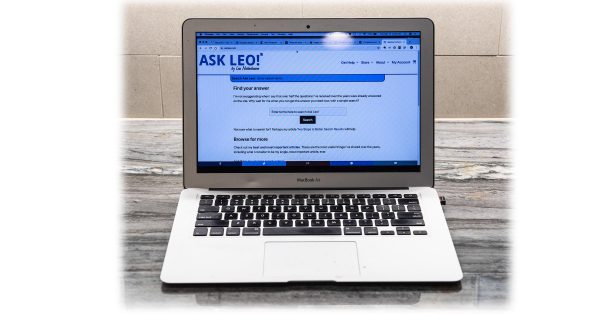 Why the Air?
In 2012, a lot of PC manufacturers touted a new "ultrabook" type of computer. Small and light with large screens, they had no CD/DVD drive and often featured SSD hard disks. These computers are exceptionally portable. If you're someone who prefers a "real" keyboard, they're often a lightweight alternative to a tablet of some sort.
And, as is sometimes the case, these manufacturers were playing catch-up.
The MacBook Air was really the first ultrabook.
Given that it has a solid track record, I felt it was a good, safe choice of hardware for my wife's next computer.
But switching computers involves at least some amount of change.
Changes required
Before we even switched computers, I asked my wife to try something. She's used Outlook 2003 for her email for a long time, but I've been routing her email through Gmail for a couple of years already.
So I asked her to try using Gmail directly via the web interface.
Outlook (as my wife knows it) is not directly available for the Mac (and even if we'd switched to a new PC, I'd probably upgrade to the latest Outlook anyway), so some kind of change was inevitable here. While there are many compatible email programs, including my favorite, Thunderbird, my thinking was pretty simple: why bother?
Particularly as a non-power user, Gmail's web interface is really all she needs, and would allow us to jettison an entire program from what needed to be installed on whatever machine we got her.
And if for whatever reason it didn't work, then we would install an email program — probably Thunderbird.
Changes not required
Of perhaps more interest is the fact that a lot of things work regardless of what computer or platform we choose.
Google Chrome, Skype, LastPass, Evernote, and Dropbox all work, and work pretty much the same, regardless of platform. In the case of the last three, that even includes our phones.
Given that so much of her time is spent in the web browser, using the same browser and embedded utilities like LastPass was a big win. I just installed Chrome, and it all just worked.
Changes tolerated
Change isn't always completely smooth. And there are a couple of differences my wife has commented on:
The "no button" trackpad. Not a big fan of trackpads to begin with, this was easily solved by plugging a USB mouse into the MacBook Air.
The behavior of the Delete key. To a Windows user, the Mac Delete key behaves as Backspace (deleting the character before the cursor) with no obvious equivalent to a Windows Delete (deleting the character after the cursor). I know I bump into this myself all the time as I switch between machines.
Additional minor issues cropped up — the difference between the Ctrl and Command keys for copy-and-paste keystrokes, for example — but nothing major.
Backing up
It wouldn't be an Ask Leo! article if I didn't talk about how this fancy new computer is getting backed up.
Originally, it wasn't. Not directly, anyway. But this was a reasoned decision.
The majority of my wife's "data" (in the form of email) isn't kept on the machine; it's on Google's servers. I do back that up separately, using other machines and technology.
The one change I made to LibreOffice immediately after installing it was to change its default data folder to be a folder in DropBox. Any document created or modified there is immediately replicated to DropBox servers, as well as about half a dozen other machines which are also backed up using other means.
Other data kept on the machine is minor. Even notes kept in Evernote are synchronized to their online servers.
All that really leaves is a system backup. My original decision was not to keep one. My plan was that if the system suffered a catastrophic failure, I'd let the local Apple Store take care of it. It'd take me maybe half an hour to restore the changes I've made and applications installed after that.
At some point — probably around the time Apple Care expired on the machine — I elected to connect an external drive and fire up Time Machine, Apple's backup software. I'm a big fan of its ubiquity and simplicity. So, every so often we connect the external drive and Time Machine goes to work backing up absolutely everything.
To date, I've not needed it.
Configuration
The machine configuration is well beyond what my wife requires, even seven years later.
I maxed out the RAM, ordering it with 8GB. Even the disk space (256GB) is more than she needs.
Why? Two things:
Longevity. As we all know by now, over time software expands to fill all available resources. Having more resources available means that the machine continues to be viable for applications and operating systems that continue to grow in size over the coming years.
Contingency. If for whatever reason this machine didn't work out for my wife, it would probably end up being mine. That didn't happen.
If this machine were more easily user-upgradable, I might have skimped on RAM or other aspects, simply making sure it could be upgraded at some point in the future.
A good start
I don't mean to imply I'm recommending everyone switch to Macs. Not at all.
Macs are fine machines, but so are many PCs. Operating systems and the applications you expect to use every day are perhaps a more compelling decision point. As I pointed out at the beginning, I carefully considered how this machine would be used before thinking about what specific hardware or software might be required.
That, more than anything, is the point that I want to get across. All computers, be they PCs or Macs or something else, exist to fill a need. The better you understand your own personal needs and constraints, the more informed a decision you'll be able to make.
Don't underestimate the "personal" portion of that statement. Accepting change is, in my opinion, critical to the effective use of computers and technology, but in reality, we don't all react to change the same way. Some can't really handle much change at all (as frustrating to folks such as myself might find that to be).
Understanding how you use your computer, what's required to meet your needs, and to what degree your usage can change — even to the point of walking away from the email program you've used every day for years — can help you make an informed decision resulting in a more effective, fun computing experience.
So far, so good.
Update 2020
Nearly seven and a half years later, my wife still uses that machine. When I stumbled over this original article, I was shocked to realize it's been that long.
The machine's still going strong. It's used every day. The change to Gmail went smoothly, and my wife spends the majority of her computer time in the Chrome web browser. Even Skype, while still running (for now), has fallen into disuse as we use Facebook Messenger when either of us is away from home.
And, yes, the MacBook Air has a few miles on it now as well, since we've packed it along occasionally when travelling.
If I had to do it again
At some point, it'll be time once again to replace my wife's computer.
Given the now consistent pattern of usage I've witnessed for the past 7+ years, I'd probably give serious consideration to a ChromeBook. In many ways, the requirements are very simple: a device with a good display and a real keyboard, on which you can run a capable web browser.
ChromeBooks these days certainly qualify.
My choice may or may not be less expensive than a Mac or PC equivalent, but there are those who feel strongly that running Chrome OS is more stable and more secure for the average user than either Windows or MacOS.
I'll let you know if and when that happens.
Podcast audio

Download (right-click, Save-As) (Duration: 10:22 — 11.0MB)
Subscribe: RSS