I'm writing this on a $200 ASUS Chromebook. If that's not something you've heard of, I'll explain what it is in a moment. If you know what a Chromebook is, then you also understand why what I'm trying is significant.
I'm returning from a five-day business trip during which I decided to see whether I could accomplish everything I need to do using a Chromebook.
Why? Because Chromebooks can be less expensive – and, more importantly, safer – than the traditional Mac or Windows alternatives.
And because if I can, chances are you can, too.
As I sit in the Dallas / Fort Worth airport on the way home, it certainly looks like I can.
Chromebook
There are variations, but a Chromebook is really nothing more than a laptop PC running the Google Chrome operating system. The Chrome operating system is, essentially, a Linux variant that (in a pragmatic sense, if not a technical one) is centered around the Google Chrome web browser.
Naturally, it's more complex than that. While you can install the Chrome OS onto PCs, like any other operating system, the result isn't really a Chromebook. The true, fully featured Chrome operating system is available only by purchasing a device with it pre-installed. Laptops are the most common, but also available are a "Chromebase" (more like a desktop PC), the "Chromebox" (a small box into which you plug in a keyboard, mouse and monitor), and a "Chromebit" (which simply plugs into a monitor's HDMI port).
The Chrome OS does not run Windows, Mac, or even Linux programs. Instead, a variety of apps come pre-installed, and you have access to the Chrome web store to get more, many of which are completely free. In addition, the ability to access the Google Play store and download and run Android apps is becoming available to some (though not all) Chromebooks.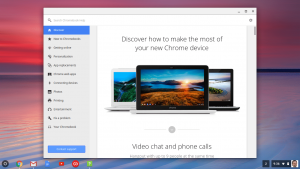 Even without the Android availability, many "apps" are simply browser extensions you may already be familiar with. The LastPass extension – a key utility for me – is just one example. More interestingly, the majority of apps available may be apps you already use or are at least familiar with. They include:
Google Docs
Google Mail (Gmail)
Google Photos
Google Music
Google Drive
YouTube
I'm sure you can see a trend here: all the online Google apps work on ChromeBooks – many (if not most) in both online and offline modes. Even if you don't already use them, many are compatible with the desktop programs you do use.
What my test entails
My test is actually very simple: during this business trip, can I do every task I need to do, where I need to do it, without major inconvenience?
So, what is it I need to do?
Email. Probably my number one task. Since I already use the Gmail web browser interface on both my Macs and PCs, and from within the Google Chrome browser, this worked seamlessly.
Online research. Also know as "googling," or "surfing the web," and visiting websites for a variety of reasons. The major application on a Chromebook is the Google Chrome browser, and it works just as it works on my PCs and Macs.
Website administration. My sites are on WordPress, and the WordPress administration interface is, once again, just a web page I already access from within Chrome. It just works.
Content creation. This is really just a variation of website administration, since I write my articles directly in WordPress. In addition to the article I'm typing right now, I also completed and published a post on my personal blog during the flight here, and have queued up new content on Not All News Is Bad.
Information consumption. Facebook, Twitter, and Feedly (my RSS reader, which monitors new content on dozens of websites) are all just websites, so they all just work.
Note-taking. I'm at a conference. I want to take notes. While I do use a moleskin for a lot of it, at times it's important to be able to transfer those notes online for my use elsewhere, as well as backup. The Evernote web interface just works.
I could go on, but at this point it's worth noting that anything that's "just a website" works. I could add to or download files from my Dropbox, even read my Kindle books – all because these services offer web-based interfaces that work on Google Chrome, whether it's running on a Mac, a PC, or a Chromebook.
Much of what we do every day is already web-based, or has a web-based alternative you can access via your web browser.
I even logged into the websites of my bank and my credit card company.
What I can't do (or do easily)
Wait – my bank?
Since I'm travelling and using hotel internet and other open Wi-Fi sources, I'd like to be able to run a VPN so all of my web traffic is encrypted. Sadly, that doesn't seem to be possible at this time.
However, my current VPN provider – TunnelBear – provides a Google Chrome browser extension that implements an encrypted proxy. While technically different than a VPN, the results are essentially the same: all my traffic between the browser and the rest of the internet is encrypted. Traffic outside the browser – such as any other apps I might run on my Chromebook – are generally not run through the encrypted proxy. But as we've seen above, most of what I do is via the browser anyway, so this doesn't turn out to be much of a limitation at all.
Update: Michael Horowitz has looked into Chromebook VPNs in some more detail in a ComputerWord article here: VPNs on a Chromebook: a scorecard of VPN providers.
Honestly, my only real "pain point" was photo editing. Most of my blog posts include at least one image, if not more. Image-editing capability exists on the Chromebook natively, but it's extremely limited. While there are sites that implement photo-editing ability via a web page, they're often slower and less full-featured than their Mac or PC counterparts. I hobbled along, but it was a little frustrating. (I believe Chromebooks that run Android apps offer several suitable photo-editing alternatives.)
Video editing, should I have decided to try it, is out of the question.
Initially I was also unable to get Chrome's remote desktop functionality to work so I could access my machines at home for anything I really felt was missing. I suspected the problem was an interaction between the proxy and the remote desktop protocol, and sure enough: if I connected though my mobile data connection without the proxy I was able to access the desktop of my computer back home. This works as a "safety net" if I find something important I couldn't accomplish using the Chromebook directly.1
Bottom line
A Chromebook can be an inexpensive and safe alternative for many people.
I deliberately chose this extremely inexpensive Chromebook to test the limits of what $200 could do. There are certainly more expensive Chromebooks out there, with faster processors and bigger screens (the latter perhaps being the most appealing to me, after five days staring at this smaller screen); but that this specific machine works, and works well, is a very nice eye-opener.
That it's almost disposable, as laptop prices go, is just a bonus. Should this machine get lost or stolen, changing my Google password would block anyone who finds it out of the device. My data will all be safely stored online, so I'll not have lost anything. (Sadly, there does not yet appear to be a remote wipe feature to further protect any data on the machine, though there are rumors this function is in the works.)
The reason I say Chromebooks are more secure boils down to two things:
They're not a huge target with a large user base like Windows or Mac.
Software is available only through the web store, meaning Google has to approve it. You can't just download a file and run it, which means you can't just accidentally download an email attachment and get infected if it contains malware.
If you're in the market for a laptop, and you spend the vast majority of your time online and in your web browser, you might want to investigate a Chromebook.
Podcast audio

Download (right-click, Save-As) (Duration: 9:18 — 8.6MB)
Subscribe: RSS