You've mentioned that you use Gmail as your spam filter even though your email address is not a Gmail address. Can you describe how you do that?
Gmail is a great spam filter. In fact, I'd go so far as to say that as I write this, it is perhaps the best. Only a small amount of spam makes it through, and very few false positives are thrown. It's not perfect, but no solution is.
What many people don't realize is that you can use Gmail to handle email from almost any email address you have. I use Gmail almost exclusively these days to handle my @askleo.com email, my other business related emails, and my personal email as well. My wife does the same.
I'll show you how to use Gmail for any email account supporting POP3 and SMTP access.
Definitions and assumptions
You need to start with a working email account at some provider that is not Google. The point of this exercise is to access your non-Google email using Google's Gmail service. That existing account can be on a free provider, like Outlook.com or Yahoo!, it can be a paid account, or it can be an account configured on a domain you own.
You will need to know the POP3 settings to access the email in that account, and you will need to know the SMTP settings to send mail from that account. This is the same information you get from your provider to configure a desktop program such as Microsoft Office Outlook, Windows Live Mail, or Thunderbird.
I'll use "somerandomservice.com" as an example of a domain that you have purchased and own. Purchasing a domain is perhaps the best way to get an email address that you can keep pretty much forever. (I happen to own "somerandomservice.com", so I know I'm not abusing someone else's domain for example purposes.) I'll use leo@somerandomservice.com as an example of an email address already set up on that domain.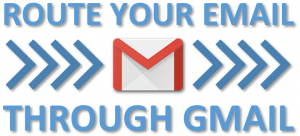 First: Set Up Gmail
Create a Gmail account if you don't already have one. Just go to Gmail.com and follow the steps to create an account. Make sure to set up a strong password, and set up all the recovery information you can.
Once you have a Gmail account, there are a couple of configuration changes you'll want to make in order to have this work seamlessly for you.
Enable POP and IMAP Access in Gmail
If you plan to use a desktop email program, you'll need to tell Gmail to allow POP3 and/or IMAP access to your mail.
In Gmail, click on the Settings link in the upper right, and then the Forwarding and POP/IMAP tab.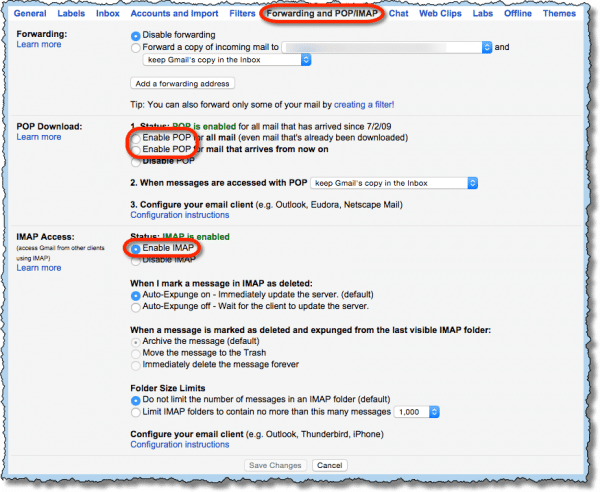 Enable POP, either for all mail (your first download will include all email that's in your Gmail account), or for all mail from now on (your first download will include only mail that arrives after you make this change). Choose what you'd like to do with email on Gmail after you've downloaded it. I prefer "archive Gmail's copy", as it allows me to use the Gmail interface to review all my email, even if I'm not at my computer. That's handy when I'm using a mobile device like my phone.
I recommend you enable IMAP as well. This is most useful when you might access your Gmail account from multiple different locations – perhaps multiple PCs, mobile devices, and the Gmail web interface. IMAP access allows you to keep them all in sync. (More on IMAP.)
Configure "Send Mail As" to send email through Gmail
Since we're setting Gmail up to use with an email address that is not actually a Gmail address, we need to be able to send "as" that other email address.
Once again in Gmail Settings, this time on the Accounts and Import tab, look at the "Send mail as:" section: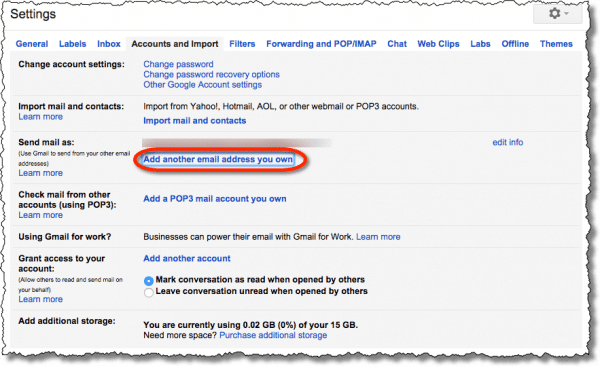 Click on Add another email address you own to add the email address you want to be able to send from.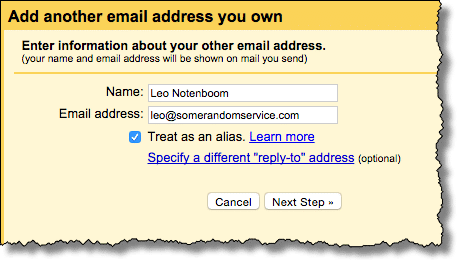 The "From:" address of email consists of two parts: the display name, and an email address. Enter those for the address you'll be sending from, and click Next Step.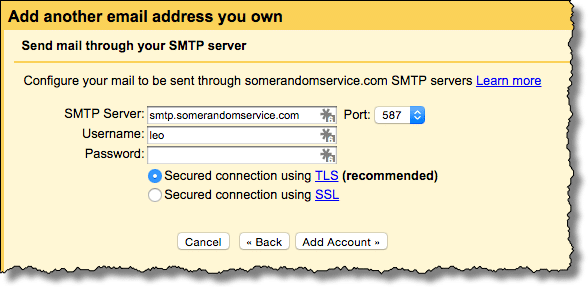 Enter the SMTP information given by the provider of your non-Google email address. For example, the SMTP configuration for somerandomservice.com.
When sending email "as" your other email address, Google actually sends it through that email provider's service rather than sending directly. There are several reasons for this, but the most practical is that, according to email standards, if Google sends it directly, many email recipients will display the Google email address as sending "on behalf of" the non-Google email address, which can confuse them. Sending through the other service's server side-steps this issue.
Once you've set up the ability to send email from Gmail through your non-Google email address, make sure the correct address is the default. This is the address your email will appear to come "From:" when you compose a new mail in Gmail.
Get your email through Gmail using POP3
Much like a desktop email program, Gmail can be instructed to periodically reach out to your non-Google email account and pick up any new email it finds there.
Once again in Gmail Settings, Accounts and Import tab, this time look at the "Check mail from other accounts (using POP3):" section: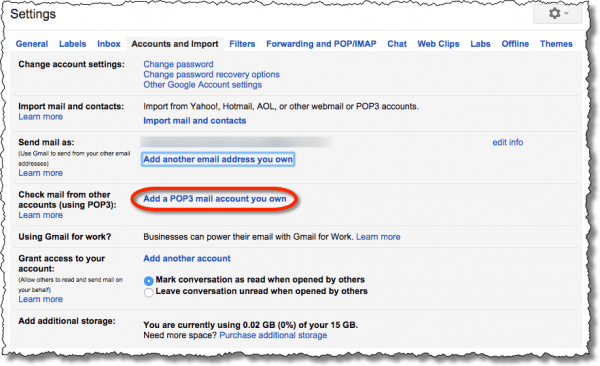 Click on Add a POP3 mail account you own.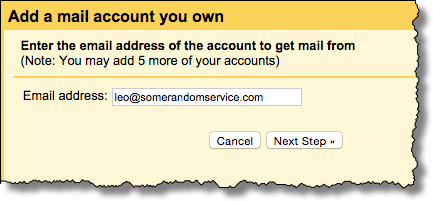 Enter your non-Google email address and click Next Step.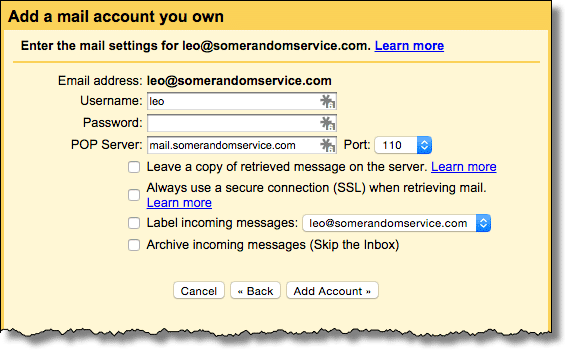 Enter the POP3 information from the provider of your non-Google email address.
There are several options as well:
Leave a copy of retrieved messages on the server. This typically need not be set; in fact, if your service provider has space limitations, you probably don't want it to be set. On the other hand, it can provide a nice backup of your email, since your messages will be stored in two places: on your non-Google email service and on Gmail.
Always use a secure connection (SSL) when retrieving mail. If your provider supports SSL connections, as most do, there's no harm in setting this, as it prevents intermediaries from being able to see your unencrypted email. On the other hand, since the connection is server-to-server, the chances of that happening are much lower, so the need for an SSL connection isn't as great.
Label incoming messages: This is purely personal preference. Particularly if you access mail from several different accounts, this is a quick and easy way to see which account a message is associated with.
Archive incoming messages (Skip the Inbox). When using Gmail as your primary interface for email, you don't want this. You want your incoming email to appear in your Inbox normally.
How often does POP3 pick up?
When you use a traditional desktop email program like Microsoft Office Outlook or Thunderbird, you can configure that program to check for new email on a schedule – say every 15 minutes or so. Alternatively, you can hit a "Send/Receive" button or similar command to have the program check for new mail right away.
When picking up email using POP3, Gmail doesn't quite work that way.
Gmail will check for new mail on its own schedule, which is not configurable. I have heard that it's dynamic based on how much email you get. The more email you get, the more often Gmail checks for new email. But that's not really documented anywhere, and could be subject to change.
The Refresh button above your inbox

may cause Gmail to check for new mail at your remote non-Google POP3 account. Unfortunately, some email providers also limit how often you can check for new email this way, and may return an error.
Email on the web only: you could stop here
At this point, after setting up Gmail and account forwarding, you might be done.
For example, my email sent to leo@somerandomservice.com automatically shows up in my Gmail account, and I've configured Gmail to send "From:" leo@somerandomservice.com. Gmail is my "web interface" to leo@somerandomservice.com email.
Try your setup. You can send and receive email here, now, using your own email address.
If you're at all confused about what we've accomplished so far, I suggest you pause here and try out your email. Have someone send email to your private email address (your equivalent of leo@somerandomservice.com) and it should arrive in your Gmail inbox. Send email from Gmail and it should appear to be "From:" whichever address you chose to be the default "send from" address earlier.
As I said, you now have a working web-only scenario.
And as it turns out, this is how I run most of my email these days: using Google's Gmail web interface to send and receive email through perhaps a dozen different non-Google email addresses.
But if you prefer a desktop email program, we can do that too.
Configure your desktop email program for Gmail
All you need to do is configure your favorite desktop email program to access email through your Google account, albeit with one little twist.
Normally they're the same, or at least related, but this is a case where your email address and your email account will be two different things. We're going to configure your desktop program to send and receive email from your personal email address (your equivalent to leo@somerandomservice.com), but to do, so we're going to connect to the servers associated with your Gmail account.
In almost every case, if offered, you will need to use a "manual" configuration for your email: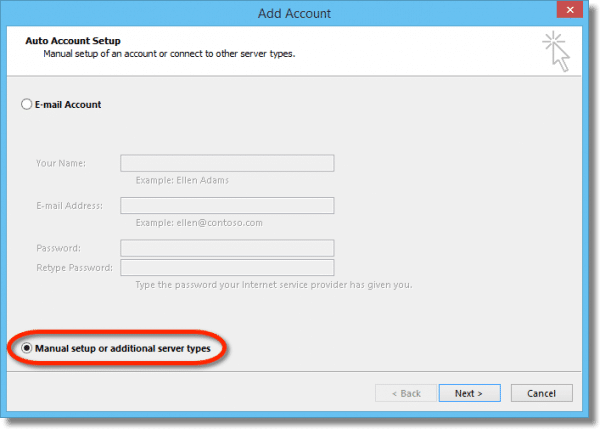 POP3 account configuration will require several pieces of information: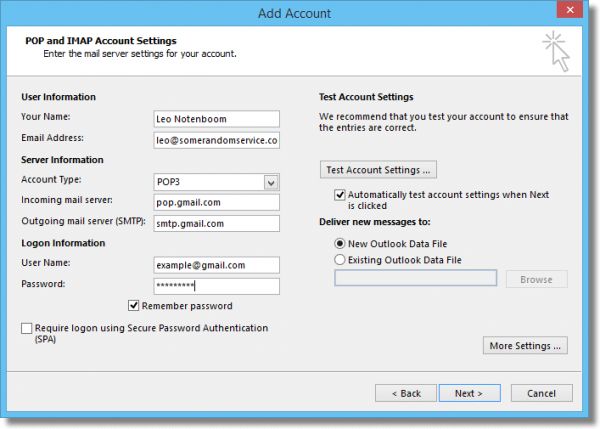 This will include:
Your name: The name that will be used as the display name on the From: line of email you send.
Email Address: The email address that will be used on the From: line of email you send. In our examples, we'd use you@somerandomservice.com, but you would use whatever non-Google email address you've been setting this up for.
Account Type: POP3
Incoming mail server: pop.gmail.com
Outgoing mail server: smtp.gmail.com
User Name: Your Gmail user name – typically your Gmail email address. This is important: even though you're not using your Gmail email address in your correspondence, it's still the identifier that allows you to login to your Gmail account to access the email collected there.
Password: The password to your Gmail account.
Additional settings specified by Google include:
The connection to the POP3 server should use SSL on port 995.
The connection to the SMTP server should use either SSL on port 465, or TLS/STARTTLS on port 587.
The connection to the SMTP server requires basic authentication.
These settings are often in an "Advanced" or "More Settings …" section in the account configuration in your email program.
Once successfully configured, you can send and receive email on your own private non-Google email address, >using Gmail's servers.

Important tips, tricks and trip-ups
In no particular order, some important things to note about what we have set up:
The fact that you're sending your email through Gmail is not hidden. If you look at the email headers (typically not displayed), you'll see that your email was sent via Gmail and what your Gmail account name is. Most email programs don't display this information by default, but it is there.
If you fail to configure Gmail's "Send mail from another address" as described above, the "From:" address on email you send may not be set to your private domain. Be sure that's configured properly.
Once you download your email to your PC, make sure it's backed up regularly, just like the rest of the important information on your PC.
By choosing "archive Gmail's copy" as the action to perform when email has been downloaded to your desktop email program, it remains accessible via the Gmail web interface. I find this very valuable for searching and other quick references when I'm away from my PC.
I've used an email address on a domain you've purchased as my example because it's the best way to get and keep an email address for life – you can change how the email's handled at any time without losing the actual email address. However, the technique I've outlined above works for almost any email address that supports POP3 access.
The email downloaded from Gmail has been spam-filtered. (This is why I use this technique myself.) Since no spam filters are perfect, you'll occasionally want to log in to your Gmail account on the web and check the spam folder for any false-positive errors. You can also help train Gmail's spam filter by checking your "All Mail" folder and marking any spam that Gmail failed to detect.
Gmail is your web interface to your email. Even though you're downloading your email, it's great to consider Gmail your web interface, just like many mail service providers have. The difference is that it's Gmail, which most people find fast, powerful, and easy to use.
What's the cost?
Well, Gmail's free. If you've purchased a domain, you're paying for that, and hopefully that includes POP3 email as well (some do, some don't). There are plenty of free desktop email programs.
What's the catch?
Aside from a little complexity in setting things up, I can't really find one. I suppose you could point out that by routing your email through Gmail you're allowing Google to "see" it, but that would be the case if you were using a Gmail email address directly as well, so I'm not particularly concerned about that.
All in all, I find it a very powerful and useful way to control spam, as well as an easy way to enable email access to accounts on personal domains without potential additional costs.
Podcast audio

Download (right-click, Save-As) (Duration: 6:47 — 6.3MB)
Subscribe: RSS