The Mac versus PC battle is legendary.
But at the risk of pissing off both sides, I'll claim that it's also becoming largely irrelevant.
My laptop is a MacBook Pro with Retina display, and purchasing it led me to think about platform wars, religion, choices, taste, and what's really changed over the years.
The reason why I bought a Mac might not be the reason you think.
It's about the software.
I've been planning on purchasing a new Mac for a while. The announcement of the new MacBook Pro models that are lighter, faster, and have Apple's "Retina" display technology simply made my decision easier.
But why a Mac?
Fairly simple, actually: there's a software package that I want to run called Final Cut Pro. It's available only on Macs.
I bought a Mac so I could do a better job editing video.
As a side effect, I might well do more with it – editing audio, recording Answercasts, writing – we'll see how it shakes out. It's very possible that on my next trip, I'll take only my Mac.
What may be more important about my decision is what did not drive it.
I'm not some kind of "Mac convert", for example. This isn't my first Mac – I've had one for several years and use it regularly1. I also regularly use systems running Linux, and, of course, Windows.
I'll continue to use all three – and whatever else pops up in the coming years.
Software proliferation
My personal reason for picking a Mac is actually something of a counter example to one of the reasons why I think platform choice is largely becoming irrelevant.
There's good software to do just about anything you want on just about any platform, especially if all you really care about is the basics.
In many cases, it's the exact same good software. On my Mac, I'll be running Thunderbird, Chrome, Dropbox, Truecrypt, and a plethora of other applications that I already run on my PC – versions are available for both platforms.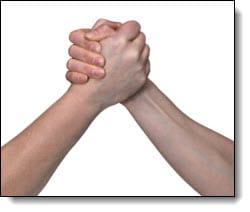 In many cases, there are perfectly acceptable equivalents – just the other day, I found a Mac-equivalent for the keyboard macro software that I use on my PCs.
And yes, there's good video-editing software for the PC as well; I'm just looking to use a feature I've found only in FinalCut Pro.
For basic computer use, there's actually very little to point you to one platform over another. Email, web browsing, creating document, and media management can all be done, and done well, on any of the three primary platform choices.
That ubiquitous cloud
Perhaps the largest new contributing factor to the increased irrelevancy of platform choice is the cloud.
Anything you do on the web can pretty much be done from any computer. Use Hotmail or Gmail? What operating system you use doesn't matter in the least. Facebook? Twitter? The same. Using online collaboration tools like Google Docs (now Google Drive)? Share photos on Flickr, Picasa, or elsewhere online? Once again, those online services are all designed to be completely platform
agnostic.
Use what you like, be it PC, Mac, or Linux. Or even Android or iOS, as much of what we do "in the cloud" these days is spurred on by the incredible growth of mobile devices.
Back it all up, of course, in some way that makes sense for whatever system you do use, but use whatever system you like to access the cloud.
Security is important, but a red herring
For many years, the platform arguments all centered on security and the relative quality merits of each platform's software.
That argument is losing its relevancy.
As many Mac owners have come to realize in recent months, their systems are not immune to malware, and they're arguably less prepared to handle it when it happens.
Malware itself is moving to components which are more platform agnostic. Phishing attempts and email hacks don't care what platform you're running – in fact, in many cases, whatever your computer is running might not even be involved.
Without a doubt Windows remains the largest target for malware, but regardless of the reasons for that, it also has a very mature ecosystem of anti-malware tools, technology, and related assistance.
All three of the major platforms are also constantly being updated. Windows, Mac OS, and most Linux distributions are all constant recipients of software updates – typically security-related.
The fact that it frequently is a good thing, in my opinion. It means that vendors are responsive in resolving issues that crop up. We can argue timing on specific issues, or transparency of exactly what is being updated and why, but the fact remains that all three platforms have the infrastructure in place to resolve issues and distribute updates quickly.
Taste and personal preference
In my opinion, the single largest factor in deciding what platform to operate these days is comfort, familiarity, and personal preference.
That's not to say that there aren't other factors at play – like perhaps a game or software package available on only one platform, or a piece of hardware that you need to use that is itself platform-specific either in terms of hardware or software – but the largest contributing factor boils down to what you like and feel the most comfortable with.
A friend recently told me that he absolutely couldn't stand many of the ways that MacOS does certain things in its user interface. A long-time Windows user, he's off to try a Linux distribution.
But those kind of gut reactions are really nothing new, and not even limited to cross-platform comparisons – many users of Windows XP feel exactly the same way about Windows 7 – and are grumbling about changes in Windows 8.
Personal taste matters. In fact, it may matter more now that it ever has, if only because we're living in a world of technology options that frequently lets us actually choose what system we'd rather work with.
To many people, the MacOS interface feels supremely intuitive. Clearly, to others, it doesn't.
Company standards
There is, of course, one fly in the ointment for many people that I'll simply call "company standards". Even if you're a one-person operation, quite often you need to have all your computers be of the same operating system; this clearly leverages investments not only in knowledge, but in software, hardware, ease of interoperability, and more.
If you show up to work at a business that has standardized on Windows, then your ability to choose something else might be seriously limited.
So it goes.
Flexibility helps
With so many options available, one thing that it can pay to do is remain flexible.
If a Windows or Linux or a Mac might do, then remaining flexible and willing to operate in any environment means you have greater choice.
Be it saving money by using free and open source software only, or going for the latest and sexiest machine released by your favorite computer manufacturer, or buying a machine because you want to run a specific software package – the more flexible you are about how you're willing to interact with your computer, the more options you'll have available to you.
A computer is nothing more than a tool – a tool that you can master.