Ever since I got a new Acer laptop, an Aspire, two years ago with Windows 7 Home Premium, and I transferred my old files to it, I've been unable to open certain files that I receive in email: JPG, PNG, or PowerPoint presentations. I get this message that basically says, "The file .jpg could not be opened because the associated helper application does not exist. Change the association in your Preferences." Can you explain what this means and how to correct the problem? I work around it by saving the photo, going to the folder I saved it in, and then opening it the way that I would any file or photo.
It's odd that you can view the files after saving them. That implies that you have the program that you need to view pictures.
Unfortunately, you didn't mention the email program that you're using. That plays a key role in this problem.  Let's talk about what's going on here.
File associations
Windows doesn't inherently know what to do with most files.
When you install software that knows how to handle pictures, it sets up file associations. These tell Windows that if it gets a .jpg file, this program can open it.
Your email program should use the same list of associations that Windows Explorer does. If it works in one, I'd expect it to work in the other.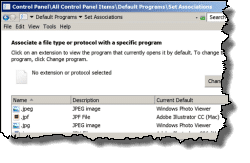 As that's not happening here, I would suggest you consider taking one of two approaches.
Install (or reinstall) image-viewing software
Now, Windows does come with some image-viewing software applications. Later versions of Windows actually have a dedicated photo app.
However, I'm personally a big fan of FastStone Image Viewer. When you install it, FastStone sets up its file associations.
Whenever one of those file extensions is requested, FastStone opens it. Hopefully, that will then take effect in your email program as well – and everything will work.
Check your email options
The other thing to do is look at your email program options. You may have a separate set of options in the email program that specifies how it handles .jpg, .png, and other files. Perhaps those aren't set up properly.
See if you can set those up to match whatever Windows uses to display those files. If you can't, consider reinstalling the email program.
That sounds like a lot, but that might be what it takes. Again, I don't know what email program you're using so I don't really know how big of an issue that will be, but it's one of the approaches that I would take to solve this problem.
If all else fails, you can always save them to disk as you have for the last two years.
Don't feel bad if this feels complicated and messy. It is. Images in email should open easily.
But in my experience, images in messages also seem to be one of the more fragile parts of email in general. It's unfortunate because it's also one of the most useful and powerful parts.