Most of us know that there ain't no Santa Claus, especially on the internet. However, there are numerous 100% free sites on the internet. All you have to do to access these sites is  provide your credit card information so that they may charge you at some point for your 100% free services. Any insights you might have about free services would be appreciated.
Personally, I don't consider that free at all. My credit card information is valuable to me and I won't give it out for something that purports to be free.
When in doubt, always assume anything that says free but requires a credit card is a scam.
Nonetheless, there are some semi-legitimate scenarios where giving your credit card information is the right thing to do.
Free trial periods
Sometimes, you may receive an offer for a free trial period. I'd expect this to be the most common scenario that matches what you're talking about. The service isn't free forever, they're just providing you with a free trial.
For example, I just signed up with a service a couple of months ago where the 30-day trial period had a full feature set of their specific service.
Giving credit card information in this kind of circumstance seems like a great way to evaluate the service. If I'm required to give a credit card, the company assumes that I will continue to use their service past the free trial period and they can charge me.
If you're required to give a credit card it's also a good sign that what you're signing up for perhaps isn't free forever.
If you think the offer might be legit, read all of the information on the screen carefully. Make sure you understand what it's telling you before you provide any information.
And of course, remember to explicitly cancel the service after the free trial period is over unless you really to want to continue and pay.
Identification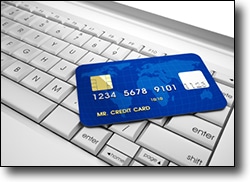 I have seen where sites use credit cards as a form of identity validation and verification.
Having a credit card associated with an account means that any new accounts with the same credit card number can be disallowed because it's the same person. That prevents people from creating multiple accounts to do things like game a system, gain unfair access, or apply unfair weight in whatever that system is doing.
Age validation
I've also seen scenarios where sites use credit cards to validate age. I don't know what the age requirements are for getting a credit card, but in some cases, you present a valid credit card to prove that you are of a certain age and the site may put a temporary hold of $1 on the account.
Nonetheless, whenever you stumble into a free service that requests a credit card, be very, very careful. At a minimum, make sure you know what you're doing and read the fine print. I'm almost certain that any legitimate site that takes this kind of approach is probably not offering you their service for free forever, but is instead offering you a 100% free trial.