Last week, I shared on the Ask Leo! Facebook page an article from my local Seattle newspaper. It originated in the New York Times with the upshot that, "Roughly 20 percent of American adults do not use the Internet at home, work, school or by mobile device…"
My thought: How do we fix this?
Surprisingly, I got several comments to the effect that it's not something that needed fixing.
I don't think I could disagree more.
Why the internet matters
The internet, and more precisely internet access, has slowly become an important, even critical mechanism to gain access to information and services.
I'm not talking about cat pictures here.
To quote the New York Times:
"Administration officials and policy experts say they are increasingly concerned that a significant portion of the population, around 60 million people, is shut off from jobs, government services, health care and education, and that the social and economic effects of that gap are looming larger."
It's no secret that more services are being provided online. Perhaps more importantly, more services are being provided only online. In a world faced with a constant battle to cut costs (particularly in government and social services), online solutions not only make things easier and more accessible to those online, but it can save a lot of money. These organizations no longer have to print and mail as much paper, or provide as many costly in-person services.
The assumption is that everyone who needs the information and services is online.
That's false.
It's about more than internet access
It's as much about computer literacy as it is about being online. Again, quoting The Times:
"The job I'm trying to get now requires me to know how to operate a computer," said Elmer Griffin, 70, a retired truck driver from Bessemer, Ala., who was recently rejected for a job at an auto-parts store because he was unable to use the computer to check the inventory. "I wish I knew how, I really do. People don't even want to talk to you if you don't know how to use the Internet."
Indeed, being able to use a computer at some fundamental level, being able to navigate the internet to a basic degree, has become as fundamental to most jobs as reading, writing, and being able to follow instructions.
That adds to the complexity of this entire discussion.
In fact, there are no less than three separate problems that need to be fixed.
Problem 1: Getting access to everyone who wants it
There are people out there who desperately want internet access1 and they can't have it. Either they can't afford the equipment, they can't afford the monthly fees, or there's simply no reasonable internet connectivity wherever they might be living.
Solutions here are often hard to find.
The most common solution is to use publicly available internet-connected computers at places such as local libraries.
Another, if you have a portable computer of some sort, is to use free WiFi provided by various institutions ranging from libraries2 to commercial locations, such as local coffee shops.
ISPs and telephone companies often have so called "basic" plans for a reduced rate. Unfortunately, even when available, these plans are often hard to discover and could potentially even require some form of qualification or needs assessment.
Unfortunately, deploying internet to rural and remote areas can be a very costly investment for ISPs and telephone companies. As a result, it's often a source of much frustration as even those who could afford it are still denied reasonable access.
Fortunately, as we see in truly remote areas of Africa and elsewhere, deploying wireless towers and accompanying mobile or WiMax based data access seems to be an often viable solution.
Problem 2: Providing access to everyone who needs it
But what if you don't want internet access?
Honestly … in my opinion, the world is such that today you really need it – whether you want it or not.
As was pointed out in The Times article and elsewhere, people without internet access are often missing out on vital services and information.
That's unacceptable.
Set aside the more social aspects of internet connectivity, like simply staying connected with email. More and more services are not just adding online access, they're moving to online access and discarding the more costly offline alternatives.
I'm not saying that this is particularly good or bad.
I'm simply saying that it is.
And, it's only going to increase.
Complaining about services moving online won't help. It's simply going to continue to happen anyway, and quite honestly for a number of reasons that actually do make sense. But whether you consider it good or evil, it's happening, and you don't have much control over it.
What you do have is control over your own choices and your own willingness to learn.
Folks who continue to refuse to use even a basic level of internet functionality are going to miss out on more things that fundamentally won't be optional.
Problem 3: Educating all those that need or want it
Using the internet or computers doesn't have to be hard. It doesn't have to be scary.
And yet many people are intimidated and scared – often to the point of freezing up completely when they approach technology. That makes me sad, because as I said, it doesn't have to be.
Many will point to any negative news story about an account hack, identity theft, or some other online malicious behavior and be absolutely convinced that this will happen to them the moment they venture online – and then use this as an excuse not to get online.
It's just not so. "News" is news specifically because it's uncommon. The more common scenario, the fact that millions of people interact online daily without incident, isn't news because it's the norm.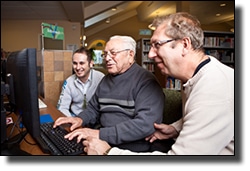 Once we get past all that fear and other misconceptions, then it becomes a "simple" matter of education. I put "simple" in quotes, because it's often not, depending on where you live. But it's important to realize that there are resources – lots of them – for learning how to go online, get what you need to get done, and stay safe while doing it.
One of my favorites is an "internet buddy." This is a willing friend, contact, or family member who's far enough ahead of you on the learning curve that you can learn from them, while not so far ahead as to be intimidating. But even so there are classes, online resources and more.
It's not about age
I don't get angry easily. It's not in my personality. I do have to address one common refrain that does make me angry:
"I'm too old."
Bullshit.
Sorry for the language, but sometimes only the right word will do.
And that's the right word.
I hear that excuse too often. And don't kid yourself. It is an excuse, nothing more.
I also hear regularly from folks in their 80s and 90s, many of whom are just now getting online and loving it. Folks with exactly zero prior computer experience who are getting online and not only taking advantage of the more-or-less required services that I've been talking about, but going further to connect with friends and family and interests and activities around the globe.
"I'm too old" just doesn't cut it with me.
Attitude. It's all about attitude. And that, unlike your age, you can change.
It's not about online banking or shopping
"But I don't want do do my banking online!"
So don't.
No one is forcing you. Banks are plentiful and accessible. While most now offer online access as a convenient perk, they're not forcing you to use it. The same is true for shopping; no one is forcing you to do it.
The internet is about much more than banking. Or shopping. Or posting cat pictures. You can do all those things, and much more, but you don't have to do it.
As I keep saying, one of the reasons I feel so strongly that internet access of some sort is quickly becoming a practical requirement is because of many of the other services that you do need being moved online. Government forms and submissions, information that you need that's available as a download only3, healthcare information, and so on.
This is the stuff that matters.
This is the reason you need to be online. Now.
This is the reason we need to make it possible and affordable for everyone to be online. Now.
This is what's only going to get more and more commonplace.
It's about connecting … with people
The future has begun.
You and I? We're swimming in it.
Of course, I honestly hope that once folks get online because they "have to," they'll start to explore all of the amazing things that they can then access.
Hopefully, the "have to do it" will quickly become a "want to do it." Perhaps even a "Why didn't I do this sooner?"4
And for all those that want to, I hope that governments, utilities, communities, and friends will conspire to make it a practical reality.
Anyone who wants to get online should be able to, one way or another.