An ever-changing landscape looks pretty good right now.
It's difficult to go wrong when selecting a browser these days.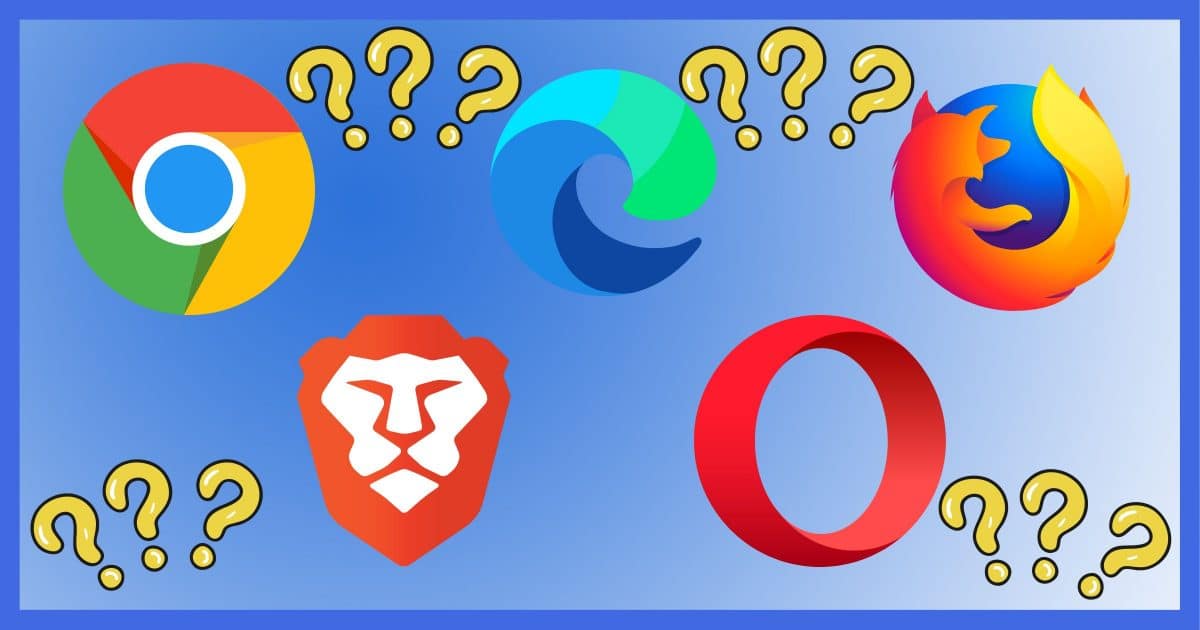 Question: What browser are you using, and is it the latest and most secure one?
I'm the wrong guy to ask that. As I type this, I have four different browsers running.
I'm an edge case (no pun intended).
However, if you're looking to run only one browser, the news is pretty good.
What browser should I use
It would be difficult to go wrong using the latest versions of any of the major browsers, including Google Chrome, Microsoft Edge, Mozilla Firefox, Brave, Vivaldi, Safari, Opera, Pale Moon, and Konqueror. If you have issues with a specific browser or company, try a different one.
Chromium
Before we get into specific browsers, I want to point out that many browsers are related and may not be quite as different as you think.
A browser "engine" is the underlying technology used to display webpages. Many different browsers share the Google Chromium engine.1 Then they can focus development efforts on other features, like user interface, synchronization, and more.
The reason this matters is that all browsers using Chromium should, in theory, display webpages the same way. If you're diagnosing a webpage display problem, switching from Chrome to Edge may not tell you anything because it's the same engine underneath.
Chromium-based browsers
The following browsers are all based on Chromium:
Chromium (the default browser in many Linux installations)
Google Chrome
Microsoft Edge
Brave
Vivaldi
They differ in outward appearance and additional features. For example, Brave is specifically privacy-focused, Microsoft Edge is well integrated into the Windows ecosystem, and Google's own Chrome is designed to work well with all Google properties and services.
Other browsers
The following browsers generally use their own underlying engine — or engines which, while perhaps open source, aren't shared by as many well-known browsers.
Mozilla Firefox. The Thunderbird email program and SeaMonkey application suite also share a significant portion of Firefox code.
Safari, from Apple
Opera
Pale Moon
Konqueror (an alternative browser in many Linux installations)
When diagnosing issues with Chromium-based browsers, it's a good idea to try one of these since they use different technologies.
But which one should I use?
First, the latest versions of all the mentioned browsers are the most secure.
If you're particularly concerned about privacy, use Brave.
If you want maximum website compatibility, try Google Chrome. It's been the most popular browser for some time.
If you're looking for maximum integration with Windows or you just don't want to download another browser, use Microsoft Edge.
If you happen to like the features offered by a specific browser, use that one. Any of the browsers I've listed above will do just fine.
If you have problems
No browser is perfect. Some people swear certain browsers are complete junk, based on their experience. You'll hear that from different people for each of the browsers I've listed above.
Similarly, some people will swear that this company or that is completely evil, and you shouldn't trust the browser they provide.
And, of course, you may experience problems — either with a specific browser or with a specific website used with a specific browser.
My advice in all these cases is simple: try one of the others. As I said, any of them will do. Heck, have more than one installed and ready if you like.
But what do you use?
OK, ok… here's what's running on my machine right now.
Microsoft Edge. Call this my primary browser, as it's where my personal email and general web browsing happens.
Google Chrome is where I isolate my Ask Leo! email and work; I'm typing in it right now.
Mozilla Firefox. I use this to isolate my volunteer work and email accounts. (And occasionally test things, since it's the only non-Chromium browser I have installed.)
Brave. I've been using lately this to keep an extra window open for streaming music so I don't lose my place or accidentally shut it down when one of the other three browsers needs to be restarted.
Why so many? In general, it's to keep Google accounts straight. While you can sign in to multiple different Google accounts within a single browser, I find it easier to keep things completely separate by using separate browsers.
Do this
If you're not sure, just use whichever browser you feel most comfortable with of those mentioned above. If you're still not sure, use what's pre-installed on your system: Edge on Windows, Chrome on Android, and Safari on Apple products.
The browser landscape does change. Even five years ago, my answers would have been different. Subscribe to Confident Computing, my weekly email newsletter, to stay on top of moving targets like this. Less frustration and more confidence, solutions, answers, and tips in your inbox every week.
Podcast audio

Download (right-click, Save-As) (Duration: 7:59 — 11.0MB)
Subscribe: RSS
Footnotes & References
1: Technically, Chromium is a complete browser with Blink as the engine, but given how many other browsers are based on Chromium, it's the term you'll see more often.