Batch files are a kind of computer program.
Batch files are often used to group commands or make shortcuts to more complex commands. Let's look at the basics.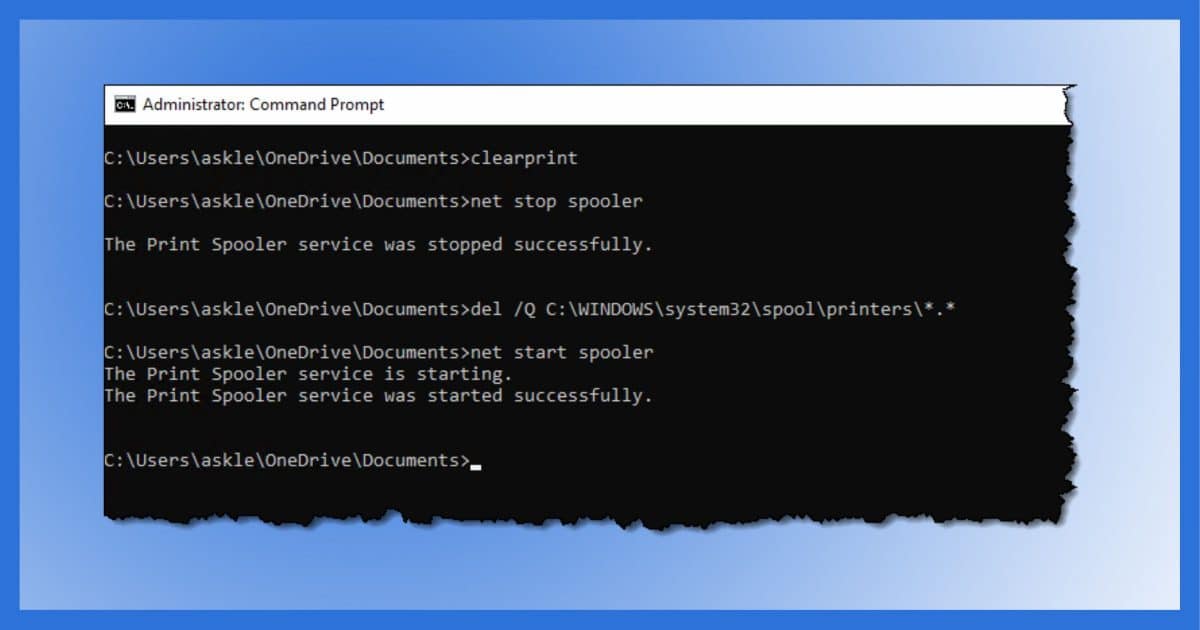 Question: I've seen you mention a "batch file" a couple of times in articles. What is that? What's it good for?
A batch file, or command file, is a text file that contains a list of programs and commands Windows executes when you "run" it.
Batch files date back to the days of MS-DOS and are designed to contain commands you would run within a Windows Command prompt.
Batch files
Batch (or command) files are text files containing a list of commands that are executed one after the other when the batch file is run. They're convenient ways to collect common multi-step sequences, but can also become quite complex and powerful computer programs in their own right.
A simple batch file
Run Notepad (

+ R, then type Notepad, and press OK).
Type in the series of commands you want to run. Here, I'll use it to run a single command:
dir /O:-d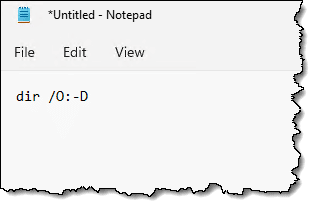 "Dir" is the command prompt command to display a "directory" — the list of files in a folder — and "/O:-D" is the option to that command to Order the results by the Date/time the files were last modified, with "–" indicating to sort the most recent at the top of the list.
Now, save that file as a .cmd file. Let's call it "tdir.cmd":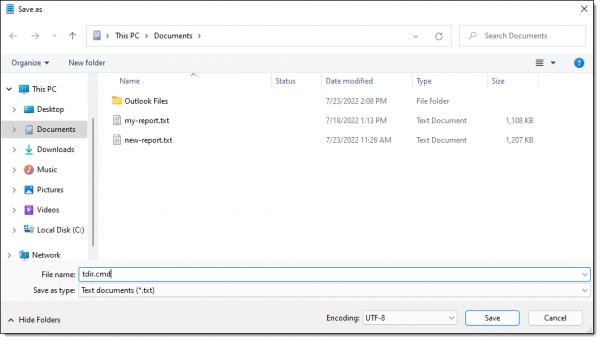 Pay attention to the full path to the folder in which you choose to save it. I saved my file into my Documents folder, which, because I'm using OneDrive for backup, is:
C:\Users\<username>\OneDrive\Documents
(Replace "<username>" with your Windows user name.) Run Windows Command Prompt (

+ R, then cmd, and press OK).
Enter CD (for Change Directory) followed by the path to the folder in which you saved the file, followed by Enter. Enter tdir (without the ".cmd"), followed by Enter.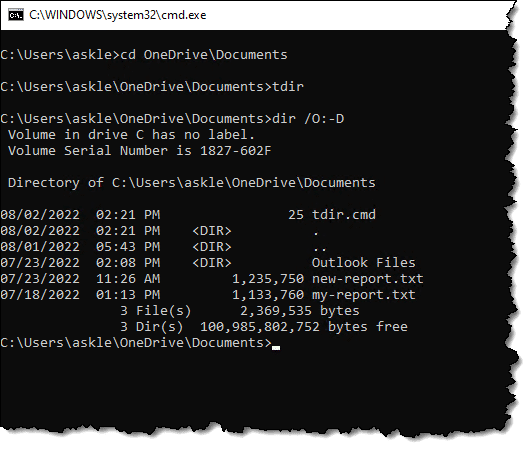 You can see that running "tdir" ran the command listed within the tdir.cmd file we just created. The result was a list of the three files in that folder in reverse chronological order.
So far this has been pretty simple, but now that you've seen how to create and run a batch file, we're going to cover three concepts that give us a peek at the power they can pack: multiple commands, parameters, and arbitrary programs.
Multiple commands
Batch files get their name because you can "batch" or collect multiple commands into a single file and they will run in the order listed. There's no limit to how many commands you can include in a batch file.
In My Print Queue is Stuck. How Do I Print Anything? one of the solutions was a sequence of command-line commands:
net stop spooler
del /Q %systemroot%\system32\spool\printers\*.*
net start spooler
That's a perfect candidate for a batch file.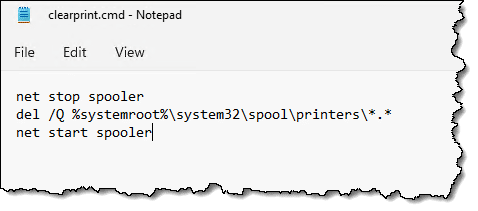 I've named the batch file "clearprint.cmd".
Running "clearprint" in an administrative Windows Command Prompt runs the three commands in sequence.
Creating and running a batch file with a list of commands runs them in the order listed.
Parameters
Our original little batch file isn't really all that useful because it shows the listing for only one specific folder: whatever folder you're in. We'll make it more flexible by changing the single command to this:
That "%*" is a parameter substitution that is replaced when the batch file is run by whatever follows the invocation of the batch file. So, for example, we can now run:
And the batch file will run:
This makes the batch file significantly more useful, as you can now specify the folder you want to have listed or any additional parameters to "dir". Or you can specify nothing at all, and it will operate on the current directory like before.
Arbitrary programs
What can you put in a batch file?
Commands like CD and DIR are commands internal to the Windows Command Prompt, but in reality, any ".exe" file (among other types) will do as long as it can be found. For example, this batch file:
"C:\Program Files\Microsoft Office\root\Office16\WinWord.exe"
"C:\Program Files\Microsoft Office\root\Office16\Excel.exe"
would start Microsoft Word, and then after Word completes and exits, Microsoft Excel would load (assuming they're installed to the path shown in this example).
You may not have to specify the full path to many commands. When you run programs in the Windows Command Shell, it will search for them in something called the "PATH". This normally includes C:\Windows as well as C:\Windows\System32, so any ".exe" you find there can be run in a batch file without any qualification:
notepad "C:\Users\<username>\Desktop\notes.txt"
This, in a batch file, would run Notepad (from C:\windows) and open or create the file "notes.txt" from the desktop of "<username>".
Similarly, placing your batch file into one of the directories on the path means it, too, will be available, regardless of what directory may be current at the time you run it. Batch files can, in many ways, be used very much like the other programs on your machine, including in the

+ R "Run" dialog.
CMD or BAT (or PS1)?
You'll hear them referred to as both command files and batch files, and you'll see examples that end in either ".cmd" or ".bat".
Aside from an esoteric difference you'll likely never care about 1 unless you get into some very advanced batch file programming, they're the same thing.
My recommendation is to standardize on ".cmd".
".ps1" files, on the other hand, are PowerShell scripts. While similar in concept, PowerShell is more powerful and has a more complex syntax.
Do this
I've only scratched the surface of what you can do in batch files.
There are programming constructs like loops and conditionals, there are additional ways to manipulate parameters, and many ways to interact with your computer's environment. There are even ways to alter that Word/Excel example above so rather starting one after the other, they're started nearly simultaneously.
There's much more than I can get into here, but I wanted to give you a brief overview of what they are and how you might use them in some simple circumstances… like clearing your printer's queue.
If you're interested in pursuing batch files in more detail, a quick Google search on "batch files" returns many helpful resources.
Podcast audio

Download (right-click, Save-As) (Duration: 12:17 — 16.9MB)
Subscribe: RSS
Footnotes & References
1: The ERRORLEVEL variable is treated slightly differently between the two. For backwards compatibility, of course.