Why I don't care.
Not every problem is worth solving.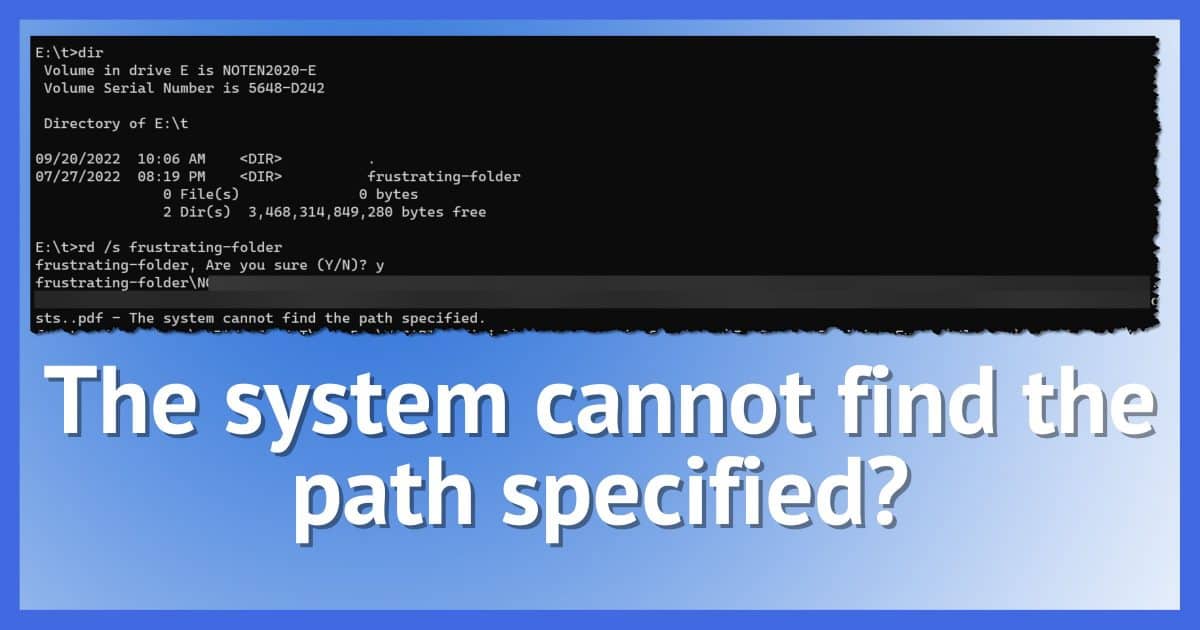 As shown in the image above, I have a folder on my hard drive that I cannot delete.
I'm not looking for solutions.
I'm going to explain a more pragmatic, philosophical approach.
Can't delete a folder
It's an understatement to say that computers present us with many challenges. One of the most important tools at your disposal is to discern whether or not to solve every problem. If, for example, you can't delete a folder and its impact is minimal, letting that folder remain might be the right solution.
I'm not looking for solutions
I'm repeating that because I know many readers cannot resist throwing out idea after idea to try.
If you're itching to make a suggestion — if you think you have some way to solve this problem —  you'll miss the entire point I'm about to make.
This isn't about solutions.
Unable to delete
The problem is simple: I have a folder with several subfolders and files that refuses to be deleted. If I try:
rd /s frustrating-folder
in Command Prompt (Admin or not) I get a sequence of errors:
The system cannot find the path specified
for several files in the folder tree. It can't find the path, but it's more than happy to tell me what the path is.
When I first ran this, it deleted the vast majority of the files in this folder. It left behind specific files that it couldn't delete for some reason. As a result, the folder itself can't be deleted because it's not empty.
My approach
To make sure it was truly inconsequential, the only thing I did was confirm how much space the folder tree was taking.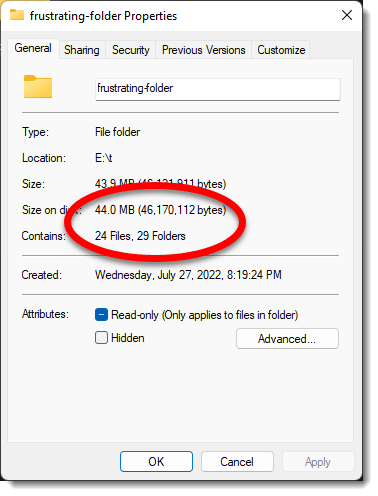 Forty-four megabytes on an eight terabyte drive. By leaving it be, I would lose 0.0005% of the available space on the drive.
I renamed the folder so I'd recall why it was still there the next time I ran across it.
ren frustrating-folder cant-delete-this-folder
I did nothing else. I did not spend time trying to solve the problem.
And I got on with my life.1
Some problems aren't worth solving
I see people wasting amazing amounts of time attempting to solve problems that are ultimately inconsequential.
Not to mention the downright anger and frustration that some people experience as they try and try and try.
Folks, it's just not worth it. Life's too short to keep beating your head against the wall trying to solve something that Just Doesn't Matter.
This isn't about deleting an undeletable folder. This is about how you spend your time.
Of course I have ideas
Of course I have things to try. Lots of approaches I might investigate. I have theories as to what's happening and why.
If the impact were more serious — perhaps if the frustrating folder was taking up too much space — I might even investigate some of them.
But it's not, and my time is too precious to be spent tracking down things that ultimately don't matter.
Do this
Choose your battles.
Value your time.
Not every problem needs to be solved, and not every problem needs to be solved by you.
Evaluate the impact of the issues you inevitably encounter throughout the day and decide which ones are important and which ones aren't. Don't waste time on the latter.
Here's something I think is worth your time: Subscribe to Confident Computing! Less frustration and more confidence, solutions, answers, and tips in your inbox every week.
Podcast audio

Download (right-click, Save-As) (Duration: 4:44 — 6.6MB)
Subscribe: RSS
Footnotes & References
1: Aside from writing this article, of course.