When Outlook.com and OneDrive.com combine to restrict available space.
To avoid running out of space in your Microsoft/Outlook.com account, you can archive email messages to your PC.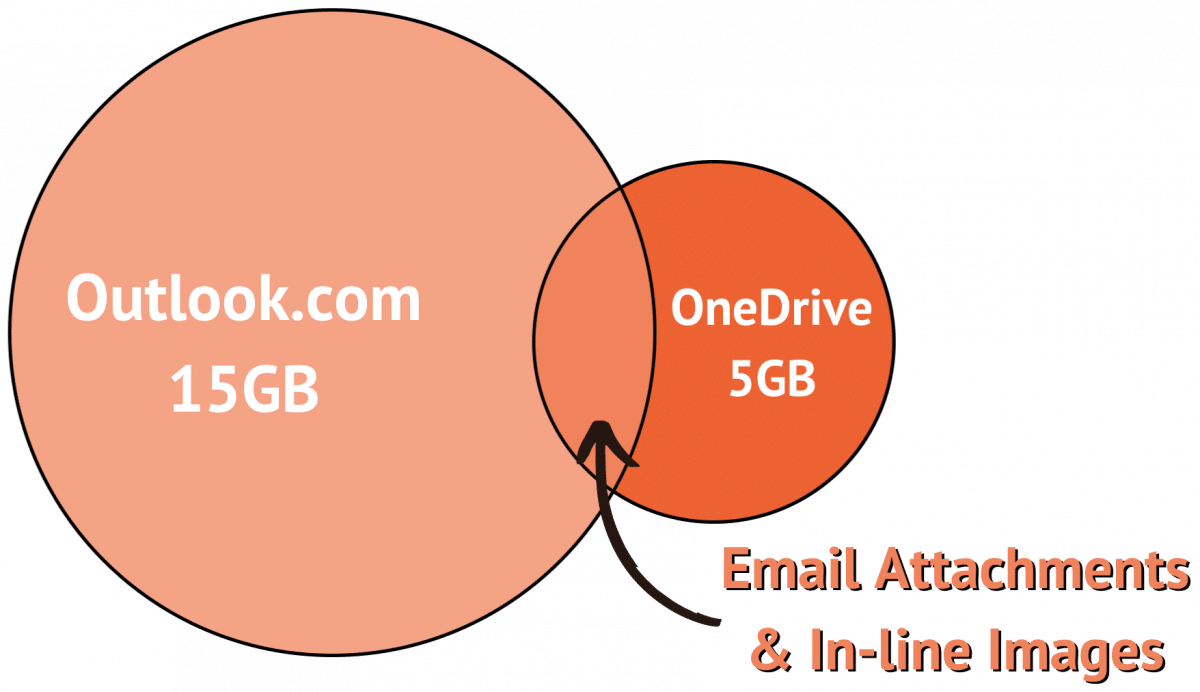 How can I archive emails from Outlook.com to my PC so I can free up space online? I've bumped into that annoying new space restriction.
That "annoying space restriction" referred to is the (sudden, unexpected, and confusing) limitation on your Outlook.com email space combined with your OneDrive.com space. I discuss it here: Why is My Outlook.com Email Suddenly Full? Suffice it to say that it's become easy to run out of space without realizing it, particularly for free accounts.
What most people want to do is to save some of their emails, particularly ones with attachments, locally and remove them from their Outlook.com account to free up space.
Let's do exactly that. Let's archive some email offline.
Freeing up space in Outlook.com
Save email messages on your PC to free up space in Outlook.com.
Download Thunderbird, a free email program.
Configure Thunderbird to use IMAP for your Outlook.com account.
Create a new sub-folder in Thunderbird's Local Folders, the folders stored only on your PC.
In Thunderbird, drag emails from your Outlook.com account to this new local folder.
This will save the email to your PC and remove it from Outlook.com, freeing up space. These saved emails are now only on your PC, so be sure to back up your computer regularly.
Start with Thunderbird
I'm going to use Thunderbird for this process, though almost any desktop email program will do. The only requirements are that it supports:
Having "local" email folders. We'll see what that means shortly.
Thunderbird is free and does both.
I discuss how to download and install Thunderbird in Back Up Your Email Using Thunderbird.
As part of that process, you should end up with a configuration similar to this one: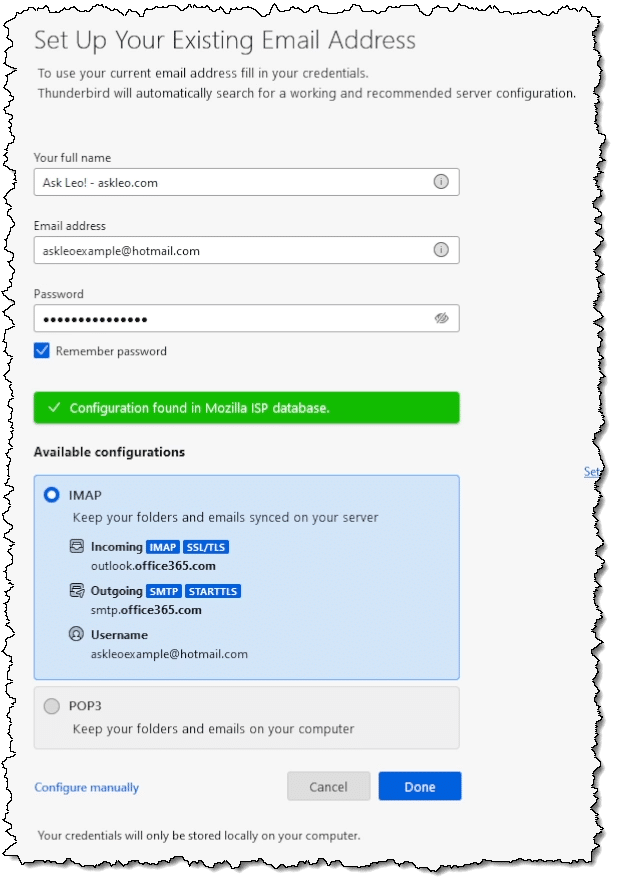 Note the selection of IMAP as the configuration. In most cases, Thunderbird will select this automatically for you after determining that you have an account serviced by Outlook.com.
Accessing your email
When you're done, your Outlook.com email will become available via Thunderbird. Nothing will change online. Thunderbird will just be another way to access your email.

In addition to your Inbox, all the other folders present online should appear here as well.
The key feature and the reason using IMAP is important is that any changes you make in Thunderbird will be reflected online and vice versa. Any email you read will be marked read in both places, any email you reply to will show as replied to in both places, any email you send will appear in the Sent folder in both places, and so on.
Perhaps most importantly for our purposes here, any email you delete here in Thunderbird will be deleted online.
But don't delete anything yet.
Local folders
In the folder pane on the left, you'll find something called "Local folders".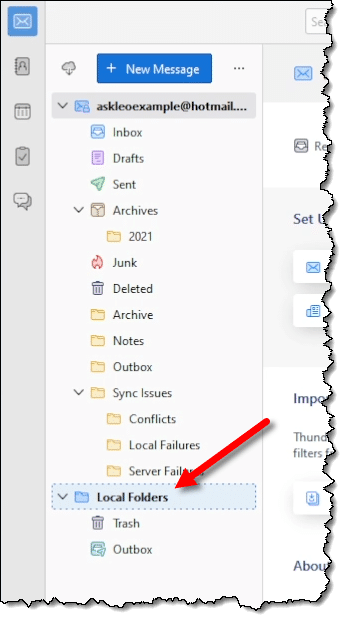 These folders are not associated with any email account at all. They are folders that are local to your machine. Anything placed in these folders is stored only on your computer and nowhere else.
Sounds perfect for what we need.
Archiving email offline
The trick, then, is to move email from your Outlook.com account into a local folder.
Start by creating a sub-folder. Right-click on Local Folders, and click on New folder. This will bring up a dialog allowing you to specify the new folder name.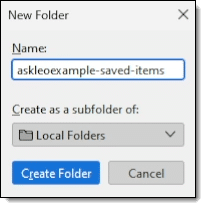 With the new folder in place, simply drag and drop email messages from your Outlook.com folder(s) above to the newly created local folder.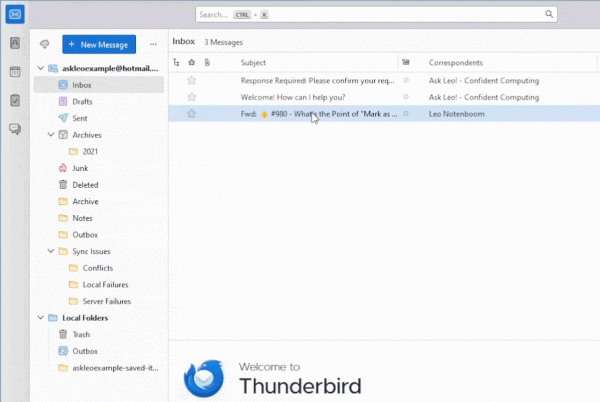 This moves the message, which does two things:
It copies the email message — attachments and all — to the local folder on your PC.
It deletes the message from the Outlook.com account, freeing up any space it took up.
In other words, you've archived your email message locally.
A few additional notes
Moving email to local folders removes the email from online access. That means the email you've moved now lives only on your PC and nowhere else.
If you're backing up your PC regularly (as I so often and strongly recommend), all your email will now also be getting backed up: both the Outlook.com folders and the Local folders. This alone is a strong argument for leaving Thunderbird running so that it's always getting your most recent email activity.
The reverse also works: you can move an email back to being available online by dragging and dropping it from your local folder to your Outlook.com inbox or other folder. (Holding down CTRL while you drag and drop will make a copy and not remove the original from your local folder.)
The amount of email you can store offline like this is limited only by your available disk space.
The technique described above works for any email account that supports IMAP, not just Outlook.com accounts.
Do this
If you find yourself bumping into space limitations with your Outlook.com account, you can use this technique to move email from that account to your local PC. As long as you're backing up your PC, you'll also have created a backup of all your Outlook.com email.
Here's some email to consider archiving: subscribe to Confident Computing! Less frustration and more confidence, solutions, answers, and tips in your inbox every week.
Podcast audio

Download (right-click, Save-As) (Duration: 9:45 — 7.2MB)
Subscribe: RSS