Microsoft has changed how they allocate your storage.
Microsoft made a confusing change to how storage is allocated between Outlook.com and OneDrive.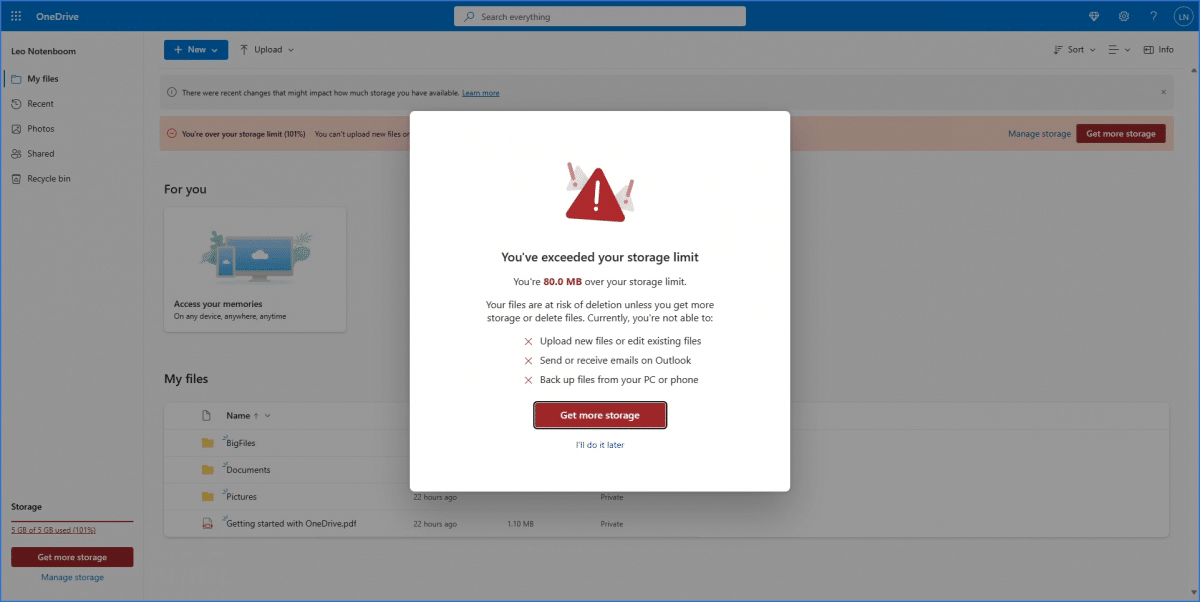 I'm hearing from people who suddenly cannot send or receive email via Outlook.com, or are seeing warnings they'll soon be unable to, unless they take action.
The action? Buying more OneDrive space.
What does OneDrive have to do with Outlook.com? Until recently, not much. Now, though, they're attached1 at the hip.
Outlook.com email and OneDrive
Email attachments and in-line images in Outlook.com emails now count against your OneDrive storage limitations. If you exceed a limit, your alternatives are to delete files from OneDrive, delete emails with attachments from Outlook.com, or purchase more OneDrive space.
The past: two separate worlds
In the past, your free Microsoft account included:
15GB (gigabytes) of storage for your Outlook.com email.
5GB of cloud storage in OneDrive.
They were separate entities. A nice clean division.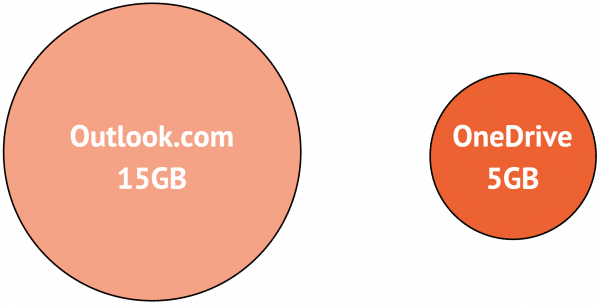 That clarity apparently couldn't stand.
The present: it's more complicated
The rule seems pretty simple: email attachments and in-line images count against your OneDrive storage.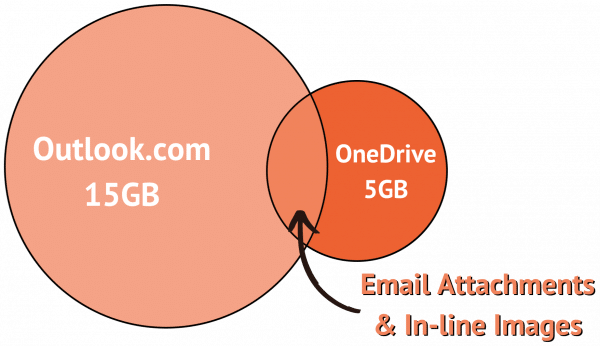 The net result, however, is complicated. Your OneDrive usage is now comprised of whatever you previously had in OneDrive (whether or not you realized it) plus all of your email attachments and in-message images.2
And that's where it gets weird.
Instant failure scenario
Let's assume you have a lot of mail at outlook.com. Perhaps not a full 15GB, but something significant. Say 10GB.
Let's further assume your email has a lot of attachments. Perhaps 7GB of that 10GB are images and attachments.
Everything's been working just fine until Microsoft makes this change. Then, suddenly, that 7GB counts against your (free) 5GB limit, and you're way over. "Your files are at risk of deletion," as Microsoft's message at the top of the page warns you.
You did nothing. Microsoft simply changed the rules underneath you.
Examining your storage
In Outlook.com, at the lower left, click on the amount of storage usage reported.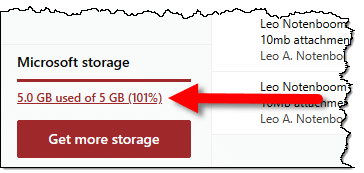 In the example above, I would click on "5.0 GB used of 5 GB (101%)".
This will take you directly to the Storage report in Outlook.com settings.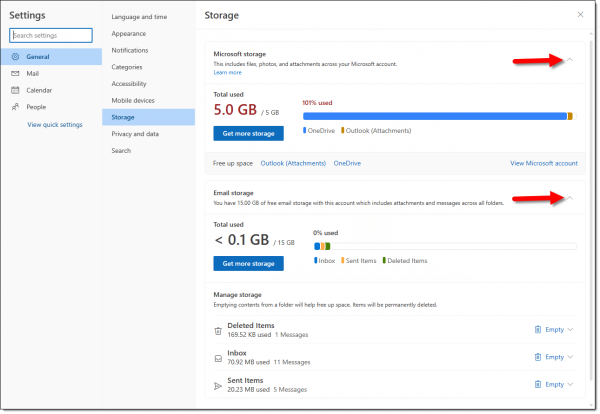 Be sure that both "Microsoft storage" and "Email storage" are expanded by clicking the small down-arrows in the positions indicated (they're up-arrows in the image, as they've already been clicked).
Here you can see that my "Microsoft storage" — AKA OneDrive — is over the limit at 101% used. The bar graph shows this is mostly files stored in OneDrive, but at the end, there's a small indication showing Outlook.com attachments are included as well.
You can also see that my "Email storage" is negligible; it's well under the 15GB allocated to free accounts.
Solutions
The solution I hear most people wanting to try is to delete attachments from specific email messages without deleting the email message itself.
The problem? There's no way to do that in Outlook.com. You can't delete just the attachment. You can only delete the entire email. I'll cover a cumbersome workaround for this in an upcoming article, but for now, with the Outlook.com user interface at hand, it can't be done.
Your options are:
Delete files from OneDrive to free up space. (And it's quite possible you have more in OneDrive than you think.)
Delete emails with attachments to free up space. This means deleting the entire email, and perhaps also emptying Trash when you're done.
You might be tempted to forward some of those emails with attachments to another account, but there are apparently situations where:
You can't send emails because you're using too much space.
You can't free up space by forwarding some emails elsewhere.
A classic Catch-22 situation.
It's a mess. And it's not your fault.
Do this
Honestly, if you're running into this situation, particularly if you use OneDrive, I'd be tempted to have you stop using the Outlook.com account for anything (other than perhaps needing it as your Microsoft account) and moving your email to a service with less restrictive, and certainly less confusing, rules.
Alternative #1, as outlined above, is deleting things from either your email at Outlook.com or your cloud storage at OneDrive.com.
Alternative #2 is to purchase more OneDrive storage. I'm reluctant to recommend this, because it seems like we're letting slimy marketing tactics win if we do.3 However, if you do, I recommend purchasing a Microsoft 365 subscription. Even if you ignore everything else included in the subscription (which is a lot), it's a cost effective approach to getting OneDrive space, as it includes a terabyte (1024 gigabytes) of storage.
After you've made room (or changed providers), make sure to subscribe to Confident Computing! Less frustration and more confidence, solutions, answers, and tips in your inbox every week.
Podcast audio

Download (right-click, Save-As) (Duration: 9:59 — 13.8MB)
Subscribe: RSS
Footnotes & References
1: *cough*
2: Email treats in-line images similarly to attachments. The only difference is that they're displayed in the email's body rather than separately in an attachment.
3: And yes, this feels a marketing attempt to get more people to pay more money for an ongoing subscription of some sort. I'd love for a Microsoft representative to explain how this is all supposed to make sense.