I'm going to take a small departure from my usual PC-centric discussions, and talk for a moment about using your smartphone.
Specifically, since I'm such a fan of Dropbox, I want to show you how to install and use Dropbox as an automatic way of backing up the photographs you take using your smartphone.
I'll use my old Android-based Samsung Galaxy Note for these examples, but the concept applies to just about any smartphone running either IOS or Android.
Install the Dropbox app
Go to the Google Play store on your mobile device, and search for Dropbox.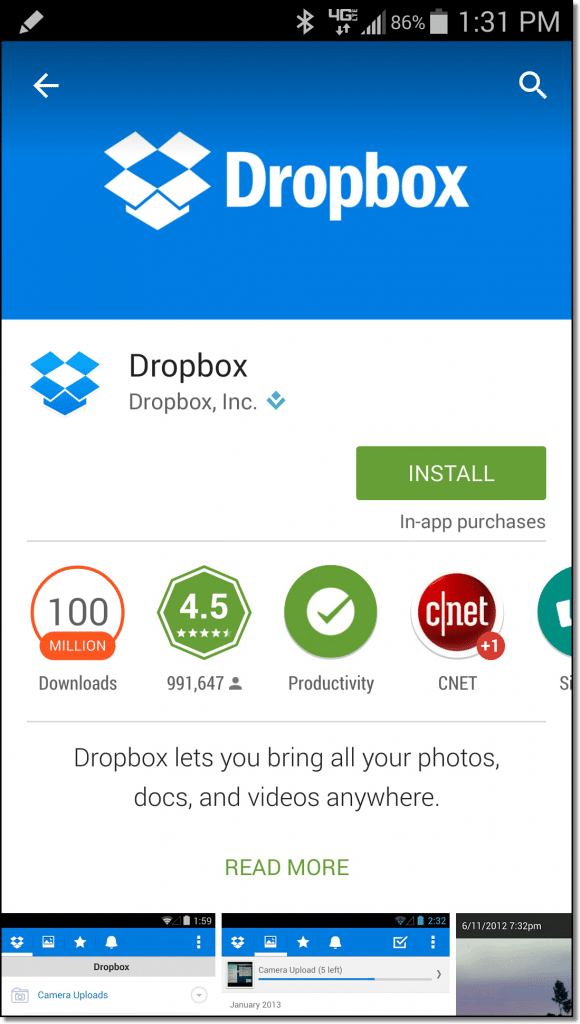 Tap on Install. The installer will confirm the permissions used by Dropbox.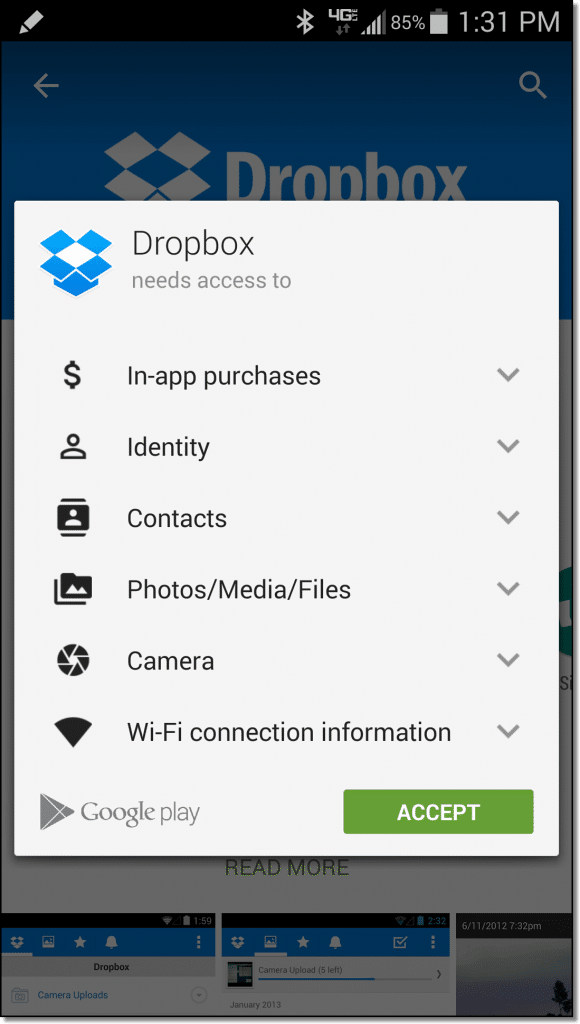 Tap on Accept.
That's it! Dropbox is installed on your device. The installer will return to the Google Play Store page, and the "Install" button will change to "Open". Tap Open to start Dropbox.
Configuring Dropbox
I'll assume you've already created a Dropbox account. If you haven't, I recommend performing that step by visiting Dropbox.com on the web and setting up your account there.
Back in the mobile app, enter your account credentials and click Sign in.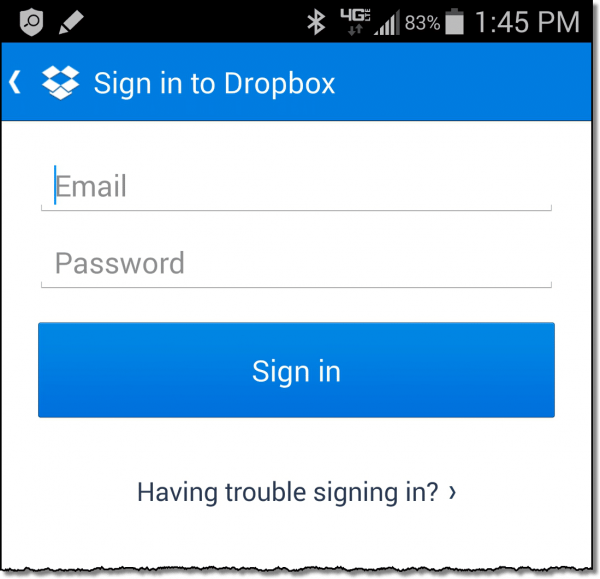 One of the reasons I like Dropbox over some of its competitors is that it supports two-factor authentication. Since I have that enabled, Dropbox next sends me a text message with my security code. After clicking Sign in, Dropbox presents a screen into which I must type the code that was just sent.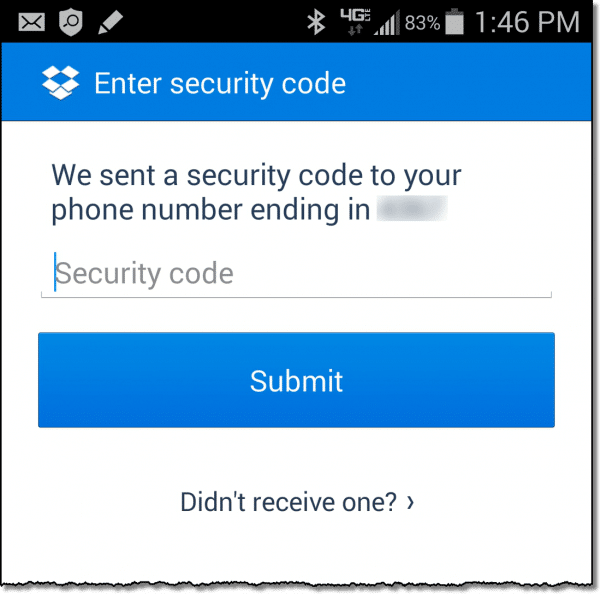 It may seem a little odd to get the text message on the same device to which I'm installing Dropbox. This prevents someone else from signing in to my account on their own Dropbox app, because even if they somehow know my password, they won't have access to the text message on my phone. Once you've signed in successfully on your mobile device, you won't need the second-factor code again unless you explicitly sign out.
Click on Submit, and Dropbox is good to go.
Enable auto-upload
Before letting you move on, Dropbox offers the automatic upload feature.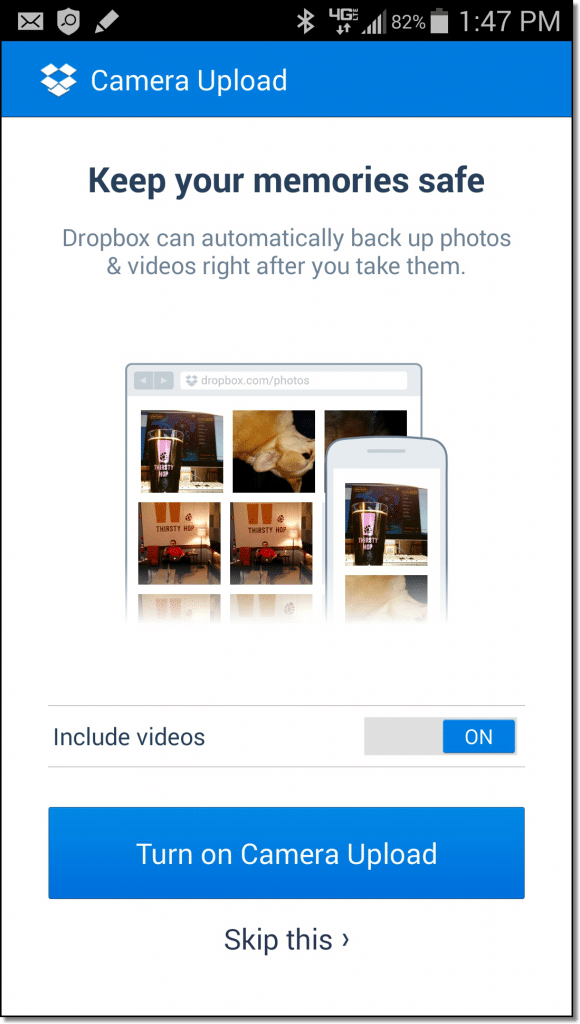 This is why we're here. Turn on "Include videos" if you like (as I did), and then tap on Turn on Camera Upload.
Dropbox will begin uploading and backing up the photos you've already taken. From now on, however, photos you take will be uploaded almost immediately.
Uploaded where?
Accessing your uploaded photos
Dropbox simply creates a new folder: "Camera Uploads".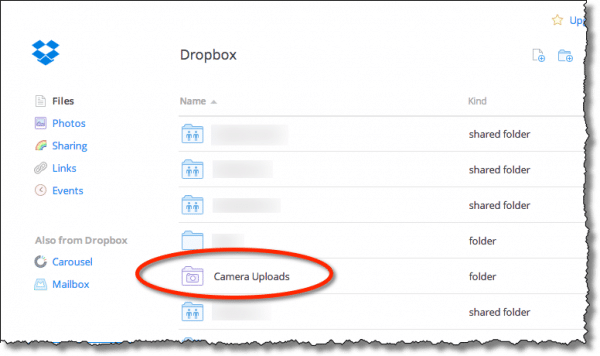 Examine the contents of that folder, and you'll find all your photos1.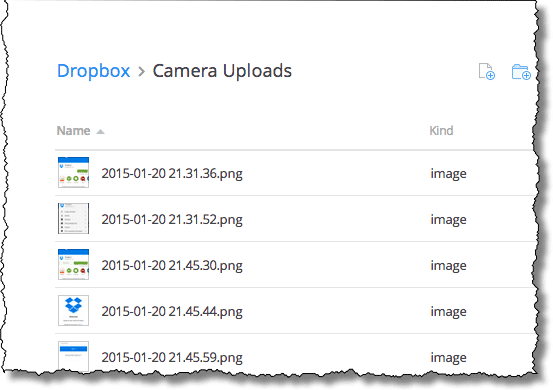 If you have Dropbox installed on more than one device, and you're signed in to the same account on each device, the photos will be automatically download to2 all those devices as well.
Controlling the upload
The Dropbox app's Settings menu includes several options that allow you finer control over exactly what and when Dropbox uploads.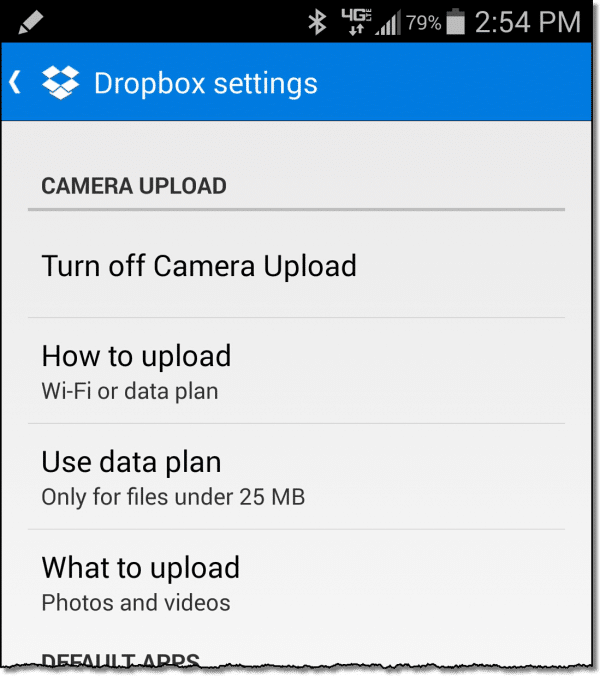 Naturally, you can turn the entire upload feature off. Unless you have another app doing the same thing, or have some other strategy for backing up your photos, I don't recommend this.
Because data transfers on your mobile provider network can count against your data plan or limit, and different people have different plans with different limits, you can choose to have Dropbox upload only when connected to a Wi-Fi network. I'm allowing it to upload no matter how it's connected.
If using your mobile provider data plan is enabled, you can still control how much gets uploaded by setting a specific size limit on uploaded files. I've elected to allow anything up to 25 megabytes in size to be uploaded when connected to my mobile provider's network; anything larger than that will upload only when I'm connected via Wi-Fi.
Yet another way to manage what gets uploaded is to allow or prevent videos from being uploaded. Videos tend to be much larger than photos. Once again, I've elected to allow both to be uploaded.
Dropbox or another service?
I've used Dropbox throughout this article as my example because it's popular, ubiquitous, robust, and supports two-factor authentication. But it doesn't have to be Dropbox.
Many cloud storage and cloud photo applications, including Microsoft's OneDrive, Google's Drive, Flickr, and others, provide very similar functionality. In fact, so many apps now offer to automatically upload your photos from your mobile device that it's almost a problem, because you have to keep declining the offers to replicate functionality you already have.
Regardless of which you select, automatically uploading your photos and videos means you're almost immediately backed up, as long as you have an internet connection of some sort.
And as we know, backing up is a very good thing.
Podcast audio

Download (right-click, Save-As) (Duration: 5:29 — 2.6MB)
Subscribe: RSS
Video Narration