Windows 10, fine, I fell for the hype. It was free and I tried it. I don't like it. I want to go back to Windows 7. How do I do that?
I'm not sure I'd call it hype – Windows 10 is getting good reviews from many people, though of course, not everyone.
While my recommendation is to stick with Windows 10, I realize that's not a choice everyone is willing to make. So I'll show you the four most effective ways to go back to Windows 7 or 8.1, assuming that's what you were running before you upgraded to Windows 10: restore, revert, restore, or reinstall.
Restore from a backup
By far the simplest, quickest, and most effective way to go back to Windows 7 is to restore your machine to the backup image you took immediately prior to upgrading to Windows 10.
Best "undo" ever.
It'll be like Windows 10 never happened on your machine.
Now, to be fair, it'll also be like any work you did on your machine after you upgraded will also never have happened, so you might want to back up your Windows 10 installation, or at least your data files, prior to restoring your machine to that prior version of Windows.
You didn't take a backup image prior to the upgrade? Well, then your most recent image backup before upgrading will do. If you're backing up regularly, that should be perhaps only a day or two prior.
You're not doing image backups at all? Well, two things, then:
This option is not available to you. Given how easy it would have been, hopefully you'll now see the value and ….
Start backing up!
Revert using Windows 10
There's a possibility that Windows 10 may be able to accommodate your desire to go back to Windows 7.
Use Windows 10's search and look for "go back".
You may well find "Go back to Windows 7" (or 8.1) at the top of the results. Click on that.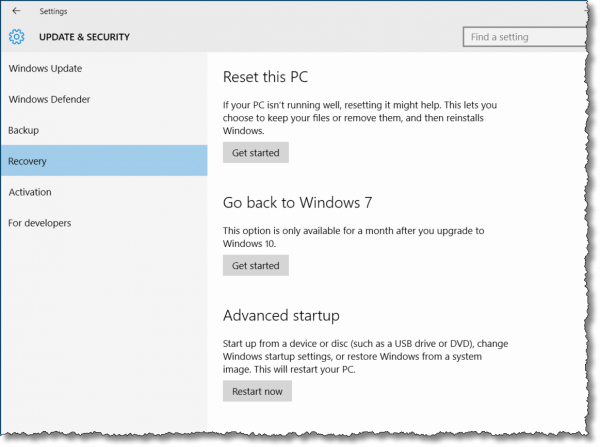 If this dialogue box doesn't turn up from your search, click on the Start menu, Settings, Update & Security, and then Recovery.
If this installation was an upgrade of a Windows 7 or 8.1 installation, and it's been less than 30 days since that upgrade, "Go back to Windows 7" (or 8.1) should be listed as an option.
Click on Get started underneath Go back to Windows 7. After asking why you want to go back, you'll get a warning that you should be backed up, you may need to reinstall some programs, and that the roll-back process could take a while.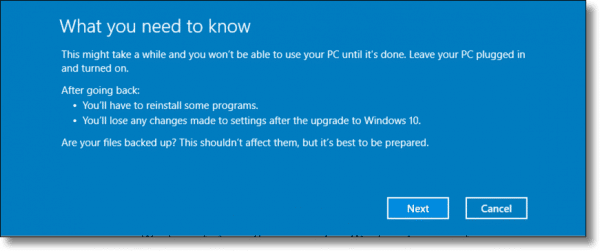 You'll also get a second warning that turns out to be particularly important.
Windows 10 encourages, sometimes quite aggressively, the use of a Microsoft account to log in to your computer, rather than a local account and password. This will be undone, and you'll need to remember your old password.
Some time and a few reboots later, your machine is back to running the previous version of Windows.
Restore to factory settings
This approach may not be available for all machines.
If your computer came with media that allows you to restore it to its original factory settings, that will typically include restoring it to the operating system that the machine came with – presumably Windows 7 or 8.1.
Important: restoring to factory settings implies you'll lose everything on your machine –  any programs you've installed since you got it, and all of your files. Make certain to take a backup prior to doing this, so you can at least recover your data files after the restore is complete. You'll need to reinstall any applications you'd installed.
Reinstall
If the options above aren't available, or simply don't work, then there's one approach that's guaranteed.
Reinstall Windows from scratch. (This isn't limited to 7 or 8.1 – it works for any version of Windows you want to go back to.)
You may be able to download installation media if you don't have it; you'll need to have (or purchase) a product key. With that in hand, the process is conceptually very simple:
Backup your Windows 10 machine to make sure you don't lose anything.
Install the prior version of Windows from scratch.
Install any additional applications from scratch.
Restore your data from the backup you started with, or any other convenient copies.
Conceptually simple, but a fair amount of work.
You may be left wishing that you'd taken my advice and created an image backup prior to upgrading your system.
Podcast audio

Download (right-click, Save-As) (Duration: 5:27 — 5.1MB)
Subscribe: RSS