My computer died on me. I can't get it to boot up. I need to take the hard drive out and pull my files off from it. How do I retrieve the files from the hard drive in a dead computer? Thanks for any help you can give me.
This is a pretty common scenario. Depending on what caused the computer's demise, there's a relatively good chance you can retrieve the information off that hard drive.
Of course, if it's the drive itself that caused the failure, things get a little more interesting.
There are several approaches to this problem. I'll start with my favorite: not needing to do it at all.
Get your data from a recent backup
By far, the simplest solution to this problem is not needing to solve it at all.
By that I mean that a good backup strategy can almost eliminate the need to try to recover the hard drive in a dead computer.
Using another computer, or after the dead computer has been repaired:
Restore as much as you want — potentially the entire system — from your most recent image backup. This is why I like taking image backups every day. With that simple action, you'd be no more than one day out of sync with your work.
Restore the last-minute changes from the online service that you've been using for more-or-less continuous backups. I use DropBox for this. Simply do your work in a DropBox folder, remember to "Save" periodically, and even if the machine dies completely, the work in progress will have been saved online.
Unfortunately, the reality is that most people don't have a comprehensive backup plan in place. And, occasionally, there are other reasons — like a last-minute change that was important, but not yet saved online — that might still require retrieving data off the dead drive.
So we'll give that a try.
Repair attempts
If you can boot the machine into safe mode, then the place to start is to run CHKDSK /R on the drive. That will scan the disk for surface errors that can cause the disk to become inaccessible.
If you can't boot at all, or if CHKDSK doesn't help, it might be worth buying SpinRite to see if it can repair the drive. (If not, you can get your money back.) SpinRite boots from its own media and can attempt to both diagnose and possibly repair errors on the disk surface.
If those options don't work or don't help, it's time to try something else.
Get an external drive enclosure
Perhaps the most flexible way of dealing with a hard drive in a dead computer is to purchase a USB hard-disk drive enclosure. These are almost identical to any external USB drive, except there's no drive inside.
You need to get the correct-sized enclosure for the physical size of your drive.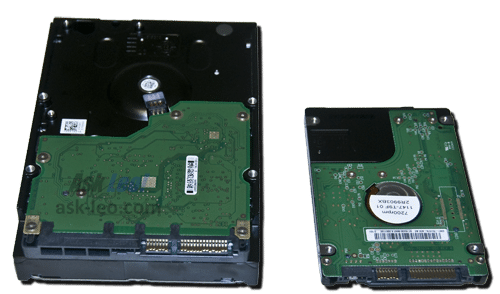 Current drives are either 3.5 inches or 2.5 inches wide, and the enclosure must match.
The enclosure must also support the correct interface used by that drive: IDE/EIDE/PATA, or SATA.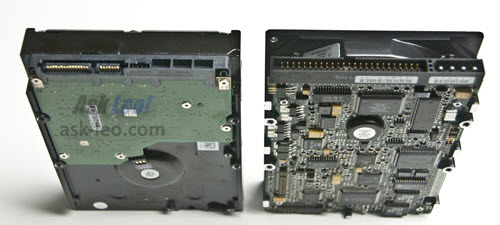 You can determine which you have simply by looking at the drive after removing it from your system. SATA interfaces are most common on newer machines, and can be identified by the flat connector style, whereas IDE connectors consist of two rows of pins.
Then, it's a relatively simple matter of installing the drive into the new drive enclosure. Not only do you have a way to access the drive, but it's portable: you can access your data on whatever computer you have available.
After you've recovered the data you care about, that drive can have a useful second life as an external drive.
Perhaps you can use it to create the backup strategy that might have saved you from this pickle to begin with.  :-)
If the drive fails to work in the external enclosure — perhaps it shows up as "unformatted" when you connect it to another computer, or doesn't show up at all — then it's probably time to consult a technician or data recovery service.
Permission denied!
When moving a drive from system A (which had a problem) to system B (where you're trying to recover the data), you may connect it to system B only to find that, although you can see that the drive is there and has files,  you're not allowed to see any of them.
Not to worry.
As long as you can log in to system B with an account that has administrative privileges, you'll be able to take ownership and/or change the permissions associated with the files, so you can read, copy, back up, or do whatever you like with them.
This applies to any drive moved from one system to another, whether it's  installed internally or externally, and regardless of the reasons you've moved it. The permissions on the drive are relative to its original system and must be adjusted for the new system.
Rather than duplicate how to do so here, I'll point you at this article which has all the steps: How Do I Gain Access to Files that Windows Says I Don't Have Permission to Access?
Preparing for the inevitable
Hard disks die. It's a fact of life. Cynical folks would say that they tend to die at the worst possible time.
The best approach is to prepare for this certainty by backing up. Nothing can protect you better.
Prepare well, and when (not if) your hard disk dies, it'll be an inconvenience, not a disaster.
Podcast audio

Download (right-click, Save-As) (Duration: 6:05 — 5.6MB)
Subscribe: RSS