It kinda depends on why you want to and what's happening when you do.
Leaving a flash drive or USB thumb drive plugged in all the time runs a small risk of prematurely wearing it out. We'll look at why, and what to do.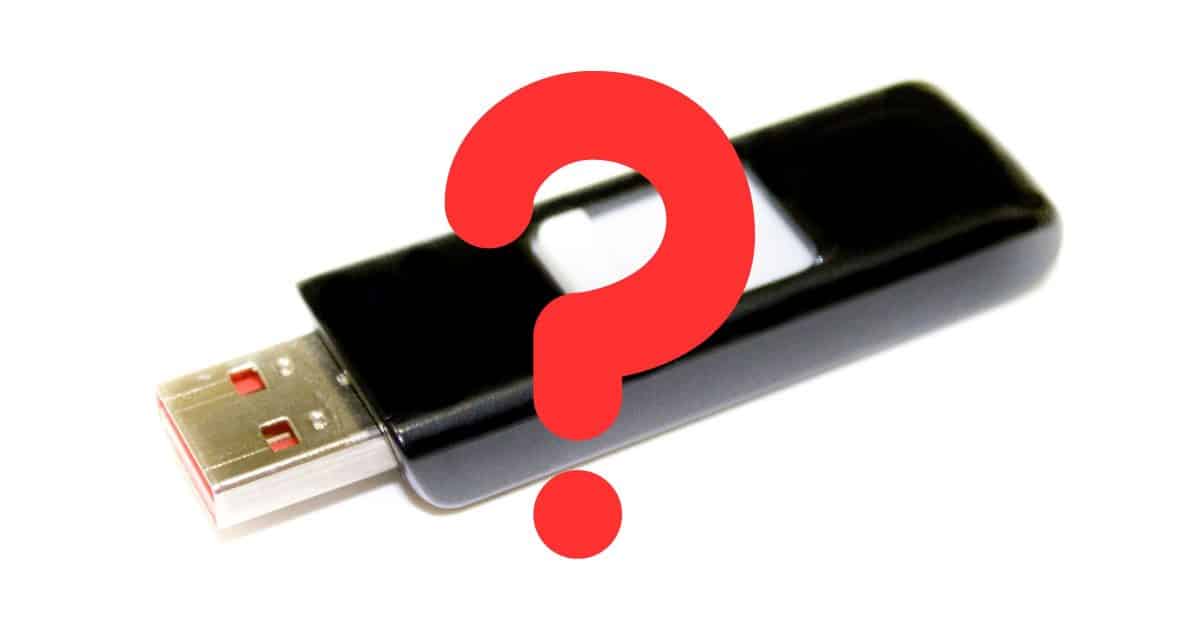 Question:
Some time ago, I think I read on your site that flash drives can wear out. Now, I keep my flash drive in all the time because I'm a writer and am always backing things up on the computer and the flash drive, but I dislike having to close the flash drive down, take it out, only to reinsert it again after I take a break or run an errand. And I always leave it in when I run a full system scan because the flash drive will get scanned also.
1. Is it harmful to the flash drive to leave it plugged in 24/7, even when I put the computer on standby for the night?
2. Why is it necessary to shut the flash drive down before removing it from the computer? Why can't I just pull it out when I'm done?
3. And if I am correct about flash drives wearing out, what wears out? As far as I can tell, they have no moving parts. And at what point should I consider replacing the flash drives I have?
These are very legitimate and very tough questions to answer.
Flash drives, often also referred to as thumb drives, absolutely do wear out.
But exactly when a flash drive will wear out depends on so many things, it's impossible to give a specific answer.
I'll give you some guidelines I'd follow on using a flash drive.
Leaving a thumb drive inserted
It's generally not harmful to leave a thumb drive inserted all the time as long as it's not being constantly written to and is of reasonable quality. Nonetheless, there are risks, so you should be prepared for failure. "Safely remove hardware" is used because Windows may hold off writing data to the device in the interest of speed; "Safely remove" forces completion. Even though flash memory has no moving parts, the circuitry used to hold information wears each time it's written to.
What wears out?
You're correct: there are no moving parts in a flash drive. A flash drive is so named because it uses what is called flash memory — a type of solid-state memory that retains its contents even after power has been removed.
Flash memory wears down just a little each time something is written to it. Write to it enough, and eventually writing to it will fail.
Exactly how quickly this type of failure happens depends on two things:
The quality of the electronics
The number of writes
SSDs — solid state drives — are also a form of flash memory, but they're of high-enough quality that under normal usage, they often outlast the computer they're in.
External USB flash or "thumb" drives? Not so much.
Why "safely remove"?
In an effort to make things faster, Windows buffers data in RAM before writing it to a device. That means if you pull a thumb drive out at a random time, even though it might look like whatever you're doing has completed, it's possible not everything has actually been written. In the worst-case scenario, that could corrupt the information tracking what's where on the device, causing you to lose files and data.
While it applies to both flash drives and traditional magnetic hard drives, writing to a flash drive is also slower than reading from it, so there's a performance benefit to buffering as well. Delaying writes until they are necessary maximizes speed and minimizes wear.
The Safely Remove function forces Windows to flush everything to the device. In addition, it checks for applications having files open on the device that may be in a similar partially complete state.
Recent versions of Windows have changed the default behavior such that write caching isn't used as much as it was in the past, so "Safely remove" may not be needed for all of your USB devices.
Should I leave it plugged in?
This is where "it depends" really comes into play.
What it depends on is easy: is the flash drive being written to — even occasionally — while it is left plugged in? I'm not talking about your work; I'm talking about other programs, like Windows itself, anti-malware software, utilities, and other things that — on the surface — would have no reason to write to the device.
And yet some might.
If your computer is powered down — be it shut down, hibernate, or stand-by — there's no issue. Nothing's writing to the device when the machine is turned off.
If, however, like me, you leave the machine on 24 hours a day, there's a small risk.
Risk? How big a risk?
It depends on the quality of the flash drive. It depends on what software you have installed on your machine. It depends on how your USB or other connecting port is configured (some of the buffering might be turned off). It depends on how long you plan to keep your flash drive. It depends on how catastrophic it would be to you if it failed.
For many — perhaps even most — there will never be a problem. Most people might physically lose the flash drive before it wears out.
And the quality of flash memory is constantly improving. As I mentioned above, high-end flash memory used in SSDs have a practical lifespan probably longer than the machines in which they're installed, even if the machine's running 24×7.1
But that inexpensive flash drive you picked up or were given for free? It's probably not going to be of that quality. In fact, where it'll be on the quality scale — a scale that is constantly moving — is anyone's guess.
But the risk is definitely there. Murphy's Law being what it is, failure will happen when it's least expected and most inconvenient.
Do this
Here's what I recommend you do: plan for failure.
Assume that sometime, out of the blue, a write to your flash drive will fail. Or that a later read will fail. In fact, that's an assumption you should make about any storage device you use. Disks — HDD, SSD, flash drives, whatever — can all fail, often completely, and occasionally without warning.
Make sure that through some form of redundancy,2 you can recover to a convenient spot.
Perhaps that means you need to save two copies every time (one to your laptop, one to the flash drive). It sounds like that's what you do.
Perhaps it means that you don't use a flash drive at all, but rather an online storage service like Dropbox, so every time you save the file on your computer, it's updated online. That's my preferred approach these days.
Perhaps it means deciding beforehand that it would be OK to lose a weeks' worth of work.
Regardless of which it is, make it a conscious decision and then act on it appropriately.
Here's another conscious decision to make: Subscribe to Confident Computing! Less frustration and more confidence, solutions, answers, and tips in your inbox every week.
Podcast audio

Download (right-click, Save-As) (Duration: 7:50 — 10.8MB)
Subscribe: RSS