When the most recent version isn't what you need or want.
It's generally not possible to recover an older version of a webpage, but we'll look at a couple of straws to grasp at.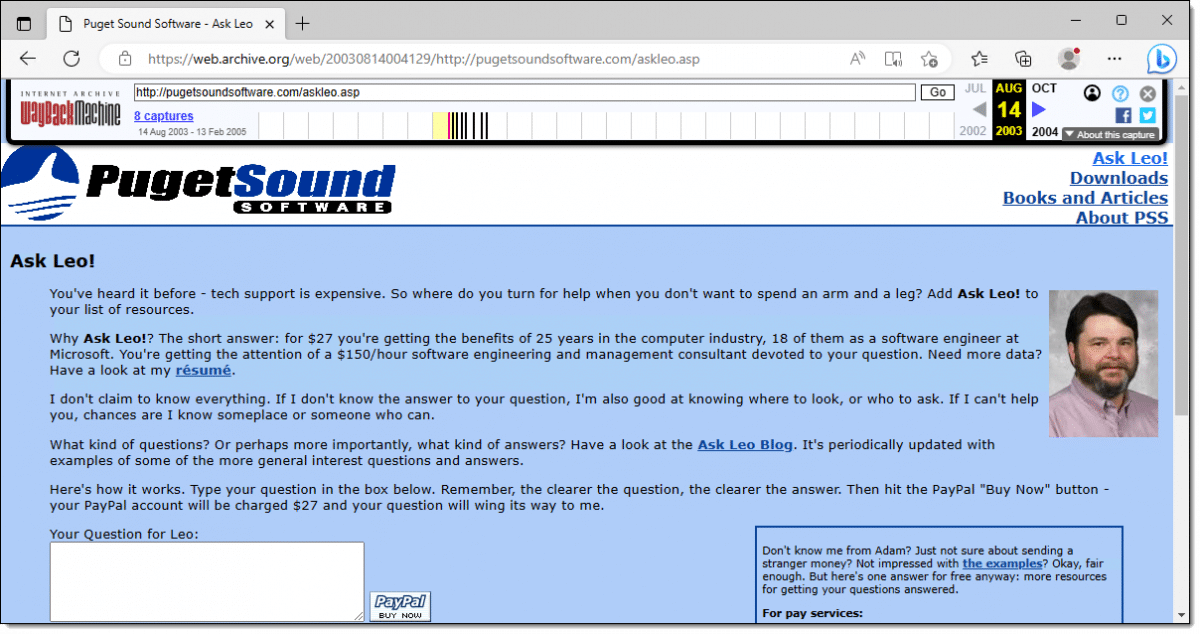 Question: How would I get an earlier version of a webpage? For example, I wanted a certain musical selection and I clicked on the bookmarked entrée. Another version of the song came up – it was nowhere as good as the version that I bookmarked. How would I get that earlier version?
In general, you cannot.
Particularly with media files (like music or video), if a webpage changes its contents, whatever was there before is removed from public access.
However, there are a couple of things to try.
Old versions of webpages
Archive.org and search engine caches are two straws to grasp at when looking for older version of webpages. Unfortunately, there's no guarantee that what you're looking for will be found in either.
Archive.org
The Internet Archive at archive.org offers the Wayback Machine, which lets you access archived copies of websites from the past.
The problem with the Wayback Machine, however, is that not all sites are archived, and not all archives are updated frequently. You may or may not find a copy of the site as of the date you care to see.
An additional problem is it's not uncommon for media — audios, videos, images, and the like — not to be archived for a variety of reasons.
And, of course, website owners can "opt out", meaning that they instruct archive.org not to archive their site.
As an example, at the top of the page is an image of Ask Leo! as of August 2003, courtesy of the Wayback Machine.
Most, but not all, of the links on the archived page even work.
Archive.org might be a place for you to start.
Search Engines
Many search engines — most notably Google — may make available a "cached" copy of webpages they return in search results. (Click the ellipsis next to the search result, if it's there, and then look for "cache" in the additional information displayed.)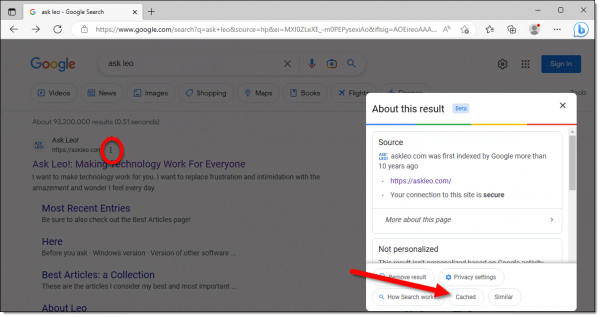 The problem here, however, is that cached copies are usually only the copy as of the most recent visit by the search engine indexer. Depending on the site, that could be anything as recent as a few hours, weeks, or more. If they haven't updated their cache since whatever you were looking for was there, you might be able to find it. In the example above, a cached copy of the Ask Leo! homepage was one day old.
But once again, the cache focuses on webpages, rarely includes media such as audio or video, and can be discouraged by the website owners.
Do this
We often say that once you post something on the internet, it's there forever. This certainly seems to apply to embarrassing photos, misstatements of truth, captioned cat pictures, and pretty much anything else that we might wish would go away.
On the other hand, it seems situations such as yours are common as well: things we remember finding on the web disappear.
Either way, what remains on the web — permanently or briefly — remains out of our control. The tools above may help you find some things, but not necessarily everything.
My newsletter is still around! Subscribe to Confident Computing! Less frustration and more confidence, solutions, answers, and tips in your inbox every week.
Podcast audio

Download (right-click, Save-As) (Duration: 8:21 — 11.5MB)
Subscribe: RSS