There are many choices, and they keep changing.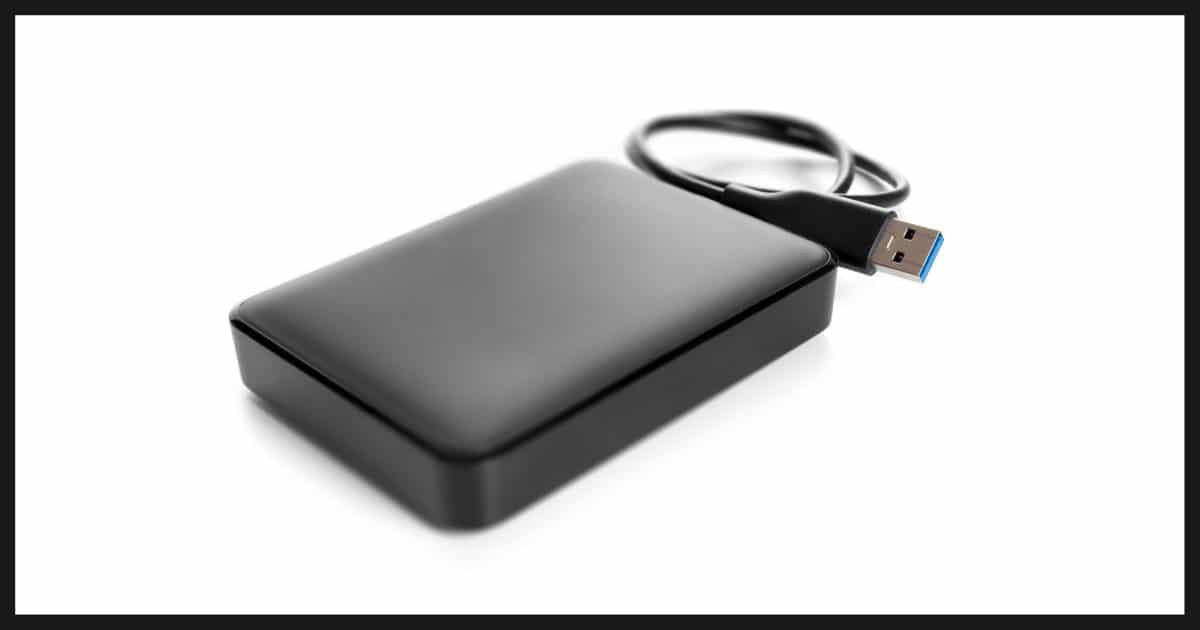 I'll review the characteristics of external drives and include a couple of specific recommendations.
I frequently recommend you purchase an external hard drive for your backups. Backing up regularly to an external drive is probably the most important first step in getting an overall backup strategy in place.
The inevitable question is, "What external drive should I buy?"
The problem, of course, is that the answer keeps changing. Technology evolves, and as a result, so does my recommendation.
Let me give you a few guidelines, and then a few current (as of this writing) examples.
What external drive to get
Begin by selecting an external drive that is sufficiently large to hold your backup images — I recommend three times your disk space used, at a minimum, though larger is always better. Make sure the interface is USB3 or better. SSDs are not worth the expense to be used as external drives, though they otherwise could be. Opinions and quality change often, so make sure to pay attention to the dates of specific recommendations you find.
External drive capacity
It's pretty easy to say you can never have too much capacity. Bigger is better.
Of course, more capacity also means a more expensive drive.
The rule of thumb I use is this: get an external drive at least three times as large as the amount of data you expect to back up.
For example, my primary Windows machine has a roughly 922GB (gigabyte) drive, of which around 478GB are used.

For that machine, I would purchase a hard drive with a capacity of at least three times 478GB, or around 1.5TB (1434GB, rounded up). That would be enough to hold two complete and compressed full-image backups, along with overhead information (such as recovery partitions) and a healthy collection of incremental backups as well.
As I said, that's a bare minimum, and there are certainly situations where it could end up not being enough, depending on how you configure your backups. If you want extra safety and breathing room, double (or even triple) my recommendation.
The good news here is that in most cases, your backup requirements — even after tripling my recommendation — will likely be smaller than the average external hard drive currently available.
External drive technology
There are several different types of external drives. Connection methods, and even power options, vary. Some choices are easy; some depend at least a little on your personal setup.
USB3
There's simply no reason not to ensure your new drive comes with a USB3 interface, even if your computer doesn't support it.
If your computer does support USB3 (usually indicated by the plastic in the USB connector being blue), backups will be faster. If your computer doesn't support USB3, that's okay; it's backwards compatible, and will operate at the slower USB2 speed.
Someday, when you get a new computer, it will likely have a USB3 interface, and you'll have an external drive ready to take advantage of it.
SSD
In my opinion, SSDs, or Solid State Disks (which use high-quality flash memory instead of rotating magnetic platters), aren't appropriate for backup purposes. I have two reasons.
Expense: though prices are coming down, SSDs are still more expensive than traditional hard disks of the same size.
Longevity: the lifespan of magnetic media is well understood. Once written, it stays written for a long time. Even in the worst circumstances, data can typically be recovered. The same can't be said for SSDs.
The primary benefit of SSDs – speed – is unnecessary for our purpose. The speed of an SSD is about reading data, and backups are all about writing it.
What I didn't mention was wearing out. Flash memory does wear out the more you write to it, but SSDs have a longer useable lifespan than their cheaper thumb-drive counterparts, and backups don't write as much to the drive as you might think. Yes, they write a copy of everything (or everything that's changed) each time you back up, but that's nothing compared to the constant use SSDs withstand — and are designed to handle — when used as the primary disk drive of a computer.
There's nothing inherently wrong with using an SSD as a backup drive, as long as it is a true HD-replacement quality drive, not a cheap thumb drive. I just wouldn't recommend it.
Power
There are two approaches to powering an external drive.
No additional connection: the drive is powered entirely by the USB interface.
A separate external power supply.
USB-powered drives are typically smaller, more portable, and slower. Drives with external power supplies are generally physically larger, offer more capacity, and transfer data more quickly.
I use both. The backup drive for my laptop is small, portable, and great for travel. Backup drives attached to my desktop machines are typically externally powered.
Other characteristics
Physical size: if you care, you can narrow your selection based on physical drive size — for example, a 2.5-inch drive versus a 3.5 — but in the long run, that choice will probably be made for you based on the choices you made above, since USB-powered portable drives are generally small and drives with external power will be physically larger.
Rotation speed: I never pay attention to this for external drives, particularly back-up drives. The USB interface speed is the limiting factor, so focus on getting USB3 if you can. If you're on USB2, the speed of a faster drive is wasted.
Specifics: what external drive to get
As I said, drives change constantly. With that in mind, here are a couple of drives I recommend today — where "today" is September, 2021.1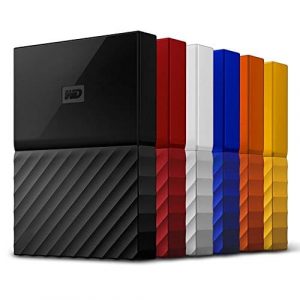 USB-powered: Western Digital 4TB My Passport Portable External Hard Drive.
This is the drive I'd purchase if I needed one today. They're available in different capacities from 1 to 5TB (terabyte — that's a thousand gigabytes). Were I to buy one, I'd probably opt for the largest, simply because you can never have enough disk space. In fact, that's one of the reasons I've not needed to purchase one recently, as my previous purchases were always of the largest capacity available at the time.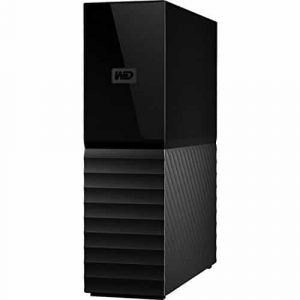 Externally powered: Western Digital My Book Desktop External Hard Drive.
These are available in capacities from 3 to 28TB.
Again, if I needed an external drive, this is the one I'd probably buy. The maximum capacity is difficult to resist.
Choose what your budget will allow, as long as it meets the minimum capacity requirements I laid out earlier.
Externally powered #2: G-Technology 6TB G-DRIVE USB 3.0 Desktop External Hard Drive. Based on prior experience with this brand, this is a drive I actually did purchase in 2019. It's the backup drive connected to my primary desktop machine and holds my nightly Macrium Reflect backups, among a few other things. (The "prior experience" is this drive, purchased in 2015, which is still connected to my Mac Pro, now running in my basement.)
Opinions are easy to come by
This article, like any article on Ask Leo!, may contain "
affiliate
links". Without affecting the price you pay,
or my decision to include them
, using affiliate links may result in my being paid a commission should you purchase the product mentioned. Affiliate links help pay the bills and support Ask Leo!.
More detailed information.
Hard disks are a very difficult category of product to recommend. The problem is that the industry is cyclic: a great hard-drive manufacturer five years ago might be horrible today.
Unfortunately, that's true for all the major hard-drive manufacturers: their quality appears to come and go in waves. Fortunately, there's usually at least one cresting while another is at its low point.
Previously, I recommended Seagate drives, and that's what most of my current (older) external drives are. In researching this update, Western Digital seems to be getting slightly better reviews today. By the time you read this, that could change. In addition, others may feel differently, based either on their own experience (whether current or not) or because the market has changed.
So, when you're shopping for an external hard drive, pay attention not only to the reviews and comments you read, but also to the dates of each.
Podcast audio

Download (right-click, Save-As) (Duration: 12:33 — 14.7MB)
Subscribe: RSS
Footnotes & References
1: With luck, I'll update these recommendations periodically, and thus change the definition of "today".