As we use digital technology, we're continually accumulating digital "stuff": we take pictures, write documents, record videos, purchase music, acquire software, and much much more.
All of this digital data is either accumulating on our systems, or worse: getting lost.
In the past, we've had a very clear concept of how we could store the physical counterparts to today's data. They were visible and we could move them about as our needs dictated: place them on a shelf next to the TV or store them in a box in the attic.
Digital data requires that we think a little differently about storage.
I want to introduce you to archiving.
To begin with, it's important to realize that archiving is not the same as backing up. Not at all.
Archiving – what it is
Archiving is nothing more than the process of moving (or copying) digital data that you want to keep for "a long time" to some appropriate device, location, or storage medium.
I'll use photographs as my example as photos are one of the most common forms of digital data that we're all now accumulating over time. The concepts will apply to pretty much anything: music, documents, videos, software … any type of digital data that:
You want to keep for an extended period of time
Accumulates over time
By necessity, many of the specifics are intentionally vague. What's an "extended period of time," for example? Only you can decide that. But that's also why I choose photographs as my example. For many people, the answer is "forever."
Archiving in practical terms
When you take photographs with your digital camera, you :
Leave them on the camera
Copy or move them to somewhere on your computer
Leaving them on only one camera is bad for a whole host of reasons (such as losing the camera and everything on it). At a minimum, archiving your photos begins by copying them to your computer.
In rare cases, that may be enough. Perhaps you don't take  many pictures, perhaps you'll keep your computer longer than you envision ever wanting the photos. Either way, having them on the computer might be enough. (And yes, this assumes the computer is backed up – more on that in a moment.)
I'm of the opinion that it's not enough.
As you accumulate more photos, keeping them on your computer is going to become impractical for a few reasons. The biggest reason is disk space: with the increasing resolution and quality of digital photos over time, the files are getting bigger every year. If you take any reasonable number of photos, the amount of space taken can add up quickly. If you add videos into the mix, things get even worse.
There's also the issue of finding photos that you want. Browsing through a few dozen photos for that one special picture that you remember taking last year is one thing. Browsing through a few thousand that have accumulated over the past decade is something else entirely.
In my opinion the thing to do is to copy all, or move a portion, of your digital photo collection somewhere else.
But where?
Archive locations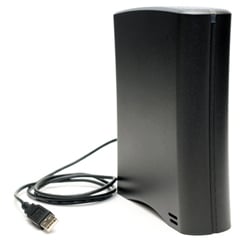 When it comes to archiving, there are several options, depending on your situation.
External storage. I keep my entire 232-gigabyte collection of digital photographs

1

on a network-attached-storage device, which is essentially nothing more than a really big external drive accessed over my local network. External drives are actually a particularly convenient approach to archiving.
Online storage. Photo-sharing sites like Flickr, Picasa, and others can provide one approach to archiving your photographs, if you have the bandwidth to upload them, and your plan with these services includes an appropriate amount of storage. You can archive everything (my recommendation) or only those things that "make the cut," so to speak. My biggest concern with online archival is that its too easy to fail to archive something you might want later.
Offline storage. Burning your photos and videos to CDs, DVDs, or other offline storage media are one common option. Besides being a bit of a hassle to create and later retrieve, optical media may not be the most appropriate for truly long term archival, as the media can degrade over time. These days, if this is the direction you're considering, I'd actually recommend an external hard drive instead.
Another computer. There are two ways to use a second computer as your archive: one is to set it up as a computer specifically dedicated to that task. Give it a large hard disk, organize some folders on it, and periodically download or copy over whatever it is you want to keep long term. The other approach is to simply share a folder on its hard disk to the local network where it can be used exactly as an external drive described above  by the other computers on your network. (The not-so-secret, of course, is that the net result on that computer's hard disk is pretty much the same either way.)
Regardless of which approach you use, the key is to have this conceptual "other place" that is the official repository for a complete collection of your digital data, thus freeing up your computer – and to some extent your mind – from having to worry about, contain, or browse through absolutely everything.
You can choose to keep copies of some subset in more conveniently accessible locations. For example, while my 232 GB photo collection sits on another machine on my LAN and is thus a little slower to access, I keep a copy of a smaller subset – the last three years of photos – directly on my computer for quicker access.
What archiving is not
"

Archiving is not backing up, and it is not a substitute for backing up.

Archiving is not backing up and it is not a substitute for backing up.
In fact, it's very likely that you need to backup your archives.
Remember the "golden rule" about data and backups: if it's in only one place, it's not backed up.
If that "one place" failed or went away, then everything it contained could potentially disappear instantly and permanently. If you've moved all of your photos to some kind of archive device, and that's the only place they live, then they're not backed up.
They should be.
Recall that in my scenario, I have 232 gigabytes of digital photos in my archive. I do have a subset on my computer, so in a sense those are backed up, but what about the rest?
The entire collection (all 232 gigabytes and growing) is backed up to an external USB drive connected to another machine on my network. 2
If you're considering archiving, make sure not to leave backups behind. Putting all of your eggs in any single basket is simply asking for trouble.
Isn't this just one more thing to manage?
Well, yes. In a way, it is.
And I'm not saying that you must do this.
What I hope is that you'll look at the collection of accumulating data that you have and make a conscious decision on how you want to handle it before it grows to be completely unmanageable, and perhaps even inadvertently lost.
If you feel that having five to ten or more years of photographs (or videos or documents or …) on your computer in whatever organization or lack thereof you happen to use is sufficient, then please, carry on – as long as you're backed up, of course.
On the other hand, if you realize that you have a lot of data and you're not sure how you'd ever find something in it (in fact, you're not really even sure where it all is), then it's time to think about managing your data so it is more organized, easier to use and find, and such that you'll not lose anything.
In other words, it's time to consider an archive strategy.