Question: How can I optimize my laptop's performance in Windows 10?
Honestly, my advice isn't Windows 10-specific. It applies to almost any edition of Windows.
And it also doesn't apply to only laptops.
Let's review my "Top 10" list of things to do for speed.
1. Too. Much. Software.
If there's a single theme to poor performance I see regularly, it's this: the computer is trying to run too much software all the time.
One problem is that many programs include "auto-start" entries that run even when you're not using the software. New machines are often chock-full of this, and Windows 10 is no exception.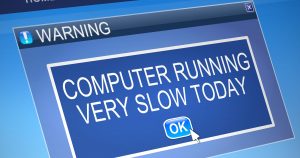 The solution is simple: uninstall the software you don't need1. Think twice about installing more — do you really need it? And carefully review the auto-start entries in Windows to see what's starting every time you log in.
2. Malware
Malware often slows down machines.
In Windows 10, Windows Defender does a good job of catching and stopping most malware. Run a full scan and make sure Windows Update is doing its job so as to keep Windows Defender up to date.
If you run other security software, check that it's up to date and properly configured.
If you're fighting a performance issue, I also like to run a complete or full scan. Most programs default to "quick" scans, which, while generally effective, don't scan your entire computer. Most of the time it's not necessary, but a full scan is a good idea when chasing a problem.
3. Too much anti-malware
I see this more often than you might think. Some folks are so afraid of malware they install every anti-malware tool that comes across their screen.
The result is a collection of anti-malware tools, some of questionable quality, all running at the same time (point #1 again), and often conflicting with one another. The machine is so busy "defending" against malware it can barely do anything else.
Pick one solution and stick with it. In Windows 10, Windows Defender is usually enough.
4. Insufficient RAM
This is really just a variation of #1, except that instead of reducing the amount of software running, we instead give it more room to play.
If your machine has the capacity for more, consider adding more RAM. Windows loves RAM, particularly if you run a lot of software.
5. Trying to do too much
We all do a lot with our machines, but if we try to do it all at the same time, Windows' performance will suffer.
How many browser tabs do you have open? (I'll admit to nine.) Do you need them all? Each one takes system resources, and, depending on your hardware, can contribute to your system or browser slowing down.
How many programs are you running? (OK, 13 here.) Once again, do they all really need to be running? In my case, the answer's no, but my machine has a lot of "head room"2, so there's little impact. Can you say the same?
Review what you're doing and close programs (and tabs) you aren't using.
6. Stay up to date
This goes for Windows as well as all the applications you have installed. Updates often address performance issues.
Of recent note, in light of the Spectre and Meltdown processor vulnerabilities, updates to Windows (or your system BIOS) have been known to slow down machines. These were sometimes followed by updates to the updates (yes, that) that improved on those fixes for less performance impact.
7. Make sure it's your machine
Many people mistake internet performance for computer performance.
The fastest and most highly-tuned computer won't make a slow internet connection any faster.
Make sure that that's not the performance you're really looking at. If it is, consider investing your efforts at a faster internet connection.
You might also look at the number of always-running packages (there's point #1 again) that could all be accessing the internet. If you're running Dropbox and OneDrive and Google Drive, and Windows Update and application updates all kick in at once, it could make your internet slow to a crawl.
In the same vein, how many other devices share your internet connection besides your computer? What are they doing online that could impact the performance of your machine?
8. Consider an SSD
Many newer machines now just come with them, but along with adding RAM, replacing your primary hard drive with an SSD is one of the best ways to speed up an existing system.
SSDs, or Solid State Drives, are faster than their traditional spinning-platter hard-drive counterparts. You'll notice the difference almost immediately.
9. Reboot
Seriously, reboot every so often.
Windows is much better than it once was, but clutter still accumulates over time. A reboot is one way to clear it out.
While you're at it, turn off "fast start" in Windows 10 — ironically, it often takes longer, and thwarts the cleanup I'm looking for.
10. Maybe it is your machine
Sometimes it really is the machine that's slow, particularly if it's an older device.
The assumptions made by software — Windows itself as well as the applications you run — continue to expand as newer machines become more powerful. In some cases, those increased assumptions come with simple updates, but more frequently they come with the new versions of software you might install or upgrade to.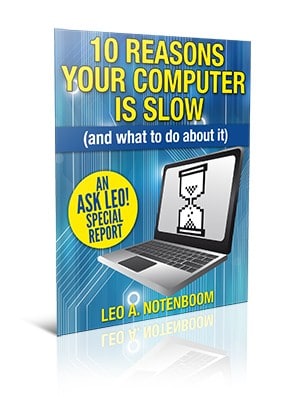 You might simply be asking your machine to do more than it's capable of. The only real solutions here are to either change your expectations or get a more powerful machine.
There's more
This list is a summary of just some of the items covered in my special report, 10 Reasons Your Computer is Slow (and what to do about it). It's free with your confirmed subscription to The Ask Leo! Newsletter. (Other offers may also be included.)
It goes into the points above in more detail, and (spoiler!), doesn't stop at 10.
Podcast audio

Download (right-click, Save-As) (Duration: 6:47 — 3.2MB)
Subscribe: RSS
Video Narration
Footnotes & References
1: As always, back up completely prior to making system changes.
Based on a question on Quora.