Lots of storage attached to your network.
NAS, for Network Attached Storage, is a device that provides shared disk space on your network. You may already have one.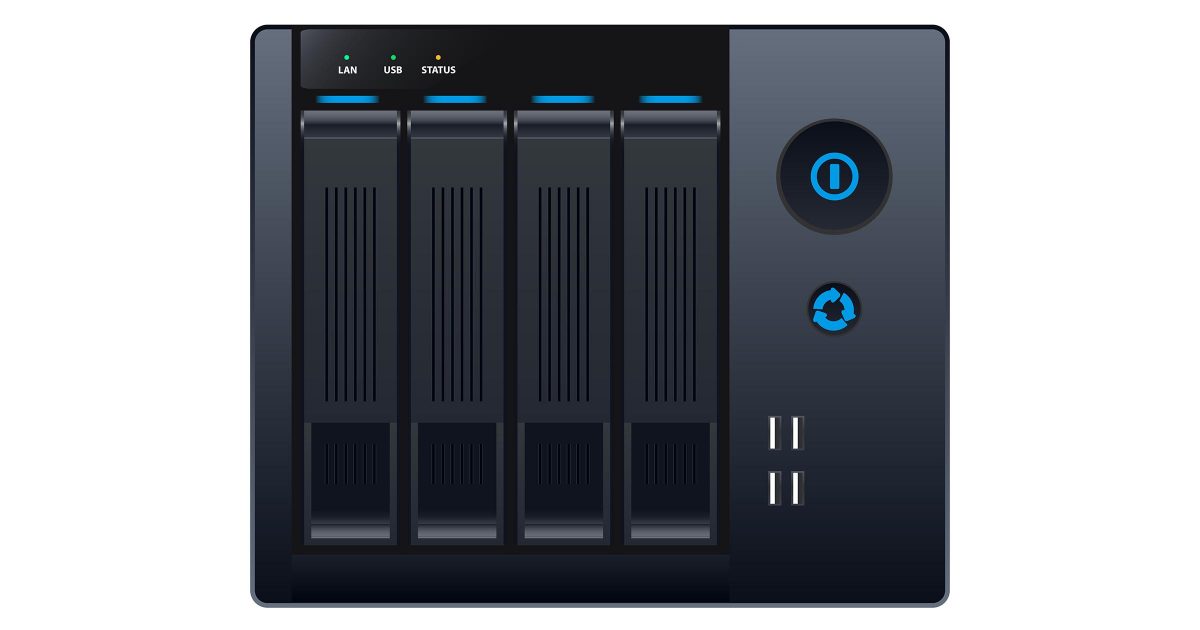 Question: I have been reading about NAS devices lately. I like the idea of using one and would like to deploy one on my network. I have an external drive that I would like to convert to a NAS device. I was wondering if this was possible to do or not? Would I have to buy a NAS enclosure or something else?
NAS (typically pronounced "nas", rather than spelling it out) stands for Network Attached Storage. It's a device providing storage in the form of disk space — often lots and lots of disk space — to other computers on a network.
I was running a dedicated NAS for a while, but I took it down. Once I understood what it really was, I decided I didn't need one, and replaced it with a repurposed general purpose PC.
What's a NAS?
A Network Attached Storage is a device — it might be a specific device or a re-purposed PC — dedicated to sharing disk space on a local network. NAS devices often need no screen, keyboard, or mouse, being administered across the same network they're connected to. NAS devices can provide an easy way to share lots of information across multiple machines, as well as being a great way to re-purpose an older machine.
NAS in a nutshell
I like to describe a NAS device as a PC without the PC.
NAS devices are often nothing more than modified or stripped-down PCs. They may not have a video display, keyboard, or mouse, but inside they use hardware that looks very similar to a standard PC.
The problem is that a hard disk doesn't really "do" networking by itself. Additional hardware is required to interface between the network, its many configuration options, and the hard disk. So at the hardware level, a NAS is not much more than hard disks, a network interface, and the circuitry to connect them.
The hard disk doesn't really "do" file systems, either. That means in order to read and write files and otherwise maintain the organization of information on the disk, some software is required to implement the file system. That's typically an operating system of some sort.
In other words, it's much like you'd find in a traditional PC running a traditional operating system of some sort, since traditional operating systems "do" networking, files systems, and more.
You can purchase a dedicated NAS device, you can repurpose an existing PC with dedicated NAS software, or you can repurpose that old PC with a traditional operating system like Linux, or even Windows.
NAS #1: A dedicated device
The first image that comes to mind when you mention "NAS" is a dedicated device built and sold specifically to be a NAS. Purchase one, plug in power and a network connection, do some configuration (usually via a network interface of some sort), and you have a NAS.
Purpose-built dedicated NAS devices typically optimize the hardware for the single job they're intended to do. Some include very high-performance hard drives, network connections, RAID arrays, or other forms of data protection and redundancy. These types of storage might be overkill on a desktop machine, but make sense for a centralized server with many users.
Even then, on the inside, a NAS device may still look like a PC. Many, for example, run a variant of Linux or FreeBSD1 as their internal operating system.
NAS #2: Dedicated software on a repurposed PC
If a purpose-built NAS you might purchase is mostly just a PC on the inside, can you re-purpose an actual, older PC to be a NAS?
The answer is a resounding yes.
One excellent approach to creating a NAS device of your own is to take a PC and install TrueNAS Core (formerly FreeNAS). TrueNAS Core is exactly what you might expect: a free operating system based on FreeBSD, designed to turn a PC into a high-performance and easily configurable NAS device.
NAS #3: Your favorite operating system on a repurposed PC
If it's "like" a PC, why not just use a PC?
That's exactly what I do. In my basement, I have an older desktop machine whose only purpose is to share all the disk drives it has attached to the local network. Right now, that's 11 external USB drives.
While the system runs Ubuntu Linux Server, it could just as easily run Windows. If you're familiar with Windows networking and file sharing, that may be the easier option.
And, to be honest, it doesn't have to be a dedicated PC in the basement. It could be any PC connected to my network, even one that's used in other ways as well. All it has to have is the ability to "share" its disk space, which is something all modern operating systems support.
In a sense, every PC that can share disk space is a NAS device.
Do this
Using a NAS is a great way to make a lot of disk space available to all the machines connected to your local network. I use mine primarily for backing up my files, but you might use it to share photos, videos, and other media without needing that media to be present on every machine you own.
But if PCs are just as good at sharing out hard disks, why even consider a dedicated NAS?
Certainly using something like TrueNAS Core or running Linux is an excellent way to extend the life of an older PC. It's a low-impact approach that can provide shared storage on your network without affecting any specific user's PC and extend the life of a machine you might otherwise abandon.
On the other hand, if you're interested in high performance, availability, and resiliency, then a dedicated NAS device might be more appropriate.
Also appropriate? Subscribing to Confident Computing! Less frustration and more confidence, solutions, answers, and tips in your inbox every week.
Podcast audio

Download (right-click, Save-As) (Duration: 11:24 — 15.7MB)
Subscribe: RSS
Footnotes & References
1: Very Linux-like, but with a different parentage. Apple's OSX is based on FreeBSD.