Do the math.
Before you dismiss it because it's a subscription, take a look and do the math. Microsoft 365 might be surprisingly affordable for you.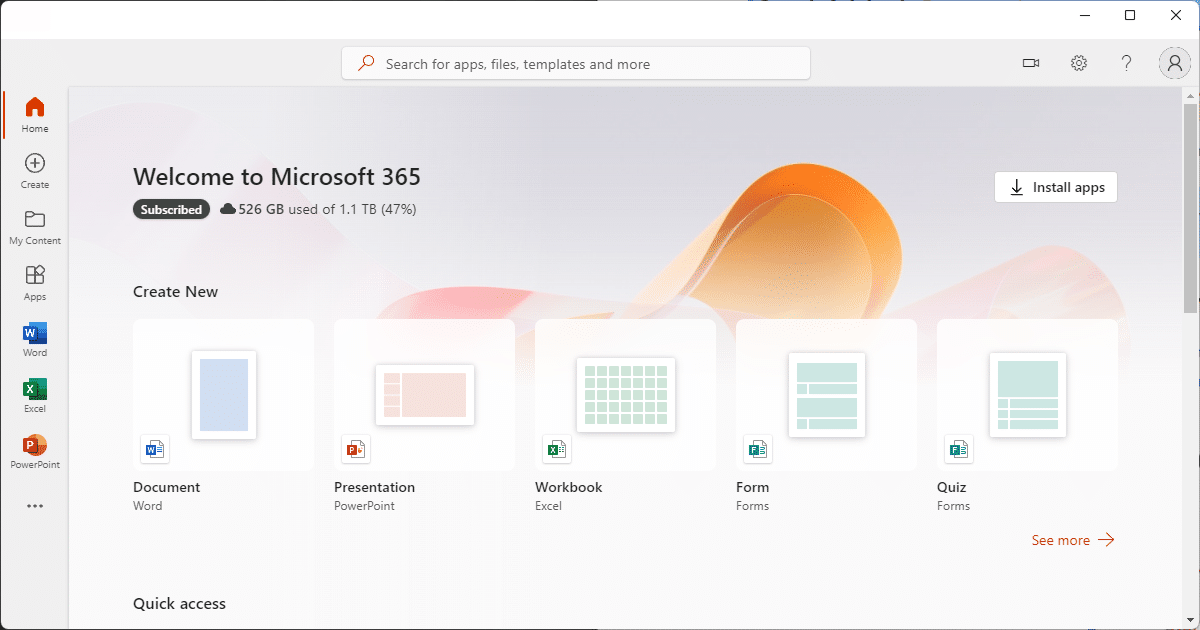 What's this business with renting software? It might be fine for businesses, but I can't afford to pay every year for the foreseeable future. Is it that much better that the payment is worthwhile?
When Microsoft introduced Office 365 as an annual subscription rather than a one-time purchase, I had exactly the same reaction.
Then I did the math.
It turns out it's a really good deal.
Microsoft 365
Microsoft Office is still available as a one-time purchase for use on a single computer. The Microsoft 365 subscription includes all the apps, can be used on up to five computers, can be shared with up to six people in your household, and includes a full terabyte of OneDrive storage. Given everything included, the subscription is a very good value.
Office from "a box"
Microsoft Office is still available the way you've purchased it in the past. Whether you want to buy the Professional or the Home and Student edition, you can spend a few hundred dollars and buy one copy. Instead of a literal box, it'll more likely be a download, but it's still a one-time purchase licensed to run on one computer.
No one is forcing you to change…
…but I recommend you consider it.
Microsoft 365 subscription
The subscription option is to pay $99.991 per year for the Microsoft 365 Family subscription.
There are several really interesting things about Office 365 Home subscription.
It's all of Office. Desktop editions of Word, Excel, PowerPoint, OneNote, and Outlook, as well as Publisher and Access (for PCs but not Macs), are all included.
You can install it on up to five computers! If you have five computers, it's effectively $20 per year per computer. Even if you only have two machines, you've cut the effective price in half. (The five computers can be Macs, PCs, or any combination.)
It includes at least 1 terabyte of OneDrive storage. Some people subscribe to Microsoft 365 just for the cloud storage.
You can share it with up to six people "in your household".

2
That second point alone makes it really hard to compare against the packaged product, which can be installed on only one machine.
There is a cheaper "Personal" subscription for $69.99 per year, but you can install it on only one machine.
In comparison, Office Home and Student includes four basic Office applications (Word, Excel, PowerPoint, and OneNote), can be installed on only one computer, does not include any additional OneDrive space, and costs (at this writing) a one-time payment of $149.99.
The same product
Make no mistake: it's not a different product. It's not "that much better." It's the same product.
Even for a single computer, I think it's pretty cool. You're always guaranteed the latest and greatest versions and features of these key applications.
But if you're in a home like mine, with at least two different people running at least three or four different computers, it becomes really appealing. If you've got a mixed household (again, as I do), you install the Mac version of Office on a Mac and the Windows version of Office on a Windows machine… on up to five different machines.
It doesn't take five machines to make the numbers work. In my opinion, it's almost a no-brainer as soon as you have two or more computers.
While a subscription may feel kind of "icky" (for lack of a better term), once you get past that initial reaction, in my opinion it's a great deal.
Of course there is risk
Let's acknowledge the risk: Microsoft could raise the price.
In the many years since Office 365 has been available, that hasn't happened.
There's also nothing that says you have to subscribe forever. If you don't like it, you don't renew. You make your choice every year.
To me, getting all of Microsoft Office on five machines for $100 a year is a clear and obvious choice.
Do this
I'm not suggesting you get the Office 365 subscription. I'm also not suggesting you go the one-time purchase route.
I'm suggesting you do the math for your own situation.
Don't let the fact that it's a subscription spook you away from what may be a very cost-effective solution. Choose what's right for you by more objective standards than "I don't like subscriptions".
And while you're at it, be sure to factor in OpenOffice and LibreOffice, both of which are free. In many (though not all) cases, they can be suitable alternatives.
I also suggest that you subscribe to Confident Computing! Less frustration and more confidence, solutions, answers, and tips in your inbox every week.
Podcast audio

Download (right-click, Save-As) (Duration: 8:48 — 12.2MB)
Subscribe: RSS
Footnotes & References
1: All prices quoted are as of this writing/update. (Date below.)
2: From a Microsoft support article: "Each person can install Office on all their devices and be signed in to Office on five devices at the same time. To install Office, they need their own Microsoft account." I could not find a definition of "household".