I love how this question is phrased, because it made me examine backing up — a topic I've written about frequently — in a completely different way. Instead of looking at just the tools and techniques, it made me consider trust.
In so many ways, all the tools and techniques are secondary to your ability to trust a backup. And trust itself can mean several different things.
Spoiler: I don't trust any single method completely. Instead, I trust several methods a lot.
I spread the risk across several types of backups:
Nightly image backups of my entire machine
Ongoing file-and-folder backups of my work in progress
Encryption, applied appropriately to secure what needs to be secured
Additional archival backup
Your backups might be a different combination of methods, but do back up.
Image backups
My most trusted backup, I suppose, would be the nightly image backup of my machine's internal drive to an external hard drive.
I happen to use Macrium Reflect, but EaseUS Todo is also good.
An image backup backs up absolutely everything on the disk. I recommend keeping image backups for at least 30 days. Should I need to revert my machine to a previous state — say prior to a malware infection — or simply recover files from within that time period, it's just there, ready and waiting for me.
But I don't rely on that alone.
Almost real-time file backups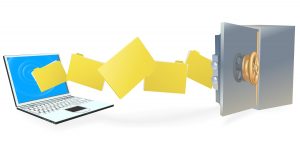 I also back up many of the files I work on as I work on them by having my default document folder set to a folder managed by one of the cloud storage services I use.
I use Dropbox, OneDrive, and Google Drive — each for different purposes — but the items I place in those folders are automatically backed up to the cloud without needing a thought on my part.
All the files are still backed up nightly by the image backup I mentioned above, but the cloud backup catches all the various changes that happen to files throughout the day. It's also what's considered an "offsite" backup. Other cloud storage features make it easy for me to move data from machine to machine, access files on my mobile devices, or in some cases, even detect and recover from a pernicious ransomware attack.
Between image backups and cloud backups, it would be difficult for me to lose anything important.
Of course, I don't stop there.
Trusting the cloud only so far
I have a lot of information in the cloud.
A lot.
Some of it would be considered sensitive. I don't trust the cloud storage providers — any of them — to absolutely positively guarantee that no one will ever sneak a peek, or worse, hack into my account.
I take that security seriously, and it's my responsibility to protect myself.
Hence, I encrypt. I use BoxCryptor to automatically and transparently encrypt the sensitive files and folders I keep in cloud storage. This combination gives me cloud backup with a nearly1 unbreakable level of security.
Me being me…
I'm still not done.
In addition to everything I've discussed so far, I have yet more backups.
Several folders on my primary machine are replicated each night to a (Linux) machine in my basement.
Many of the external drives on that basement machine contain archives of files that exist nowhere else — so they're replicated to other external drives every night as well.
My most extreme backup is probably for my photographs. As I've discussed before, photographs, once lost, cannot be re-created. Thus, my approach to backing up my photographs involves:
Copying the photographs from my camera into a Dropbox folder as soon as I can after taking them.
Photographs taken by my phone are automatically uploaded to Google Drive.
These cloud storage providers replicate those files to all the computers on which I have their software installed.
One of those computers is the machine in my basement, where they're also copied to a second external hard drive every night.
It would have to be quite the catastrophe for me to lose a photo I've taken2.
All that is just me being me and perhaps a bit over the top.
What and who do you trust?
The best program for exercise — or backup — is whichever one you'll actually do.
– What Backup Program Should I Use?
Trust is important, but more important is getting backed up. Put another way, I don't want your questions of trust to delay or prevent you from backing up.
If you trust me, then trust the tools and the approach I recommend. If you don't, find someone you do. Find backup utilities you trust to be there when you need them. Find hardware you trust to last. Find services you trust to have your back(up).
But above all, don't trust that your files will always be there on your computer when you need them. Someday, without warning, they won't.
Trust me when I say stuff happens. I see it all the time.
On that day, you'll be glad you backed up.
Podcast audio

Download (right-click, Save-As) (Duration: 5:52 — 2.8MB)
Subscribe: RSS
Footnotes & References
1: Before you jump on the "nearly", realize that I do not believe in absolutes. All encryption is crackable, for example, given enough time and resources. Good encryption — such as that used by BoxCryptor — sets the bar so incredibly high as to be pragmatically uncrackable.
2: Indeed, intentionally deleting a photo can be challenging.