No. And there's an even bigger problem.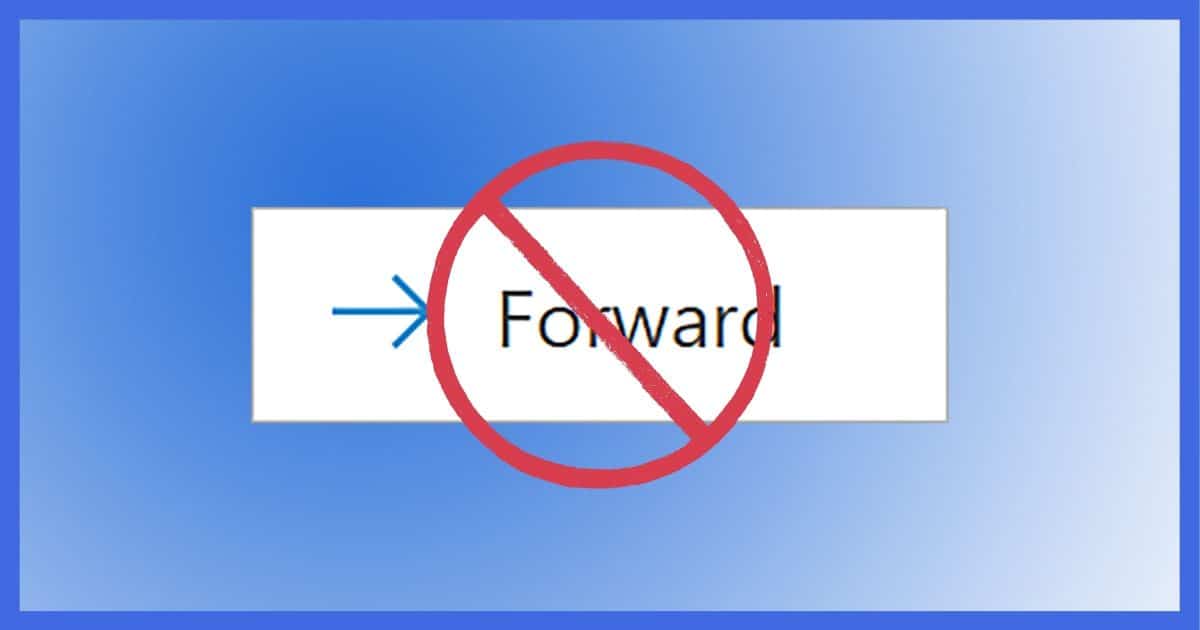 It's not only impossible to prevent email from being forwarded; you can't even prevent that forward from being altered, forged or defaced.
Is there any way I can keep from letting people forward emails or other messages I have sent them onto others?
No.
And it's even worse than that.
There is no technology that can prevent someone from forwarding or copying a message you've sent them. Worse yet, in most cases, it's also impossible to prevent them from modifying your message when it's forwarded.
Out of your control
Once you've sent a message, it's gone, and you lose all control over it. And by all control, I mean:
This applies to almost all message types: emails, text messages, and messages using dedicated messaging apps. (Some may allow you some control if you act quickly enough after sending your message, but it's not something you can rely on.)
Reliably?
Note I said "reliably" in a couple of cases. There are simple tracking technologies for formatted email that sometimes allow you to tell an email has been opened. This technique is not 100% accurate because email programs have the feature turned off by default to protect your security and privacy.
And, of course, "opening" an email does not necessarily mean the email gets read or even seen by anyone.
Changed?
It's the last item in my list — "You cannot prevent it from being forwarded, copied, or changed" — that should concern you.
I'll put it more clearly: you cannot prevent someone from changing what your message said before they forward it.
Get that? Not only can they forward your message, but they can change what your message says.
When someone forwards an email, for example, that email becomes the body of a new email, and can be edited before hitting Send. It could be as simple as changing a "yes" to a "no", an "I love you" to a "Get out of my life", or perhaps "The boss is a genius" to "The boss is an idiot."
You get the idea. If you were concerned about your email being forwarded, you can be even more concerned now. You really do need to trust your recipients.
What to do?
If messaging and email are such unreliable media, what can you do?
Well, the simplest first step for this particular issue is to save all your outgoing messages. You'll then have a record of what you really said.
Since you're saving your sent messages, don't forget the first rule of email: don't say anything in email you wouldn't want to be made public.
If forwarding and/or modification is a concern at all, make sure you're dealing with someone you trust.
If critical, use other communication methods that don't rely on print, such as the phone. (As lawyers often do.)
There are technologies like cryptographic message-signing that allow tampering to be detected. Unfortunately, they're generally used only by some businesses and the tech-savvy.
To be honest, it shocks me how much sensitive information is transmitted in email and other messaging media without any protection whatsoever.1
I'm hopeful security and privacy solutions will get easier and more common. For now, though, if someone can read your message, they can forward, copy, modify, and send it to anyone they choose.
Podcast audio

Download (right-click, Save-As) (Duration: 5:43 — 6.3MB)
Subscribe: RSS
Footnotes & References
1: Other than the silly disclaimer boiling down to "If this message wasn't intended for you, forget everything you just read."