Sometimes it's a choice. Sometimes the choice is made for you.
If an application is installed only for one user and you want to use it as another, options are limited.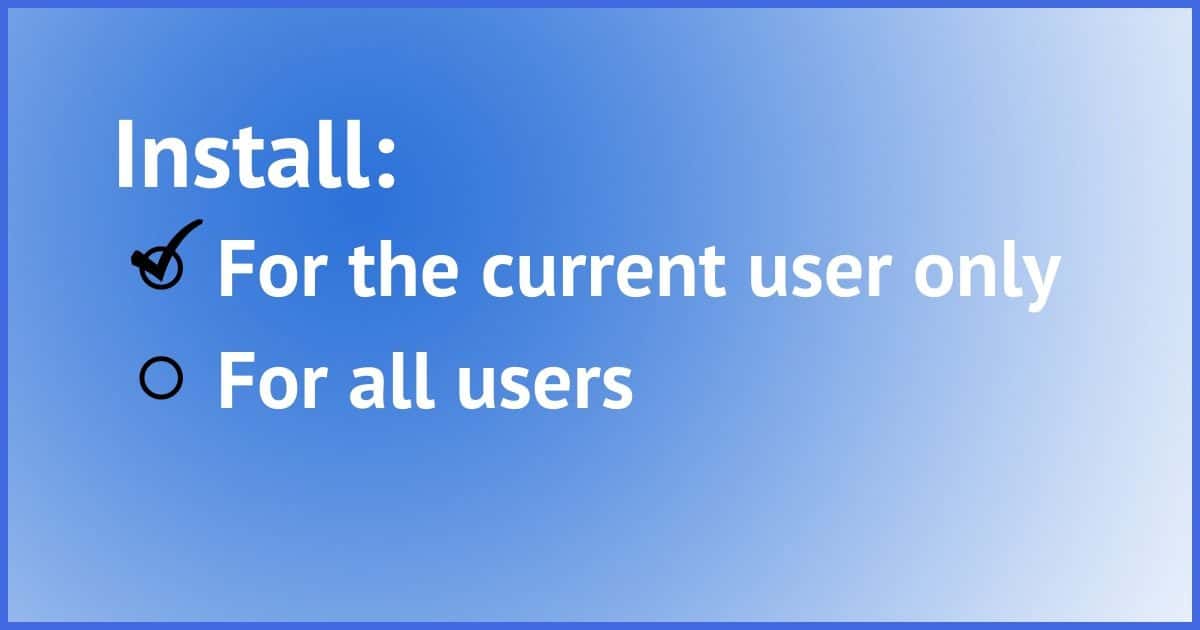 I just created a new user account on my computer. Why do some of the programs not show up on the new account? Is there a way to get them to appear? I tried reinstalling, but I got a message that the program was already installed.
When you install a program, quite often one of the questions it will ask is whether you want to install for the current user only or for all users — in other words, exactly what you're asking about.
The question is, what if the setup program doesn't ask, or what if you selected "current user only" — can you still use the software when signed into a different user account?
Unfortunately, it's that all too common answer: maybe.
Let's look at some of the possibilities.
Install for all users?
Many programs allow you to select installation for all users on a computer, or only the current user. Changing that setting after the fact can be difficult. Unless the setup program allows you to change it, the most expeditious solution is to uninstall and reinstall with the desired choice.
All or one?
The difference between installing for all users and installing for the current user boils down to where the setup program places the shortcuts for the program, where it places any folders or support files, and possibly where within the registry it places program settings.
For example, installing a program for all users might install support files to C:\Users\All Users, whereas installing for only the current user would install to C:\Users\<your login id>. When you run a program, all users have access to All Users, but only you have access to whatever is stored within "<your login id>".
A specific example that might explain what you're seeing is the difference between:
C:\Users\All Users\Start Menu
and
C:\Users\<your login id>\Start Menu
When you're signed in, you'll see the contents of both on your Start menu. When another user is signed in, they'll see the All Users items, plus any items in the Start menu associated with their login ID.
When a program is installed, it needs to decide where to put its information: either in All Users or in a user-specific section. Sometimes it asks; sometimes it assumes; and sometimes it assumes wrong.
Changing from one to another
So, what to do? If you're logged in as user "A" and want to access programs that are only visible to user "B", here are some ideas to try.
Re-install the program, and, for programs that offer the option, select All Users when it asks whom to make the program available to. You might need to be logged in as administrator to make this work, and you might need to uninstall it first (after backing up any data you need to preserve, of course). This is the most likely to work.
Install the program as user A even though it was already installed for user B. Some setup programs are smart enough to realize they're already installed for another user and will simply add the appropriate settings for the additional user.
These techniques are less likely to work, but are worth trying if the items above don't.
Copy a shortcut from user B. For example, user B will probably have a shortcut to the program somewhere in their Start menu in C:\Users\<user B>\start menu. Copy that shortcut to an equivalent position in user A's Start menu: C:\Users\<user A>\Start menu.
Manually add a shortcut to the program. Locate the installed program — somewhere in C:\Program Files or C:\Program Files (x86) — and  within that, find the .exe file that is the application). Create a shortcut to that program on your Start menu.
Create another user — "C" — and use that. Some programs simply cannot be used by multiple users. It's infrequent, but it happens. So uninstall it (again, after preserving any data you need to save), and then create a third user that users A and B can sign into to use the program. Yes, it's a pain because they'll have to switch users in order to access the program. But it's better than nothing. Sort of.
Do this
The reason there's no blanket answer is that setting up an application is complex. It really is up to the manufacturers of the specific applications to do the right thing. Not only is the right thing subject to interpretation, but many don't do it even when it is clear.
So a final suggestion is, of course, to contact the manufacturer of the package you're having issues with and ask if they have a recommended approach.
No installation required: Subscribe to Confident Computing! Less frustration and more confidence, solutions, answers, and tips in your inbox every week.
Podcast audio

Download (right-click, Save-As) (Duration: 5:42 — 4.1MB)
Subscribe: RSS