In recent weeks, there's been much discussion about Windows 10 version 1903. It was available for some, and not others, then perhaps delayed, then perhaps not.
On top of that, I've been asked both how to get it and how to avoid it.
Microsoft continues their unblemished track record of releasing some very blemished Windows 10 updates.
What happened with 1903
As I understand it, shortly after it was released, a bug was discovered that could result in drive letters being randomly reassigned after the update was installed.
This was particularly problematic if you had external drives connected. A drive that used to be "D:" would now be "F:", and so on. The programs expecting the drive to be D: would now fail, since that drive had apparently moved.
Worse, the reassignment could happen to internal drives as well. I suspect, but cannot confirm, that the system drive wouldn't be affected, but perhaps additional internal drives could be.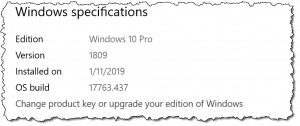 When this was discovered, Microsoft halted the rollout…
… or they at least halted it for machines that had additional drives connected. The press, of course, jumped on this as "Microsoft halts update for machines with USB drives connected." Technically accurate, but more inflammatory than helpful.
As I write this, the rollout remains in this state.
Getting the next version
If you don't have the next version of Windows 10, whatever it may be, and for some reason you can't wait to get it, your options are few.
You can run Windows Update and see if it arrives. In the case of 1903, you might try disconnecting your external drives first to increase the odds. (Though I've not heard if the drives will be assigned new, different, drive letters when you reconnect them after a successful update. Proceed with caution.)
Naturally, you should protect yourself beforehand with a full image backup, in case the result is something you can't live with.
If you don't get the update this way, all I can recommend is patience as you wait for Microsoft to fix whatever is delaying the update and make it available more broadly.
For the record, I have yet to see 1903 myself, across multiple different machines both with and without additional drives.
Avoiding the next version
Avoiding the next version of Windows 10 remains a bit of a problem.
If you're on Windows 10 Pro, you can "pause" feature updates in the Windows Update section of the settings app. It's not permanent, but it does buy you up to 35 days before the update is required.
If you're running Windows 10 Home, you can attempt to disable Windows Update, but that technique has a simple problem: it seems to undo itself after "a while". If you're not vigilant, you could end up with the update anyway.
How did this happen?
In the case of 1903, it's fairly obvious Microsoft screwed up big time. It's not the first time, though, and sadly, probably won't be the last.
Exactly how this happened is unknown. More specifically, unless they're Microsoft, anyone who claims to know how this happened is merely speculating. They're guessing — or worse, they're making it up.
While I sympathize with the immense complexity of Windows 10 and how big a problem this is to solve, it seems like a horrifically obvious oversight. I would have expected the insider's program, Microsoft's external beta-testing program, to have caught it if nothing else.
But exactly what happened is anyone's guess.
And, honestly, it really doesn't matter to you and me. It is what it is, and we're left to deal with the results.
What next?
I assume Microsoft is working to fix the issue.
I hope they're working to test the fix well before it makes it into the public release.
I further hope that they're working to fix the process that allowed this kind of problem (and, to be honest, others like it in the past) from happening again. We deserve better.
As for you and me, my recommendations haven't changed at all.
Keep your machine as up to date as possible. Leave Windows Update enabled and let it do its job.
Be patient waiting for updates.
Back up. Specifically, make sure to perform regular full image backups. Should a Windows Update — or anything else — cause you a problem, you'll be able to revert to the backup image to undo the damage.
Continue to be skeptical when it comes to news and other related reports on this and related issues. Stick to sources you know you can trust.
A final note
Talking about Microsoft's failings — particularly with respect to Windows 10 — always brings out lots of commentary.
Keep it respectful, is all I ask.
Video Commentary