In a previous article, I went through the steps and decisions I made as I designed my new desktop system.
I'm now using it, and it's great! I'm very pleased.
Today, I'll introduce you to the manufacturer and walk you through my initial setup.
Puget Systems
I purchased my new system from a local (30 miles from me), yet nationally known1, computer manufacturer: Puget Systems. Rather than having the machine shipped, I elected to drive down to pick it up.
I asked if I could take a few pictures for you (click any for a larger image).
While it may seem small — and they are smaller than the HPs and Dells of the world — they push out a large number of high-quality machines every year.
It was interesting to see my system's birthplace.
My machine
My system configuration is public — you can click here and see it for yourself on the Puget Systems site. Throughout the order and assembly process, my customer portal on their website was kept up to date with a stream of status updates and information about the build, culminating in photos of the machine and the "It's ready, come get it!" update.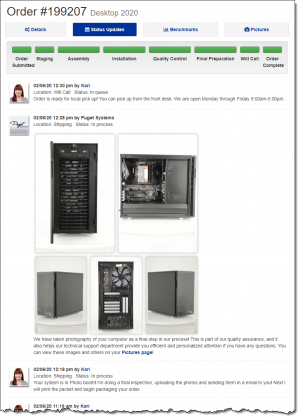 The final accumulation of information includes thermal images of the machine running with and without load, screenshots of all BIOS settings, and a set of as-built benchmarks showing the machine's capabilities.
The interior of the final product: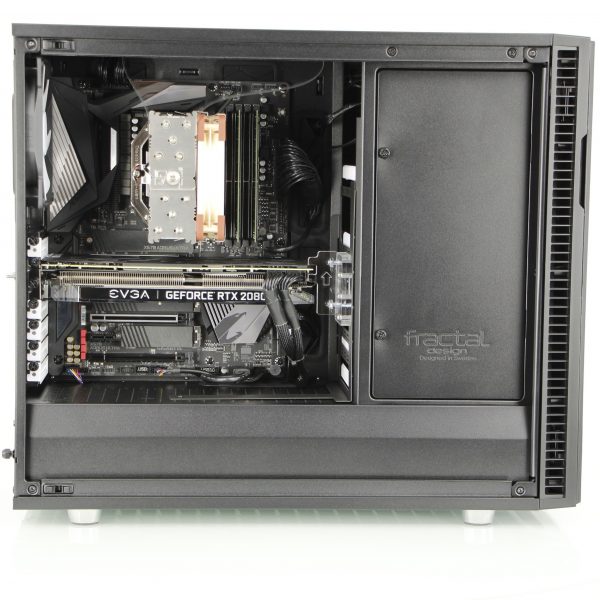 My first steps
So, I brought it home, attached everything that needed attaching, turned it on and …
It was time for me to go to work.
What follows is a short summary of the steps I took, the software I installed, and a few of the tweaks I made in the first couple of days of using the machine.
Logged in with my Microsoft account and activated Windows 10 Pro.
My first install? Macrium Reflect, so I could take an image backup of the as-delivered machine.
Installed the new Chromium-based Edge and set that as my default browser.
Installed LastPass, since Edge was not yet automatically synchronizing extensions.
Installed Evernote, so as to take the notes that became this list.
Installed Dropbox, which in turn downloaded many of the scripts and portable programs I use on all my machines, as well as many, many other files.
Windows Security was complaining that it wasn't set, so I turned on Tamper Protection.
While I was tweaking things, I turned on "Always show all icons in the notification area."
Turned off the Cortana icon (I don't use Cortana).
Renamed the machine and joined it to my network Workgroup so I could connect to and from other local machines.
Installed Creative Cloud, mostly for Photoshop.
Installed Microsoft Office, initially so I could fire up Excel to access the spreadsheet in which I keep license keys.
Installed BoxCryptor, so I could actually access that securely encrypted spreadsheet in Dropbox.
Installed World of Warcraft, because I needed a break. (And Twitch, so as to get the latest mods.)
After my break, I continued by installing:
Snagit, a screen capture utility.
Camtasia, a screen recorder and video editor.
gvim, the text editor I use on almost every platform.
Chrome Remote Desktop, so I can access this machine from others and vice versa.
xplorer2, a Windows File Explorer replacement I find useful.
Windows subsystem for Linux, so I could install…
Debian, a Linux command line interface that includes a multitude of tools I like.
Windows Terminal, a wrapper allowing multiple different command line shells, including PowerShell, Windows Command Prompt, Debian and others in a single tabbed interface.
Python, a scripting language I use for an assortment of tasks.
imagemagic, a set of command line image-processing tools.
Audacity, an open-source audio editor.
VLC, my media player of choice.
Autohotkey, a keyboard macro utility and much more.
Virtualbox, which allows me to run virtual machines of other operating systems (like Windows 7 or Windows 10 Home, for example) in separate windows without needing to reboot.

This actually required a BIOS setting change to enable virtual machine support for 64 bit programs. I was happy to find the BIOS extremely easy to enter and modify.

Svn, the source code control software I use to manage an assortment of things. (For those familiar, it's a predecessor to git.)
AWS command line, for accessing Amazon Web Services, which I use for some websites and file storage.
Finally, some housekeeping:
I set up my nightly scripts — batch files that run each night that take care of some housekeeping for me (mostly additional backups).
I set up nightly backups with Macrium reflect.
Whew! And that's not really everything, since I'm sure I missed the occasional configuration tweak here or there.
Why should you care?
This entire exercise is kind of a "behind the scenes" peek at what my life is like. As I've said before, your needs are almost certainly different than my own. (For a more pragmatic — and shorter — list of what to do first, The First Eight Things to Do with Your New Computer is a great place to start.)
So, in part, this is entertainment — a look behind the curtains, as it were.
But it's also an example I hope you can at least follow in spirit of some very important themes when getting a new machine:
To the best of your ability, know what you do with your machine.
Find and work with a manufacturer or store you trust, that is willing to work with you.
Realize that your technology is an investment, and quality is worth additional cost.
Back up first.
Then back up automatically.
Enjoy your new toy tool.
Podcast audio

Download (right-click, Save-As) (Duration: 6:31 — 7.2MB)
Subscribe: RSS
Footnotes & References
1: If you've ever heard of or seen the YouTube channel Smarter Every Day, Dustin also got a new machine from Puget Systems about a year ago, and videoed the experience.
PS: Puget Systems, as best I can tell, has no affiliate program. I get no money from them for talking nicely about their product. They just do good work.