Step-by-step instructions. You'll be glad you did.
A recovery code created in advance can help you regain access to your Microsoft account if you get locked out.
I hear from people with lost, hacked, and inaccessible accounts daily.
Nowhere does this seem to happen more frequently than with Hotmail and Outlook.com accounts (now known simply as Microsoft accounts).
Given the increased importance of Microsoft accounts for everything from email to cloud services to even the ability to log into your PC, losing access to that account can have dramatic and dire consequences.
Microsoft has instituted a fairly obscure security measure that can help you regain access to your account should you lose it: the recovery code. The only "catch" is you have to set it up before you need it.
So let's set it up right now.
Setting Up a Microsoft Recovery Code
A recovery code can get you back in to your Microsoft account when other techniques, like alternate email addresses and phones, cannot. Set one up before you need it by signing into your account and visiting Advanced security settings. Save the security code in a secure location such that it's available whenever and wherever you might need it to sign in to your account later.
Getting a recovery code
Recovery codes are generated by Microsoft and must be retrieved before you need them. Once you have a recovery code, you keep it in a safe place until you need it.
To get a recovery code, begin by logging into your account1 and clicking on your avatar/picture (or the default placeholder) in the upper right. Then click on My Microsoft account.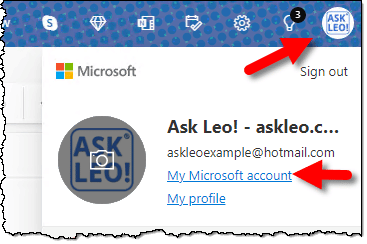 On the resulting page, either click on Security in the top bar or scroll down to find and click on the Security section. Once there, click on Security dashboard.
On the Security Dashboard page, click on Advanced security options.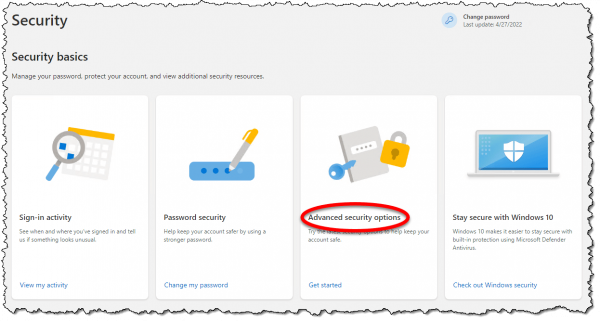 Scroll to the bottom of the page and click on Generate a new code in the Recovery code section.

This will generate and display a new recovery code.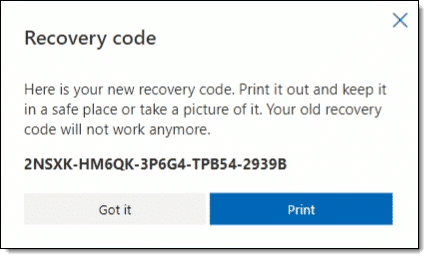 The code is lengthy and looks a little like a product key. Any previous recovery code you may have had for this account is no longer valid.
Storing your recovery code
Your recovery code is important, but also sensitive. You should not share it with anyone, and you must store it securely. Anyone with the recovery code could hijack your account.
Recommendations:
Print it (as Microsoft suggests) and store the paper in a safe place.
Save (or print) it as a PDF, and store the resulting file in a secure location.
Copy/paste the code to a text file, spreadsheet, or other document, and save that file in a secure location.
I save it to a file (so I can copy/paste it when needed, instead of having to type it in) and keep that file in a secure, encrypted location.
Using your recovery code
There are various scenarios in which you can use your recovery code to regain access to your Microsoft account.
As we saw in How Do I Get into My Hotmail/Outlook.com Account if I Don't Have the Recovery Phone or Email Any More?, Microsoft may ask you if you have one as one of your account recovery options.
If you do have one, it's kind of like a free pass to regaining control of your account.
And if you've followed the instructions above, you now have one.
Do this
Generate and save your Microsoft account recovery code now, before you forget.
Hopefully, you'll never need it.
If you found this article helpful, you'll love Confident Computing! My weekly email newsletter is full of articles that help you solve problems, stay safe, and increase your confidence with technology.
Subscribe now, and I'll see you there soon,
Podcast audio

Download (right-click, Save-As) (Duration: 3:31 — 4.9MB)
Subscribe: RSS
Footnotes & References
1: You must be able to log in to your account. If you cannot log in to your account, you cannot generate this type of recovery code. This is why I stress repeatedly that you need to set this up before you need it.