Question: Windows 10 wants me to use a "Microsoft account". I've had a Hotmail account for years, is that the same? Different? Do I need to create yet another account to keep track of?
Many people are confused by the concept of a "Microsoft account". Microsoft introduced it around the time of Windows 8; with the arrival of Windows 10, they're pushing the concept even harder.
I've long held that Microsoft just doesn't do product names well, but in this case, they had no choice. They needed a term for a more general concept.
Your Hotmail account already is a Microsoft account – as are many, many other accounts. That's where people are getting confused.

You probably already have one
If you have an email address that can be used to log in to Outlook.com, that's a Microsoft account.
What that means is that almost any email address ever provided to you by Microsoft is, already, a Microsoft account. Those include email addresses ending in:
hotmail.com
outlook.com
msn.com
live.com
webtv.com
… and probably a few others I've missed.
Over more than twenty years, Microsoft has offered a number of services that involved using an email address they provided. All of those are now Microsoft accounts.
So what's a Microsoft account?
Now that you know you have one, what is it?  :-)
The short version is this: it's a single account you use to access any and all Microsoft services. Since Windows 8, you can also use it as your Windows login1.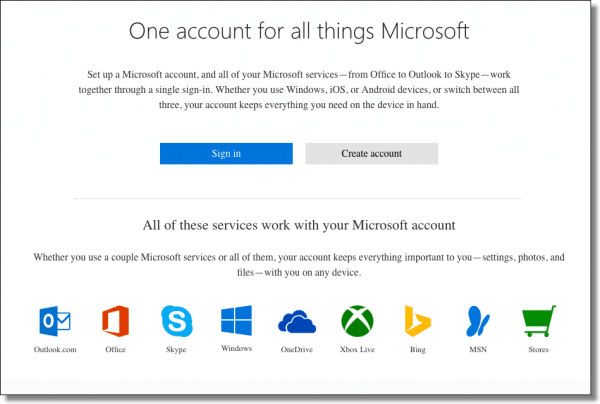 You can have more than one if you like – perhaps to keep some services separate from others – or to keep your Windows login separate from your online identity. Just go to a Microsoft online service like Outlook.com, sign out, and then begin the new-account creation process as if you didn't already have one.
Creating a new Outlook.com account is, in fact, creating a new Microsoft account, which happens to use email addresses ending in "outlook.com" as your login ID.
A short history lesson
Microsoft has long struggled to encourage users to have a single account with which to access multiple online services. In fact, Microsoft accounts have existed in one form or another for a long time, by various names. You might recognize:
Microsoft Passport – an attempt to create an internet-wide single log-in using your Microsoft email address.
MSN – the MicroSoft Network – was originally a service providing internet connectivity. MSN evolved into a family of online services and content sites, once again with a single login using your Microsoft-provided email address.
Windows Live – essentially a rebranding of the MSN name, focusing on those online services, and at the same time providing some integration with Windows itself.
If you had an account under any of those names, it's now a Microsoft account.
One incredibly important ramification
One of the more common questions I get is how to close a Hotmail account (or an Outlook.com account, or an MSN account, and so on).
People get frustrating with something – perhaps the amount of spam they're getting, or sometimes they're trying to stop email from a particularly nasty sender. I get it. Closing an account seems like the way to solve problem.
Unfortunately, what most people don't realize is that you're not just closing your email account; you're closing your Microsoft account and losing access to all the other services associated with that account. Do you use Skype? OneDrive? XBox? If you login to those using the same email address, they're the same account, and they'll be closed as well.
There's no way to close just part of the account.
This can be particularly painful if you close the Microsoft account you use to log in to your Windows computer.2
The Microsoft push
Particularly with Windows 10, Microsoft has been pushing hard for people to use their Microsoft accounts to log in to their machines. In fact, some Windows 10 features aren't available without one.
From Microsoft's point of view, it makes a lot of sense, both business and technical.
From the business side, it allows them to establish a longer term relationship with you than just installing Windows – it makes it easier for you to use other Microsoft services in the future.
From the technical side, it actually solves an interesting problem: if you can't log in to your Windows machine because you forgot your Microsoft account password, you can simply use any or all of the online infrastructure to reset that password. Go to Outlook.com, for example, and change your password or recover your account. Once complete, that same password gets you back into your Windows machine (if you're using a Microsoft account to log in).
Regardless of how you feel about it, Microsoft is pushing hard to get everyone using a Microsoft product of any sort to have a Microsoft account.
The good news is, you likely already have one.
Podcast audio

Download (right-click, Save-As) (Duration: 6:18 — 5.8MB)
Subscribe: RSS