I've read your many articles about backing up. The only additional question I have is this: once the Macrium backup is done to my external drive, do I unplug it? Or is it safe to leave it connected?
Like many questions that I deal with, this is one of those scenarios where the answer is rarely a clear yes or no. I have a preference, but ultimately, the answer is… it depends.
Let's look at the issue.
Malware and your external drive
One of the things that many people worry about in this scenario is malware. Keeping your external drive connected 24 hours a day to a running machine causes it to be vulnerable to malware.
Let's say your machine contracts a virus. Most malware focuses on infecting the system – Windows, the registry, your C: drive, or whatever.  Some malware may even infect every drive on your machine. If you keep your external backup drive connected, there's a good chance that malware could also infect it.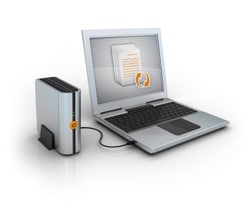 The good news is that the infection rarely impacts your backup images. Malware may pile on your drive, but the backup image itself is just fine and left untouched. It's still safe to use once you clean up after a malware infection.
What I do
In my case, I leave the external drive connected all the time for two reasons:
I really, really, really want to emphasize the importance of avoiding malware in the first place. Malware is out there, but your focus should be on avoiding it and then lessening its impact once it arrives.
I don't like "the inconvenience" of having that external drive disconnected. It may sound silly, but there's a real issue here. If you're backing up and you disconnect the drive, you have to remember to plug it in again. Personally, I'll forget to do that, which means I'm not backing up my computer. To me, backing up is much too important to rely on my falible memory.
My preference is that if you're backing up to an external drive, leave it plugged in always. Make sure that everything is configured to happen automatically so that backups happen whether you remember them or not.
And then take all of the appropriate steps to protect your machine from malware. Because when you're protecting your machine, you're also protecting your external drive.