Change can be hard. Sometimes it's impossible.
A few email providers have an email-forwarding feature, but most do not. If available, forwarding only works as long as you continue to own the original account.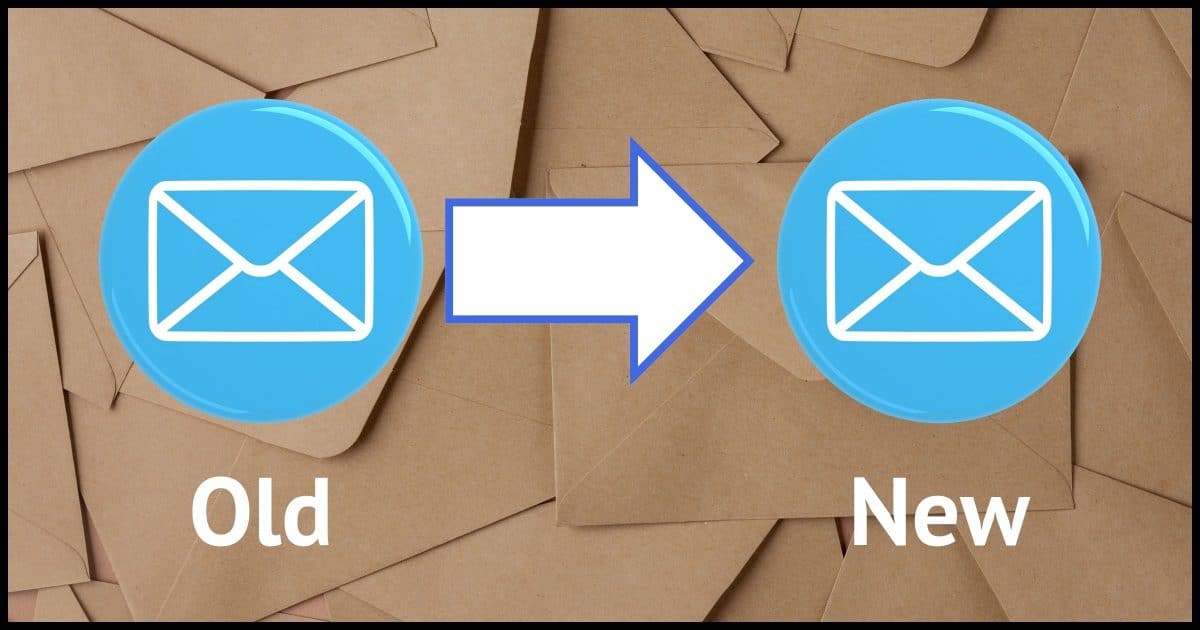 Question: One of my inactive email addresses is posted on someone's webpage. It's for a different ISP than I use now. Is there a way that if anyone sends mail to that inactive address, the mail would be forwarded to my current email address?
Probably not.
Changing email addresses can be a real pain, and this is one of the reasons why. Be it on a webpage you can't update or in the address books of your friends and family, you know someone will try to use your old email address long after you've switched it.
A forwarding service would certainly be nice, but while it might technically be possible, it's not very likely, or it's going to cost you.
Forwarding an old email address
Many email accounts work or provide forwarding services only as long as you keep them active. Once you leave the service, your email address stops working. Instead, set up your new email address at one of the large email service providers like Gmail, or consider purchasing your own domain to keep everything under your own control.
Email address parts
Email addresses such as "someaddress@example.com" are made up of two parts:
The "local part": "someaddress" in the example above
The "domain": "example.com" in the example
The domain identifies the email service provider (ESP), such as gmail.com, outlook.com, or somerandomisp.com. The local part then identifies the specific email account on that service; it is "local" to that email service provider.
As another example, in the email address "leo@askleo.com":
"leo" is a specific email account.
"askleo.com" is the domain — my server handling the email for all addresses @askleo.com
When email gets sent to "someaddress@example.com", the local part is ignored by everyone except for the mail servers at the destination email service. Every mail server that isn't "example.com" simply looks at the email address and says, in effect, "This needs to go to example.com", and sends it there.
It's not until the mail actually gets to the servers at "example.com" that the individual email recipient is examined, the appropriate mailbox is found, or other action taken.
Email addresses old and new
Let's say you have an old email address and get a new one.
Old: willy1942@somerandomservice.com
New: willy1942@randomisp.com
What you would like is for email sent to the old address to be automatically forwarded to the new. Technically, a piece of cake. Pragmatically, rarely an option.
The "catch" is that your old email address needs to remain active. Any email send to your old email address is going to go to your old ESP, since it's "at" their domain. The old ESP must still recognize your old account and do the forwarding.
Keeping an old account active
The most common scenario is that you've moved and have a new ISP. Your old email address is provided by your old ISP, which includes their domain — for example, comcast.net. Your new ISP gives you a new email address on their domain — say, "frontier.net".
The only way to forward old to new is to keep the old account open and active and configure it to automatically forward. However, since your old ISP is no longer your ISP, they may not allow you to keep your account open. If they do, there'll almost certainly be a charge.
In practice, most do not, and changing ISPs simply renders your old ISP-based email address defunct.
This same scenario applies when you leave a job that has assigned you an email address on the company domain, if you graduate from a school where you've been using an email address on the school's domain, and in several other situations.
Two alternatives
One alternative is to get a generic email address from one of the popular email services that isn't tied to anything other than that email service — for example, a gmail.com email address, outlook.com, or others. That way, no matter what else changes — ISP, job, school, or something else — you keep the email address.
The risk here is account compromise and/or loss. I hear of it often, and particularly with the free services, there's little to no recourse. If that happens, you're back in the same boat: your old email address doesn't work (or worse, gets read by a hacker now in control of your old account), and you have no way to set up a forward to a new email address.
Nonetheless, it's a popular option.
If keeping your email address is important to you, the option I recommend is what I call an "email address for life": owning your own domain. For example, I own askleo.com, and thus I control all email addresses "at" askleo.com.
And I can do so as long as I own the askleo.com domain.
You don't have to be an email guru to make this happen, either. Very often your domain registrar will offer email services, or you can use several of the free email services to process your email for you. For example, all leo@askleo.com email is handled by a Gmail account.
There's less risk of compromise or loss when you have your own domain. Even if my Gmail account were somehow lost to me, I would simply (and relatively quickly) start processing my leo@askleo.com email at a new Gmail account, or a new account at some other provider like Outlook.com.
Either way, leo@askleo.com remains my email address. For life.
Do this
If you find yourself in a situation where you're about to lose access to your old email address, use this as an opportunity to make this the last email address change you'll ever need. Switch to one of the popular email services like Gmail, Outlook.com or others. For even greater protection and an email address for life, consider purchasing your own domain.
Once you have that new email address, use it to subscribe to Confident Computing! Less frustration and more confidence, solutions, answers, and tips in your inbox every week.
Podcast audio

Download (right-click, Save-As) (Duration: 10:37 — 7.6MB)
Subscribe: RSS