Question: Why do people think it's more secure to relay data over the phone vs online, even though it's not?
I think there are two reasons.
First, people generally fear what they don't understand. Talking on a phone is easy to comprehend; email (and other digital communication technologies), not so much.
Second, most digital communication leaves a record. Phone conversations are generally ephemeral.
Telephones are conceptually simple.
The internet is not.
We tend to fear, or at least mistrust, what we don't understand.
Digital technology over the internet can be more secure, not less.
Many professionals have a different reason for preferring the telephone.
Telephone games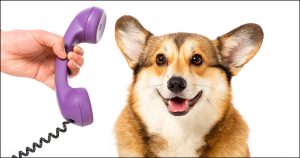 Telephones are conceptually simple. You speak into one end and the person at the other end hears what you say, and vice versa.
Tampering with a telephone line is hard, right? I mean, you need physical access to something at the telephone company, or, in the case of a landline, you'd need to attach something to the wires leading into the building.
Right or wrong, most people have this simple concept of what happens when they use a telephone.
Internet magic
People generally don't understand how the internet works, and they know that they don't know.
The internet confuses us — it's like magic. For instance, email. You type something onto a screen on your computer, and somehow something you can't see or hear happens in a place you don't know involving people you've never met, and those words appear on a screen somewhere else.
On top of that, we hear about computer hacks and breaches and malware all the time, so it must be happening all around us, right? Clearly it must be easy, since we hear about it so much.
When something goes wrong on our computers, the very first things we consider are malware or hacking.
Fearing what we don't understand
In both cases, we're completely wrong. Telephones now generally use the same magical technology as the internet (if not actually the internet itself, as in VOIP). And hacking and related activities aren't nearly as prevalent as sensational headlines would lead you to believe.
And all that is completely beside the point.
Like I said, we tend not to trust what we don't understand, and most people don't understand how computers and the internet work. Even though we don't really understand how a telephone works in detail, we have a basic understanding — which means we understand it better than the internet — which means it's a less scary choice.
Digital is often safer
Modern telephone systems are largely implemented using the internet, or at least using equivalent digital traffic, and that surprises many people. Today, that phone call is just as complex an operation as sending email or other forms of digital communication.
It's most definitely not two wires connected between two telephones anymore.
I say digital can be safer because encryption is not only possible, it's common. Many, if not most, paths taken by digital communications — be they telephone, instant message, video, or email conversations — can easily be encrypted, if they're not already.
That single advancement is kind of like having an old spy movie scrambler on your landline. Sure, it's technically possible (albeit difficult) for someone to intercept your communications, but even if they succeed, they won't be able to understand what they're able to capture.
Why some professionals prefer telephones
Lawyers, doctors, and other professionals often prefer telephones for one reason: most digital equivalents — specifically email and instant messaging — leave trails. By default, voice calls are not recorded or kept, and this is generally protected by law. (Usual caveat: I'm no lawyer, this isn't legal advice, and laws may be different in your area.)
That's why your lawyer or doctor prefers to share confidential information over a phone rather than commit it to email, where it could be discovered in the future.
It's not that one is inherently more or less secure; it's the difference in default behavior that makes all the difference.
What this means to you
The next time you wonder, "Should I call, text, or email?", you might consider not only which medium is best for your recipient, but also which is best for the degree of security you're looking for. Although we might be most comfortable with the phone, if it's security you're after, using the internet might be the better choice.
Podcast audio

Download (right-click, Save-As) (Duration: 4:54 — 2.3MB)
Subscribe: RSS