It can feel like it's forced on you, but you can change that.
OneDrive can be useful, and it can be annoying. It's on by default, but it's not terribly difficult to decouple or turn off.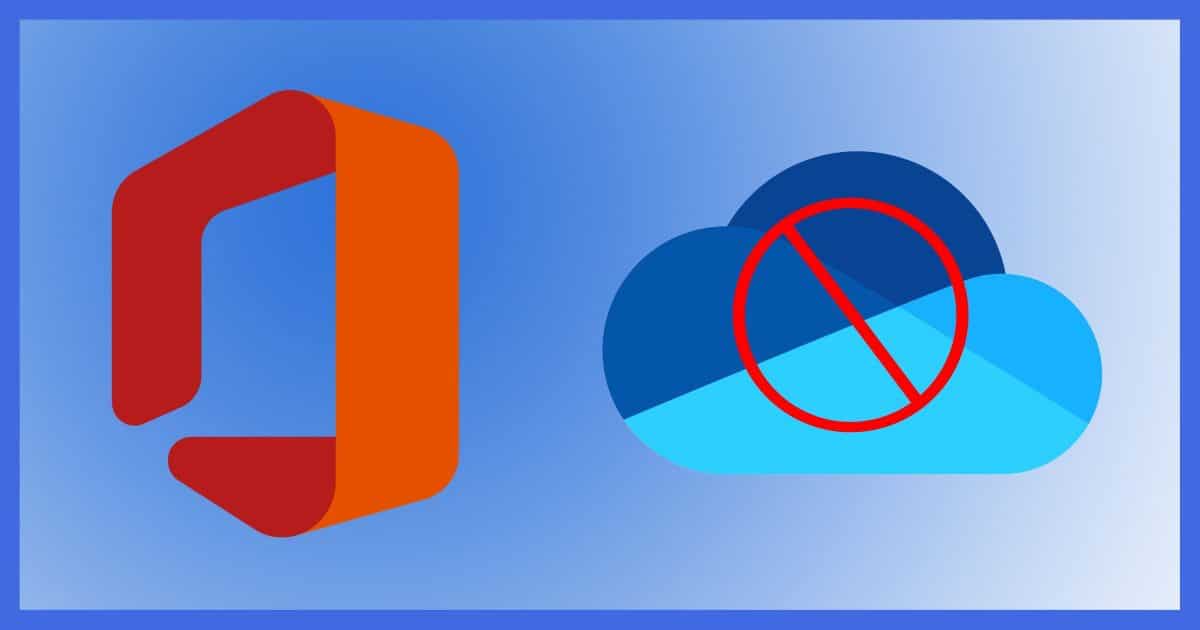 Question: I recently started using MS 365 and am confused by One Drive. Keeping digital storage organized is already a problem for me with Google One, Google Workspace, and Evernote accounts, and I don't understand the value of having yet another cloud storage system. It's no longer an automatic process for me to save documents and spreadsheets, and I find that documents are saved automatically before I've had a chance to — or understand how/where to — name them.
In my opinion, Microsoft has seriously bungled OneDrive.
Don't get me wrong; I use it and actually love it, myself. The problem is that there are several questionable "features" that are difficult to understand and often lead to confusion and frustration. On top of that, the approach Microsoft has taken to "encourage" you to use it is, as seems to be typical for Microsoft, heavy-handed.
The good news here is you don't have to use OneDrive in Office/Microsoft 365 if you don't want to. You can uninstall the OneDrive app, or simply change the settings to disable it.
Disable OneDrive in Office
You can uninstall the Microsoft OneDrive app from Windows via the Settings app, which will decouple your computer from your online OneDrive account. In order to stop Microsoft Office applications from using OneDrive, there is a set of options to be adjusted. The most important is found in the Save settings of Office apps.
Optional: Uninstall OneDrive
I want to start with this optional step because most people who don't want to use OneDrive don't want to use it anywhere. Microsoft Office is just one place it appears.
First, make sure that OneDrive's backup options are turned off. You can find out more about these settings in Why Is My OneDrive Full? This is one feature that's been implemented poorly, leading to a lot of frustration. Even if you've never turned it on, you may find that Microsoft turned it on for you. Here's how to turn it off.
In Windows Settings, Apps, Installed apps, you can right-click on, or click on the ellipsis next to, "Microsoft OneDrive" to expose an Uninstall option.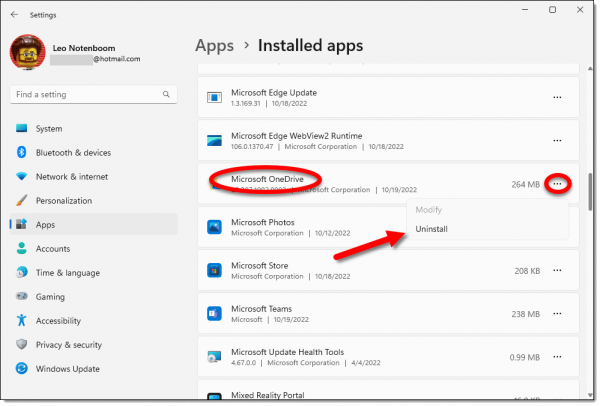 Click Uninstall to remove OneDrive from your machine.
Important: this will not remove files from your machine. You'll still find them in your OneDrive folder. Uninstalling OneDrive simply removes the cloud synchronization tools. Similarly, this will not remove files from other machines syncing to the same OneDrive account, nor will it remove any files from OneDrive online.
At this point, your OneDrive folder is just another folder like any other. Depending on how you've used (or been forced to use) OneDrive until now, you may find files, a "Documents" folder, or other folders within it. It's up to you where you'd like to keep your files, and you can move them to any other folder on your machine or leave them where they are. Without the OneDrive app running, there's nothing special about the OneDrive folder.
Change Office settings
The use of OneDrive in Microsoft Office applications boils down to a couple of settings we need to adjust. (If you're using the free online version of Microsoft Office applications, then by definition you're also storing your files online in OneDrive. There's really no way around that.)
Run an Office application. I'll use Word for my examples.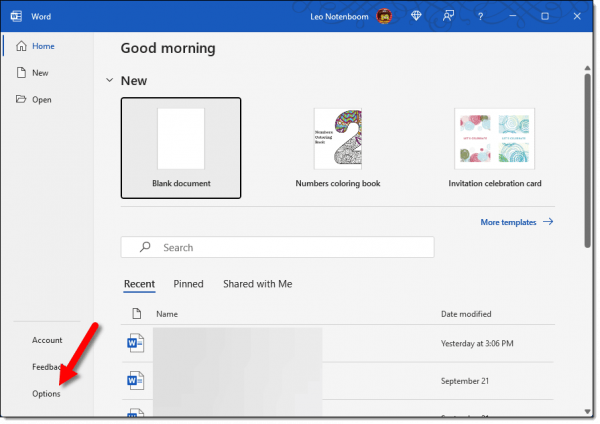 Click on Options in the lower left.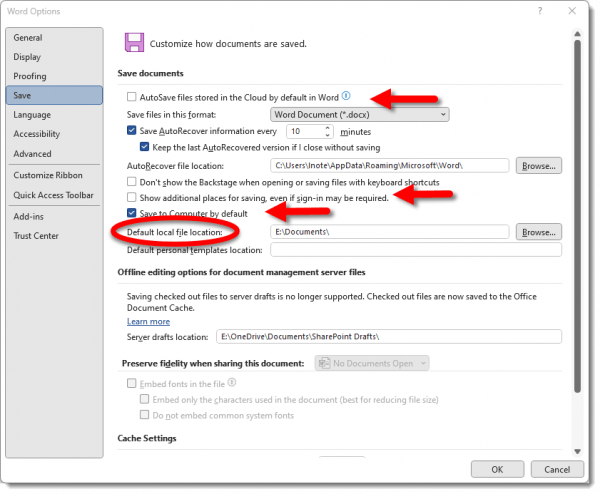 Click on Save on the left-hand pane.
There are several options I recommend changing.
Uncheck "AutoSave files stored in the Cloud by default in Word"
Uncheck "Show additional places for saving, even if sign-in may be required"
Check "Save to Computer by default"
Set "Default local file location" to a folder on your machine that makes sense to you. In the example above, I have a "Documents" folder on my "E:" drive. "C:\Users\<username>\Documents\" is another common alternative, and was the default prior to OneDrive's interference.
Click on OK to save your changes.
Word should no longer default to using OneDrive.
Other Office apps
Most of the settings you adjusted above are shared between Microsoft Office apps, but not all; and it seems likely that which settings are shared will change over time.
Thus, my recommendation is that you review the settings in the other Microsoft Office apps you use to ensure they're set to what you want.
Do this
My gut reaction is to advise you to learn about OneDrive and how it can help you. It really is decent technology, albeit with annoying warts and perhaps an over-inflated sense of self-importance.
I get that it's annoying, though.
So, in that light, if you use Microsoft Office, adjust the settings above to get it out of your way. And if you really feel the need, uninstall the OneDrive app as well.
That should result in things feeling significantly more in your control.
Want more control? Subscribe to Confident Computing! Less frustration and more confidence, solutions, answers, and tips in your inbox every week.
Podcast audio

Download (right-click, Save-As) (Duration: 9:14 — 12.8MB)
Subscribe: RSS