Question: Is Microsoft Office free in Windows 10?
No.
But then again, yes.
In fact, there's a free version for anyone, on any version of Windows — or indeed, almost any operating system.
The online versions of Microsoft Office apps are completely free, surprisingly capable, and compatible with their desktop counterparts. You may not even need Office installed on your computer. The installed version is not free, and requires either a one-time or subscription purchase. The "Office" app pre-installed on Windows 10 is the gateway to whichever you choose.
The Office App
When you run Windows 10 for the first time (or if you've not modified your Start menu to make it go away), there's a tile for an app called "Office".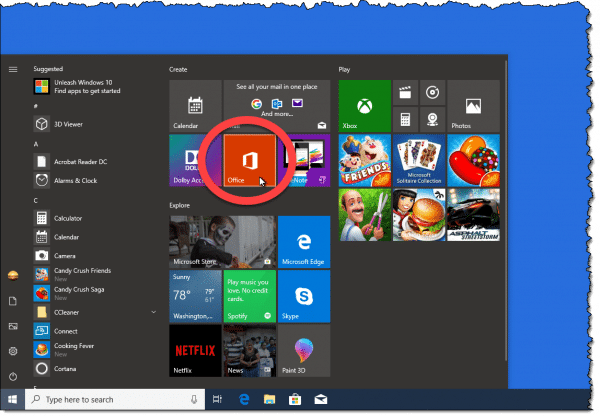 This little app is free. It's intended to be your "home base" for Microsoft Office use moving forward. If you never intend to use Microsoft Office, you can right-click on the tile and select Uninstall.1
Choices
The first time you run it, you'll be given a choice: Office 365 or Office Online.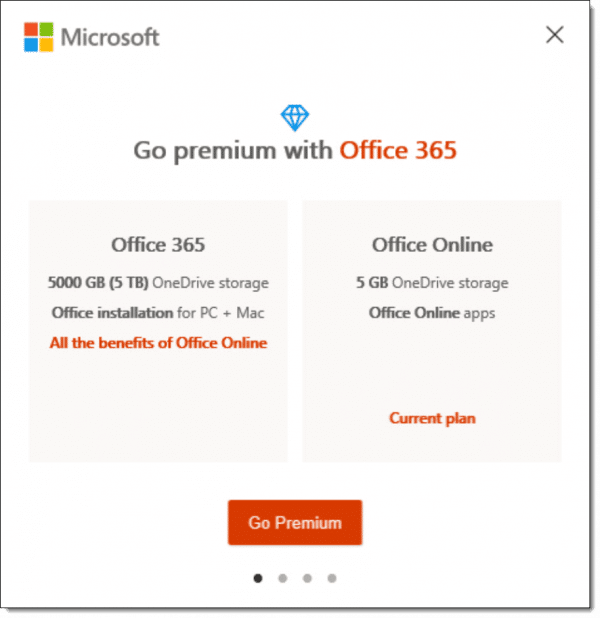 The wording may change, but the choice remains the same.
Office 365 is the traditional version of Office that you download and install on your computer. It is not free, and requires a subscription purchase to download and install. It includes Word, Excel, PowerPoint, OneNote, Outlook, Access, and Publisher.
Office Online is the online, web-based version of many of the Microsoft Office programs. It includes Word, Excel, PowerPoint, and more. Office Online is free to use, and since these versions are web-based, they can be used from any version of Windows, and any computer running any operating system with a compatible web browser.
Is Online enough?
The online version of Office is, of course, a somewhat less feature-rich version, but it's more than adequate for many, many uses.
For example, Office Online compares favorably with the other big player in the free online space: Google Docs. Given that it's Microsoft Office, Office Online also doesn't suffer from many compatibility issues found in exchanging documents with other free solutions, like Open Office or Libre Office.
Whether it's right for you depends on your needs. If you frequently exchange documents with other Microsoft Office users, you may want to check out Office Online. If you find it has the features you need — and it's very possible it will — it may be enough.
If you need more features and don't really have a compatibility issue with other Microsoft Office users, Libre Office or Open Office may be right for you.
And if only the real thing will do, a subscription to Office 365 might be the best solution.
Keeping the Office app or not
After you've made your decision, the Office app remains. When you want to run, say, Word, you open the Office app and select Word. If you're using Office 365, the installed program will be run. If you're using Office Online, a web browser will open to Microsoft Word online.
The Office app isn't required. You can uninstall it if you like, even if you use Microsoft Office. If you're using Office 365, the individual Office applications will appear on your Start menu, and if you're using Office Online, you can simply visit office.com and log in with your Microsoft account.
So, no, what we generally think of as Microsoft Office installed on your computer is not free, but the online version is.
And it may be enough.
Podcast audio

Download (right-click, Save-As) (Duration: 5:37 — 5.8MB)
Subscribe: RSS
The Office app in action
Footnotes & References
1: If you change your mind, you can find it again in the Microsoft Store, still free, and re-install it.